Whether or not you and your beloved are vegan, if you're looking for culinary inspiration for the most romantic day of the year, my chums and I would love to help you have a most perfect - and delicious - vegan Valentine! From breakfast to dinner, to treats and quaffs, here are 25 mouthwatering recipes that are pretty much guaranteed to impress the object of your affection.
Or to keep to yourself. I'm not judging.
Valentine Breakfast
Start the day as you mean to go on, and treat yourself and your beloved to one of these beautiful and scrummy brekkies!
For example, these gorgeous-looking Vegan Breakfast Bowls from Sue over at The View From Great Island. Packed to the brim with healthy fruits, seeds, nuts, and oats. And even some chocolate too. Yummy!
Eb from Easy Peasy Foodie's Cinnamon Porridge with Cranberry and Plum Compote looks so yummy and comforting, doesn't it? I love the idea of adding a fruit compote to porridge - it makes it all the more special!
Of course, oatmeal doesn't have to be served hot, as Mary Ellen, from V Nutrition's Strawberries And Cream Overnight Oats prove. To be honest, I'd be happy to serve this up for pudding as well - it's far too pretty to keep just for breakfast!
These Lemon Poppy Seed Cornmeal Pancakes from Kristie at The Mostly Vegan look simply divine, don't they? That blueberry compote is making my mouth water so much that I'm tempted to lick my laptop screen!
Valentine Lunch
Goodbye soggy sandwiches, hello lovely lunches! Check out these fabulous light bites...
Cara over at Fork & Beans makes me smile so much. She is so talented, and has a wonderful way of making food so much fun. Just look at her Smashed Chickpea Salad Bouquet Wraps - aren't they just adorable? I'd love someone to make these for me!
While you're over at Cara's blog, have a look at her groundhog cookies... they totally made me squee!
Speaking of cute foods, Kyra, from Vie de la Vegan has made these gorgeous little pizza hearts, topped with a vibrant balsamic beet spread and a mix of fruits and veggies. Aren't they just so gosh-darn-it cute?
Heart Shaped Pizza & Balsamic Beet Spread
Still with the heart-shaped-food theme, Letty from Letty's Kitchen has a wonderful Romaine Lettuce Salad with Jicama and Cumin Lime Dressing. It's so light and refreshing, and perfect, if like me, you've been craving salads lately.
What's the prettiest soup you can imagine? Kathy, the founder of Finding Vegan has made THE most amazingly beautiful Pink Cauliflower Soup for Valentine's Day. Nothing I can say will do this soup justice, so you'll just have to click the link, and go and feast your eyes!
Valentine Dinner
Who needs to go out for a romantic dinner when you can create one of these amazing meals at home? Plus, you won't have to overhear other people's conversations while you gaze lovingly into your partner's eyes!
Rebecca over at Strength and Sunshine's Beetroot Risotto looks amazing, doesn't it? I love how she's used beets instead of wine, and added a few warming spices too. Wonderful!
Still with the beetroot, those Hungry Herbivores, Rosie and Dillon, have made the most astonishingly beautiful Creamy Beetroot & Dill Linguine. Go and marvel at it... and then feel sorry for me for having a beloved who doesn't actually like beetroot!
#firstworldproblems
Continuing the Italian theme*, this Weeknight Lentil Bolognese is another fab offering from Kristie, and it's a corker!
Look at it - couldn't you just dive right in?
Obviously, being Italian, I'm going to claim that pasta is the food of love... although if you'd seen some of the people I used to pass every day when I lived in Pozzuoli, you could be forgiven for thinking that the pasta might be compensating for something! Nevertheless, my Healthy 5-Minute Vegan Cashew Pesto is perfect for spaghetti et al.
And baked potatoes too... but those don't lend themselves to re-enacting *that* scene from Lady and the Tramp!
*(St Valentine, or San Valentino di Terni, to give him his proper name, was Italian, ergo, I thought it fitting that there should be Italian food in this list.)
Valentine Desserts
Look, I know that the trouble with Italian food is that four days later, you're hungry again but I do hope you've saved room for pudding.
>fnar, fnar!<
First of all, we have this delightful Vegan Raspberry Coconut Pannacotta from Bianca at Elephantastic Vegan.
Yes, yes, I know we're still with Italian food but honestly, can you think of any good reason to not indulge in such a light and delicious dessert? No, me neither!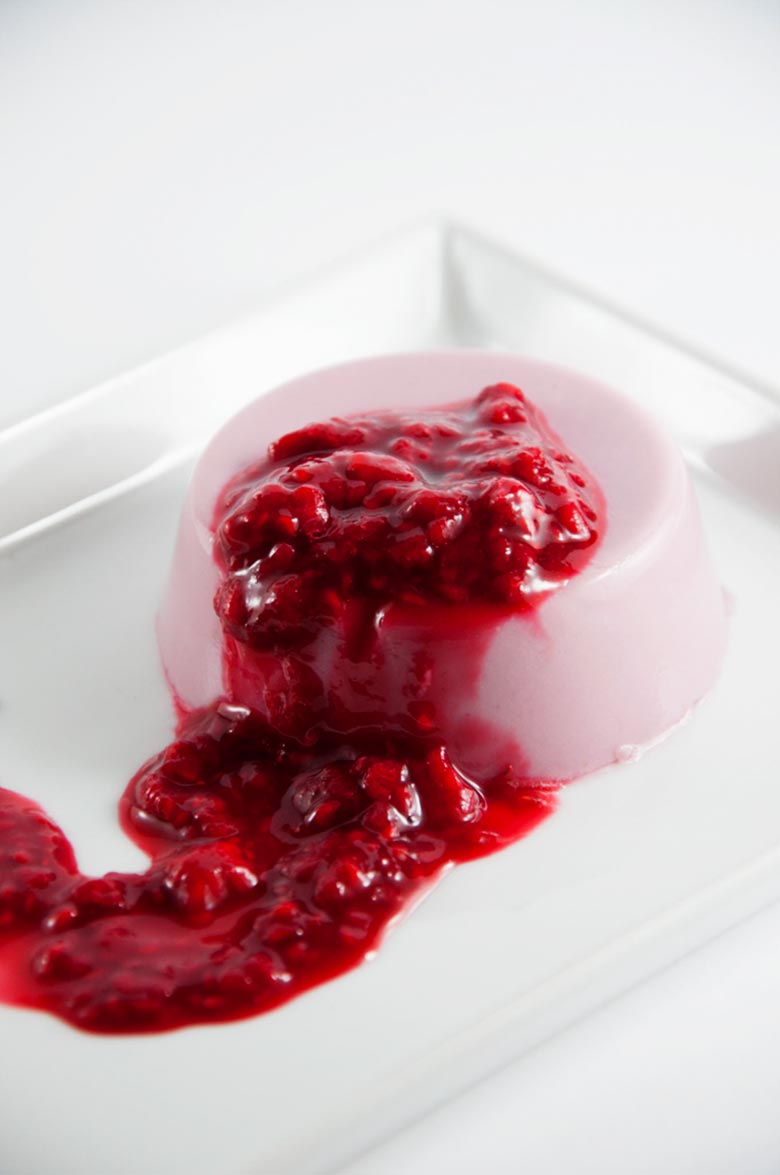 Next we have this, frankly astonishing, no-bake Blackberry Coconut Layer Cake from Audrey at Unconventional Baker. It's almost a shame to eat something so beautiful. I'll give it my best shot though.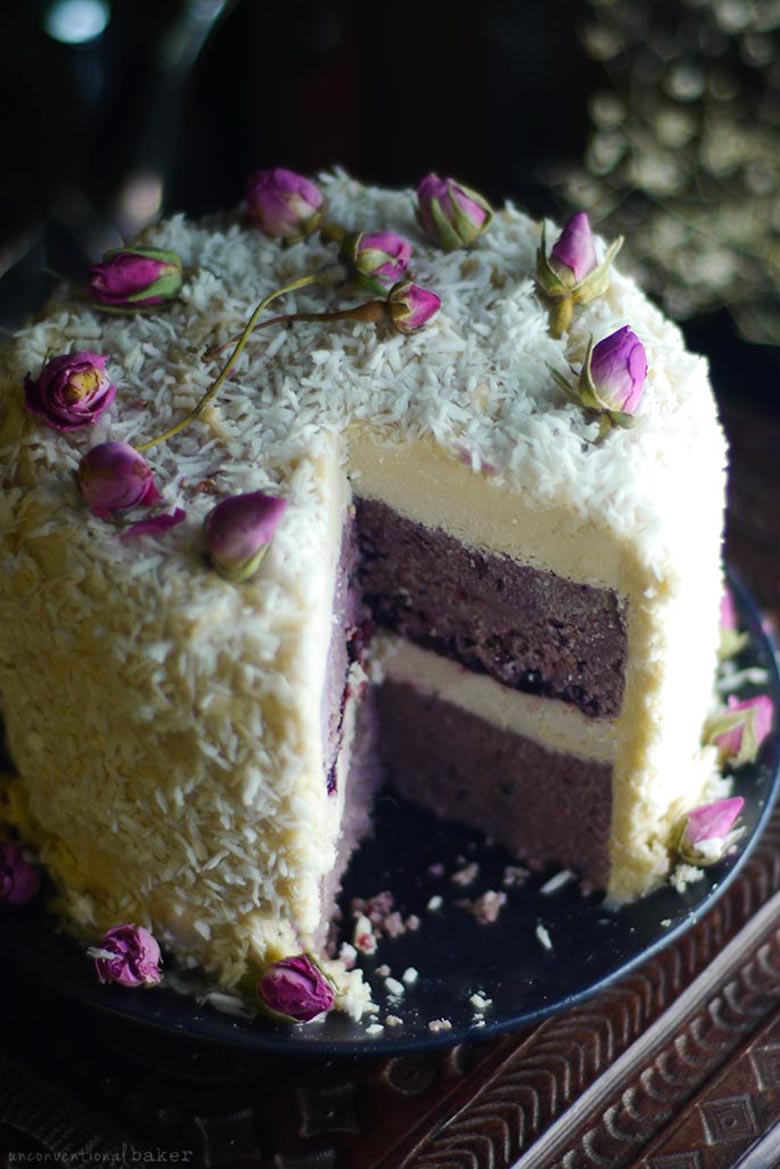 My next dessert choice is also incredibly beautiful. These Mini Vegan Strawberry Cheesecakes from Melissa at Vegan Huggs (isn't that such a lovely blog name?) certainly tick all the boxes: easy to make - check, delicious - check, bound to impress - double check!
They may not be quite as pretty but my Vegan Salted Caramel Chocolate Pots are decadence foodified. Amato mio says they should come with a warning... I'm not sure what kind of warning but he did have a very big grin on his face as he was tucking into one last night!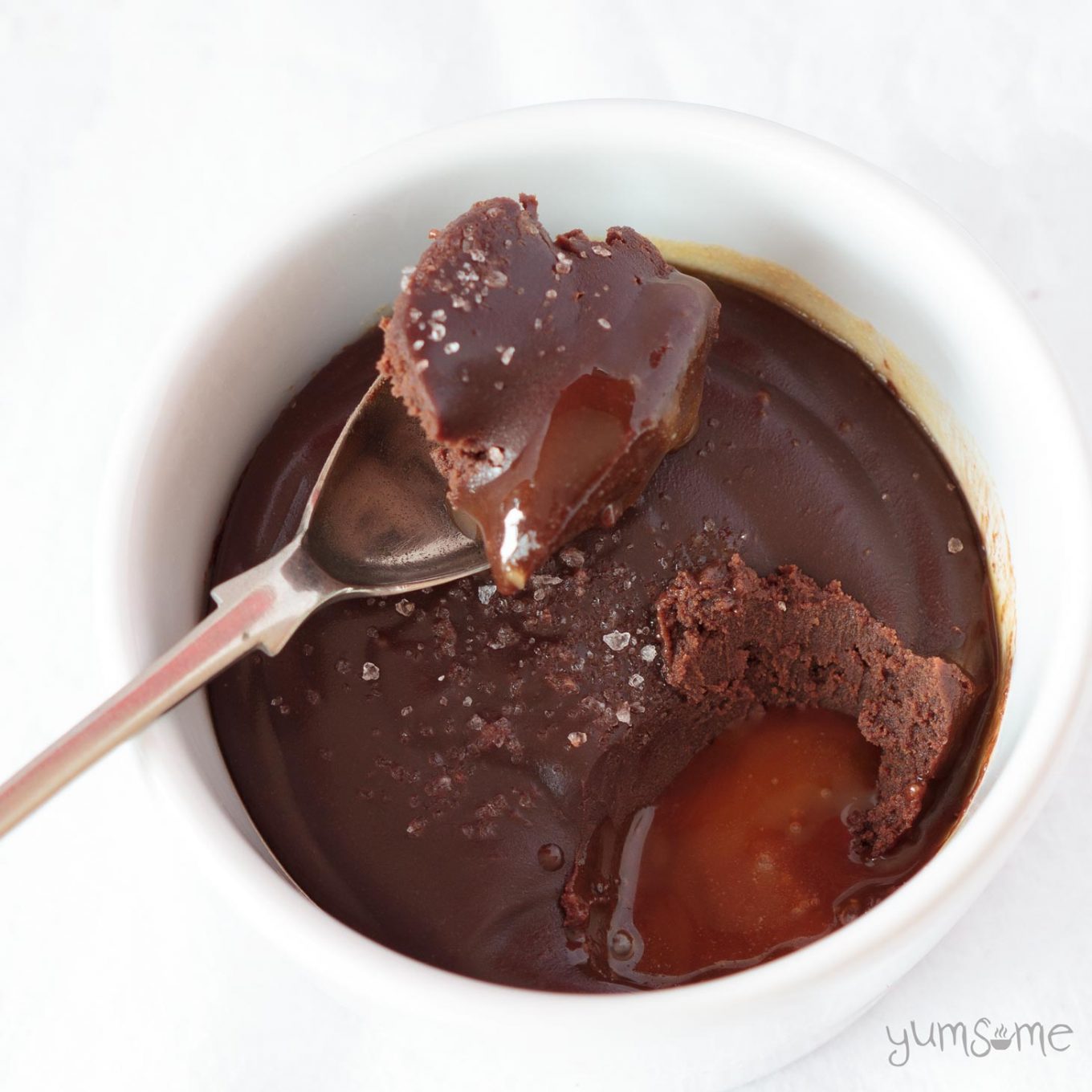 Valentine Drinks
Here's a thing, when I was asking my chums for their ideas for this Valentine's round-up, when I thought of drinks, I immediately assumed they'd all be alcoholic. Now, given that amato mio is a lifelong tee total, what the heck does that say about me, eh?
Ha ha!
Fortunately, not everyone thinks like I do, so those among us who abstain from alcohol need not feel left out!
Sophia at Veggies Don't Bite has this lovely Vegan Homemade Strawberry Milk that's made with all-natural sweeteners, and it's utterly divine. And if you happen to be sharing Valentine's Day with small people, this is so perfect for all the family.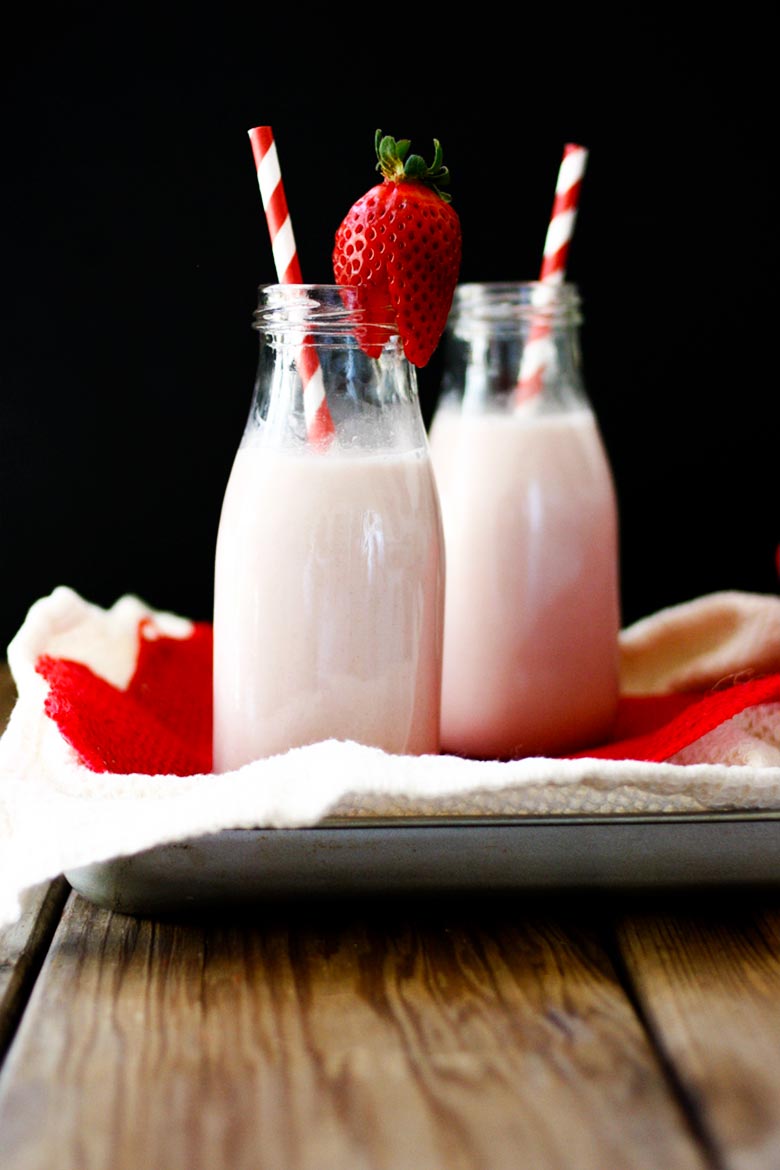 Did you know that in the US, more Valentine's cards are sent by children than by any other demographic? Teachers are highest on the list of recipients, followed by parents and other family members. How cute is that?
As a self-confessed gin lover, however, who happens to also have a penchant for all things pom, this Pomegranate Gin Fizz from Bianca (Elephantastic Vegan) ticks my boxes. I love how in the ingredients list, it says;
2 ounces gin (less or more to your preferred alcohol level)
Thatsh mah grrl!
[hic]
<ahem>
Returning to the realm of the sensible adult for a moment... Buggrit, let's have some more gin...
Actually, as wonderful as this Cranberry Gin Cocktail looks and sounds, I can't have cranberries, due them having a rather unfortunate effect on my throat: namely that they cause it to swell and close up, which rather prevents me breathing properly. Call me rad but I'm not overly fond of turning blue, and gasping for air.
However, assuming that your body doesn't throw its toys out of the pram at the mere mention of these fab little jewel-like berries, I suspect you'll love this cocktail from Lauren over at Lauren Caris Cooks.
This Triple Citrus Sour from Deb at Deb's Pots is open to all kinds of interpretation, and while it lists liquor in the ingredients, I see no reason not to just use the citrus and syrup to make a deliciously refreshing non-alcoholic cocktail. In fact, when we lived in India, we used to have something very similar on an almost daily basis.
While you're over at Deb's site, do check out her pottery. She's such a talented artist, and I don't mind admitting that if I lived closer, I'd be badgering her to let me use some of her creations in my photoshoots!
Valentine Treats
And now we come to the treats. Of course, all of the above are real treats, however, in the great tradition of sending love tokens to those we admire, here are some truly lovely ideas to get you in the mood for romance.
And not a tomato or wooden spoon among them.
These Vanilla Almond Cookies from Choclette at Tin & Thyme look so delicious, don't they? I love pretty much almond anything, and these tick so many of my boxes.
I love everything about these Valentine Shortbread Sweethearts from Kate over at The Veg Space (look out next week for my review of her latest book, Vegan In 15 ), especially that they are full of yummy chocolate chips. What's not to love?
I have a confession, Mel from A Virtual Vegan is one of the most ingenious vegan cooks I know, and I've probably made more of her recipes than anyone else's. My folder of saved recipes is positively brimming over with her yums!
If I'm honest, I'm a little bit in awe of her talent, so it came as no surprise to me that when I asked her whether she would like to contribute something to this blog post, these Vegan Chocolate Salted Caramels are what she came up with.
I mean, really... c'mon Mel - give the rest of us a chance, eh?!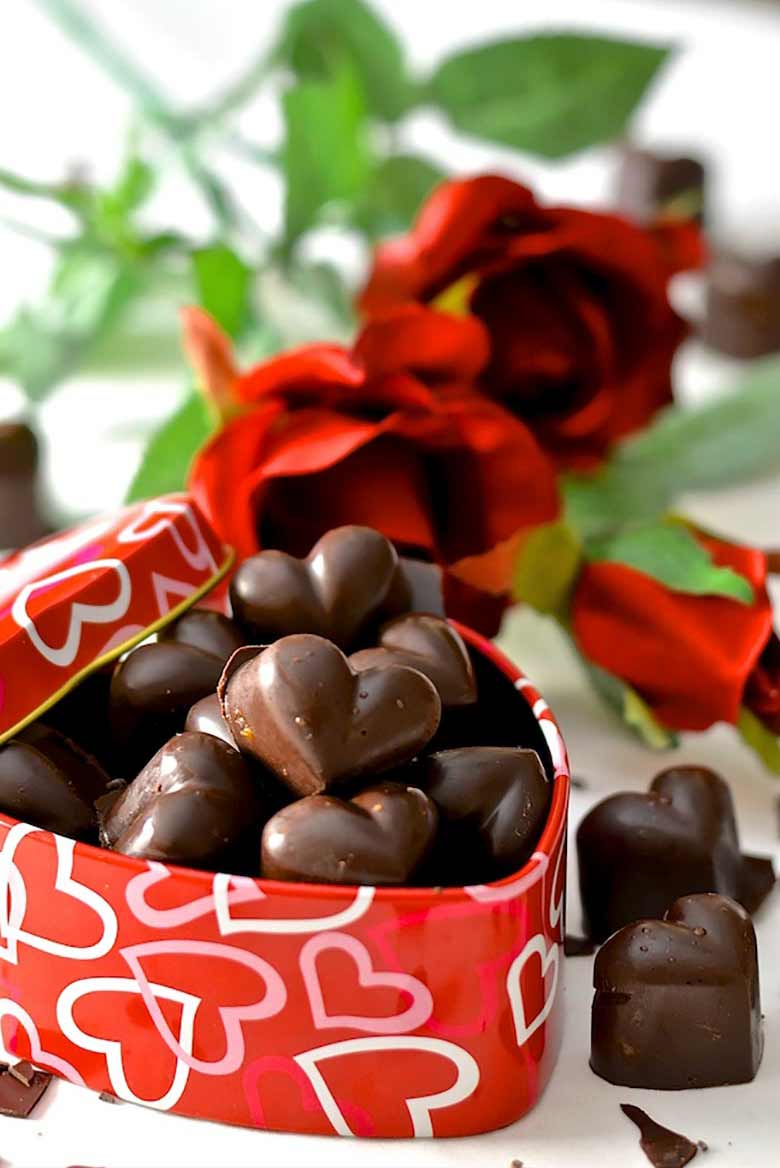 Actually, I have many talented friends, and Mandy over at Sneaky Veg is no exception. She makes these adorable Valentine's Day Shortbread Heart Biscuits (that's cookies to non-British folk!), and what makes them really special is the wonderful way they are decorated with icing and tiny pink sugar hearts. So, so cute. I love them so much!
Jojo at The Sunny Side of Life has these stunning Vegan Thin Mints - don't you just love the contrast between the fondant and the chocolate? I do. I could just gaze at that colour combo for ages!
Also, I love that in her blog post, Jojo quotes The Troggs' Love is All Around because it segues rather neatly into my next paragraph about Valentine's traditions...
For amato mio and me, although we don't generally make a big thing of Valentine's Day (although after writing this post, I may have to rectify that) but we do like to curl up on the sofa, under snuggly duvets, and watch Love Actually** and Up.
(**Yes, I know it's supposed to be a Christmas film but we first discovered it close to our first Valentine's Day together, so it's become 'our' romantic film.)
Thank you to everyone who contributed to this post, and allowed me to use their photographs. I really am incredibly privileged and honoured to be a part of this fantastic blogging community, and to have such talented, lovely, and generous chums!
Do you have any Valentine's traditions?
Want more chocolatey yums? Check these out while you're here!