Ready in around 30 minutes, cauliflower cheese is a traditional British dish, which has been around for at least a couple of centuries. The tender whole cauliflower is smothered in a rich and creamy cheese sauce, then baked in the oven, and finished with a sprinkling of smoked paprika.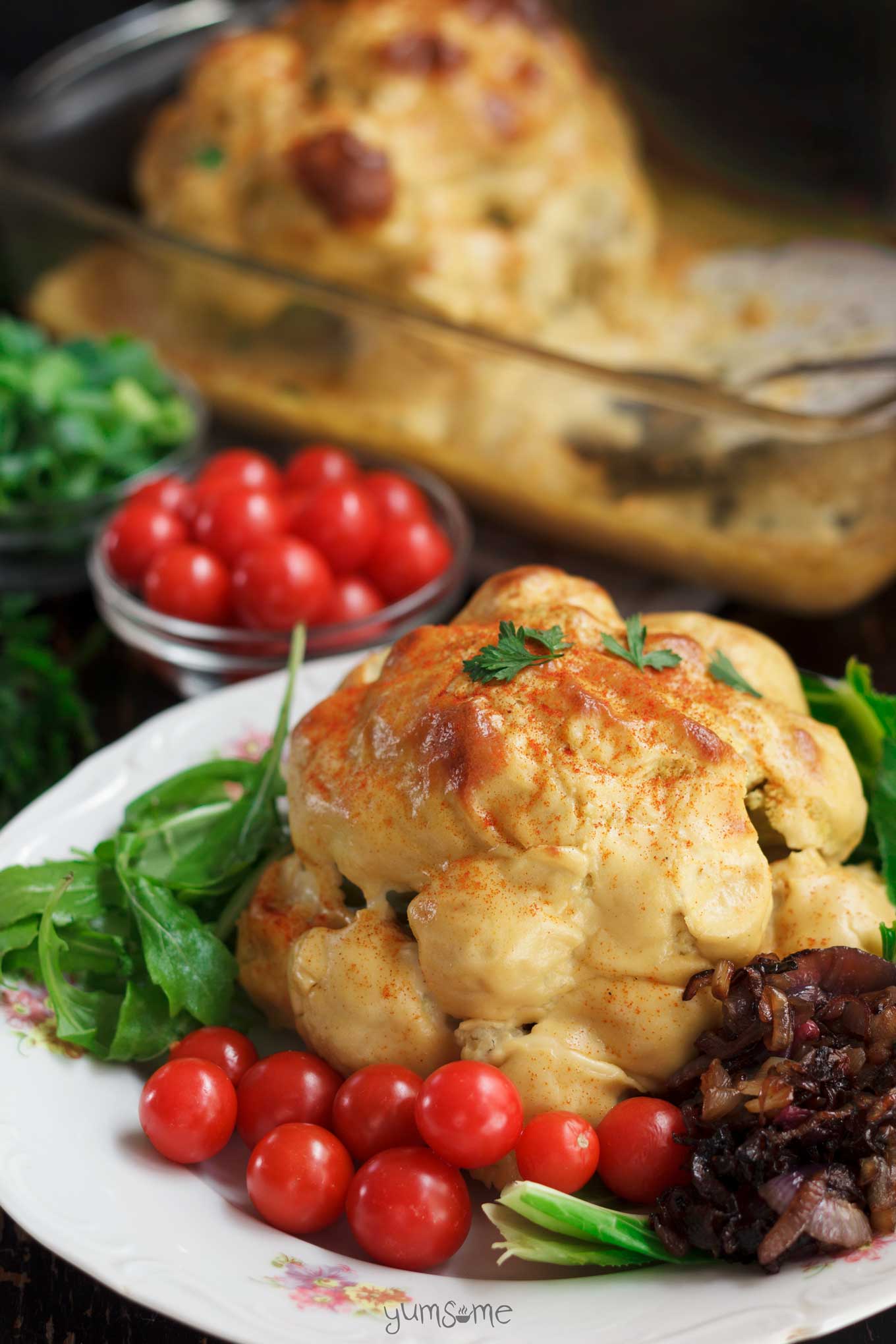 This post contains affiliate links. For more information, please see my privacy policy.
Traditional Cauliflower Cheese
When I was child, one of my favourite dishes that Gran used to make was cauliflower cheese (aka cauliflower cheese bake, or cauliflower cheese casserole). I don't know whether it was because of the gorgeously creamy and tangy sauce, or the fact that, barring potatoes, unlike every other vegetable she cooked, the cauliflower wasn't reduced to a soggy, tasteless mush!
Of course, when she served cauli on its own as a side vegetable, it was a soggy, tasteless mush. With her cheese sauce, however - made with really strong extra mature cheddar, my gran's cauliflower became truly magnificent.
When I was weaning my son, cauliflower cheese was one of the first solid foods I made for him. Throughout his childhood, it remained one of his favourites too.
Mrs Beeton's Cauliflower Cheese Recipe
In chapter 25 of The Book of Household Management, Isabella Beeton has the following cauliflower cheese recipe:
CAULIFLOWERS WITH PARMESAN CHEESE

(Entremets, or Side-dish, to be served with the Second Course.)

1106. INGREDIENTS – 2 or 3 cauliflowers, rather more than ½ pint of white sauce No. 378, 2 tablespoonfuls of grated Parmesan cheese, 2 oz. of fresh butter, 3 tablespoonfuls of bread crumbs.

Mode — Cleanse and boil the cauliflowers by recipe No. 1104, and drain them and dish them with the flowers standing upright. Have ready the above proportion of white sauce; pour sufficient of it over the cauliflowers just to cover the top; sprinkle over this some rasped Parmesan cheese and bread crumbs, and drop on these the butter, which should be melted, but not oiled. Brown with a salamander, or before the fire, and pour round, but not over, the flowers the remainder of the sauce, with which should be mixed a small quantity of grated Parmesan cheese.

Time — Altogether, ½ hour. Average cost, for large cauliflowers, 6d. each.

Sufficient — 3 small cauliflowers for 1 dish.

Seasonable from the beginning of June to the end of September.
(*For those who may be wondering, this is a salamander - they're often used to make brûlée these days. Not, I grant you, as exciting as having a small dragon in your kitchen to brown your food.)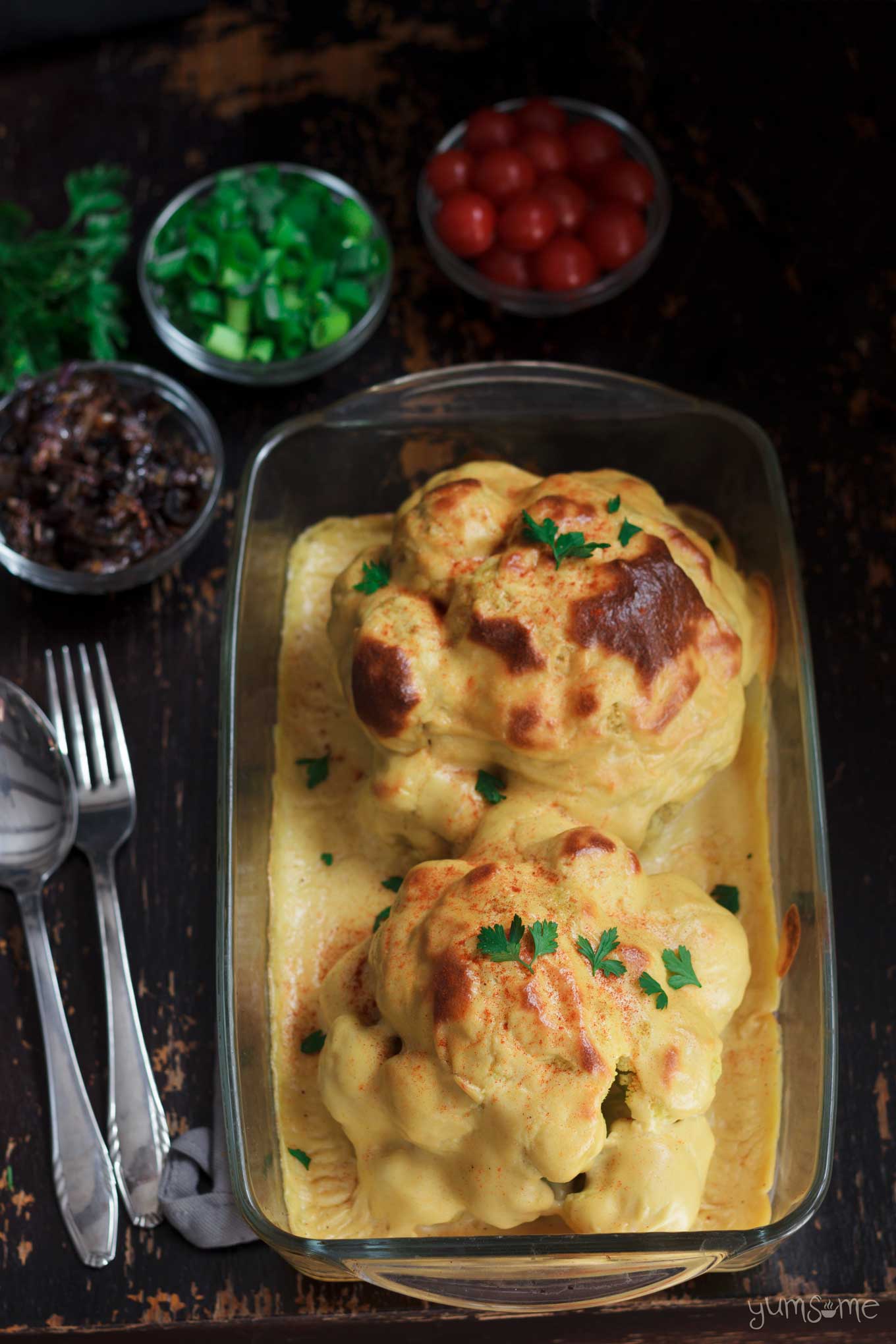 My gran's cauliflower cheese
I suspect that Mrs Beeton's recipe was the foundation of my gran's. I remember there being a well-used copy of said tome in our kitchen.
However, the book, which was published in 1861, actually belonged to my great-gran, so it's possible that Gran learned to make cauliflower cheese from her mother, who may have adapted it from Mrs Beeton.
I of course, learned from my gran, so technically, this cauliflower cheese recipe could be at least four generations old. If you discount the fact that I have veganized it. 😉
By the way, the Kindle version of Mrs Beeton's Book of Household Management is available free. I have it on my iPad, and it's one of my most-oft referred to books.
BTW, if you check out my lemon curd recipe, you'll find links for more free versions of Mrs Beeton, plus a couple of other really cool antique cookery books.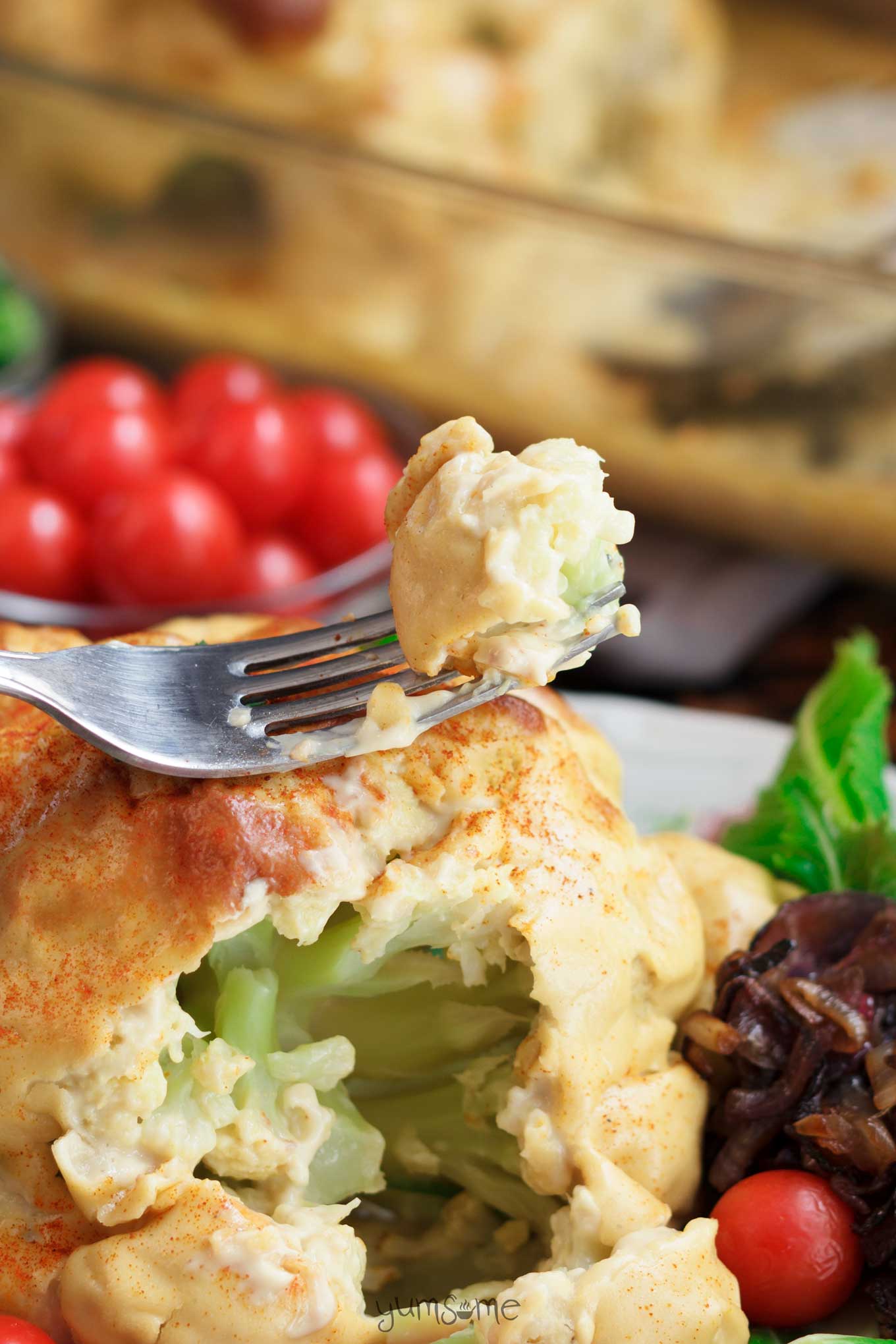 Ingredients for vegan cauliflower cheese
How to make vegan cauliflower cheese
For my vegan cauliflower cheese, I choose to keep things traditional. Yes, I could make a cheesy sauce with with my ricotta as the base, or using my nacho cheese, but to be perfectly honest, there's a reason for the saying, "If it ain't broke, don't fix it".
There's no good reason to not make a vegan cheese sauce the way traditional ones are made, so I start out by making a roux, to which I add some non-dairy milk and cream. Oat and soy creams & milks are exceptionally creamy, and my go-to choice when making cream-based dishes.
If you fancy making Mrs Beeton's recipe, you can make my béchamel from my lasagne recipe. You can also buy decent ready-made vegan béchamel sauce.
Tips for making vegan cauliflower cheese
What to serve with cauliflower cheese
I like to serve vegan cauliflower cheese as a main course with caramelised red onions, baby tomatoes, and a few crunchy spring onions too.
Of course, it doesn't have to be the star of the show, cauliflower cheese works really well as a side dish too. In fact, call me greedy but at Christmas, I actually love to have it with my mushroom and buckwheat shepherd's pie, and steamed broccoli and carrots.
If you like this cauliflower cheese recipe, you'll love these cheesy vegan recipes, too!
You'll love this Veganized Cauliflower Cheese
Because it's...
creamy
cheesy
comforting
filling
full of goodness
a good source of Vitamin B12
packed with protein and fibre
easy to make nut-free (if you use store-bought cheese)
easy to make gluten-free
simple to make
delicious
Enjoy this vegan cauliflower cheese!
📖 Recipe
Veganized Cauliflower Cheese
My veganized cauliflower cheese is a traditional British dish brought bang up to date with tender cauliflower and lashings of yummy, creamy, cheese sauce!
Print
Pin
Rate
Makes (slide to adjust):
4
servings
Instructions
Pre-heat your oven to 200°C (400°F/gas mark 6).

Bring a large pan or

stockpot

of water to the boil, remove the ends of the stems, rinse the cauliflowers, and add to the boiling water. You can keep the leaves intact - they're delicious!

Bring back to the boil, then reduce the heat, and simmer for 10-15 mins, until softened but still offer a bit of resistance when inserting a knife.

Once the cauliflowers are cooked, remove them from the pan, and place into a suitably-sized oven dish or

roasting pan

.

While the cauliflower is cooking, make a roux by melting the vegan margarine in a medium heavy-based pan over a low-med heat. Once the margarine has melted, stir in the flour to make a paste (roux).

Cook the roux for 2 mins, while stirring continually.

Whisk in a little of the milk, to loosen the roux, then whisk in the rest, a little at a time, until all the milk has been added, and there are no lumps.

Whisk in mustard and miso, and continue to cook - stirring all the time - until the sauce has thickened to a custard-like consistency.

Turn off the heat, and add the cheese and nutritional yeast. If using my extra mature cheddar, you should be able to just break it up and whisk it in (or use a blender). If using grated store-bought cheese, stir it in. Keep stirring, until the cheese has melted, and the sauce is smooth.

Stir in the white pepper and the cream.

Pour the cheese sauce over the cauliflowers, making sure they're well-covered, then place into the centre of the oven for around 15 minutes, until the sauce has browned and started to bubble.

When done, remove from the oven, sprinkle with some smoked paprika, and serve immediately.

Leftovers can be kept for a couple of days in the 'fridge in a covered dish. Cauliflower cheese does not freeze well.
Nutrition Facts
Veganized Cauliflower Cheese
Amount Per Serving
Calories 372
Calories from Fat 162
% Daily Value*
Fat 18g28%
Sodium 443mg18%
Potassium 929.75mg27%
Carbohydrates 35g12%
Protein 22g44%
Vitamin A 483.18IU10%
Vitamin C 141.9mg172%
Calcium 223.27mg22%
Iron 3.26mg18%
* Percent Daily Values are based on a 2000 calorie diet.
Did you make this recipe?
Do mention @yums0me and/or tag #yums0me - I'd love to see how yours turned out!
Disclaimer
Measurements in parenthesis are approximate; it is beyond the scope of yumsome to be able to provide pinpoint-accurate ingredient quantities for every type of measuring utensil. As a guideline however, I make the assumption that:
1 cup = US cup = 240 ml
1 tablespoon = US/UK = 15 ml
1 fl oz = US = 30 ml
Further information may be found here