Ideal for parties and picnics, for lunchboxes, or simply to eat at home for an al fresco lunch, my gluten-free vegan mushroom and leek quiche is so deliciously creamy, you'll have a hard time telling it apart from its egg-based counterpart! It's soy- and nut-free too!


Quiche is not something I have ever craved, not least because I just haven't ever been a fan of eggs and eggy things. In fact, egginess is pretty much guaranteed to make me heave. I put this down to, as a small child, being force-fed a boiled egg by my mother (who also loathed eggs)... and my ensuing vomnami.
However, vegan quiche is one of the things my customers most request; in fact, I estimate that during the past year, I've made around 150 of these quiches, as well as probably 20 or so of my sun-dried tomato and asparagus quiche.
Why did I develop another vegan quiche recipe? Simply because several people requested a no-soy version, so I decided that rather than just replace the tofu element of my other quiche, I might as well make a completely different one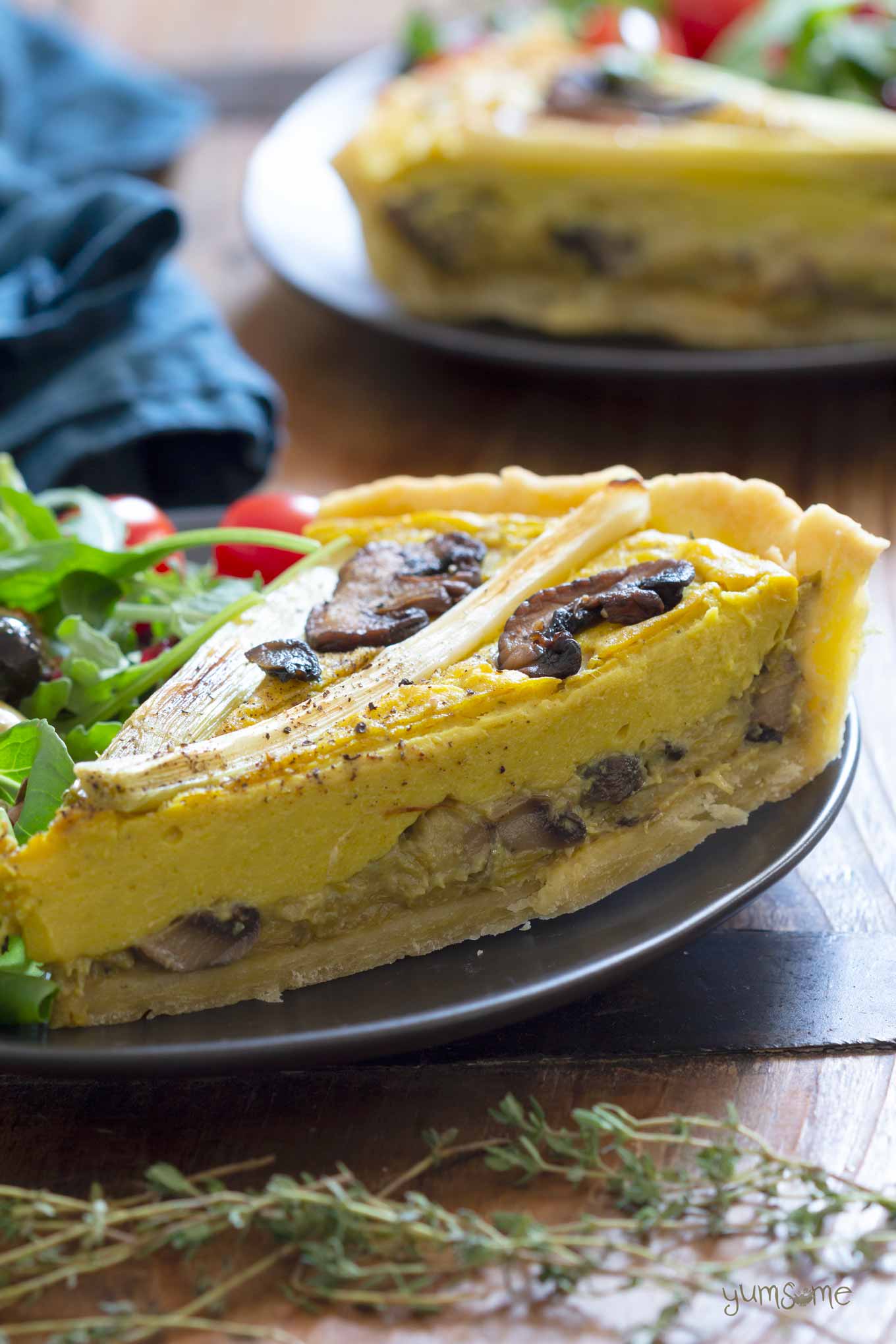 Gluten-Free Vegan Quiche
I have a handful of customers who are gluten-free, so the pastry crust for this vegan quiche is made with a gluten-free flour blend. I really like this wholegrain one from Vicki, over at The Gluten-Free Fairy. If you don't want a gluten-free blend which doesn't contain rice flour, then this is the one for you. If you're not bothered, there are several commercial g-f flour blends on the market - Doves Farm make a range of good ones, for example.
Or you could use the gluten-free pastry crust from my other vegan quiche recipe!
Of course, if you're fine with gluten, you can make the pastry however you like. I love robust flours, such as spelt and rye.
Vegan Quiche Fillings
Mushroom and leek is one of my all-time favourite flavour combinations; I love the rich umami taste of the mushrooms, coupled with the light oniony flavour of the leeks, as well as their creamy texture. I don't use a whole lot of seasoning when sautéing the vegetables, just a bit of garlic to enhance the taste.
Another favourite combination is red pepper and aubergine. I use an onion instead of leeks, and sauté it together with some diced aubergine (eggplant) and Romano peppers, along with a small handful of torn fresh basil and a couple of sprigs each of rosemary, thyme, and oregano. The quiche is topped off with halved cherry tomatoes and slices of pepper, or asparagus spears.
Replacing the egg in a vegan quiche
As you'll know from my sun dried tomato and asparagus quiche recipe.... what do you mean you haven't looked at it? Go and read it now - it has a cute pic of Newt Scamander too! Go on, I can wait.
OK, so as you WILL NOW KNOW ? from reading my other quiche recipe, you can use tofu to replace the egg in a quiche; however, for those who are soy-free, chickpea flour is a great alternative. In fact, no, it's a fantastic ingredient in its own right, and is used around the world in many diverse dishes, such as farinata in Italy (socca in France), bhaji in India, and to make tofu in Myanmar (Burma). To name but a few.
In fact, Shan tofu salad is one of my all-time favourite foods, and the best I've ever eaten was at the Burmese noodle cart outside the immigration office in Chiang Mai. Whenever we had to go and extend our visas (waiting for hours to be seen), afterward, we'd reward ourselves with a big bowl of tofu salad. It was always heavenly!
Using chickpea flour in vegan quiche
Since I'm used to making Burmese tofu with chickpea flour (AKA garbanzo bean flour), it wasn't a huge leap to use a similar method to make vegan quiche. I just added a few seasonings, and voilà, perfect vegan quiche filling!
The first few times I made this quiche, I mixed the veggies with the chickpea batter, tipped the whole lot into my pastry case (which I'd baked blind for 15 minutes), and then cooked it. It was utterly delicious but it wasn't the most attractive quiche I'd ever seen, and the the toppings got lost, so now I layer it. On the bottom is the veg and chickpea batter, and on top of that is a plain, seasoned batter, followed by the toppings. So much more visually appealing!
BTW, you may be wondering why, when I don't care for the flavour of eggs, I use kala namak.. does it not impart an eggy taste? Well, no, not really. Yes, it has that sulphurous aroma that you sometimes get with eggs but it doesn't actually taste of eggs. It's basically salt with a hint of sulphur. So why do I use it? Because it does enhance the flavour of the quiche, in a way that plain sea salt doesn't. If you don't want to use kala namak though, add an extra half a teaspoon of vegetable bouillon or Vegeta.
Vegan mushroom and leek quiche
Is...
Creamy
Comforting
Filling
Frugal
Packed with protein
Nutritious
Gluten-free
Soy-free
Nut-free
Easy to make
Mind-blowingly delicious!
I usually serve this quiche with a selection of salads but I have to tell you that it goes very well with baked wedges too, especially of the sweet potato variety!
Bon apétit!
Do you enjoy vegan quiche? What would put in yours?
📖 Recipe
Vegan Mushroom and Leek Quiche
Ideal for parties and picnics, for lunchboxes, or simply to eat at home for an al fresco lunch, my vegan mushroom and leek quiche is so deliciously creamy, you'll have a hard time telling it apart from its egg-based counterpart!


Print
Pin
Rate
Makes (slide to adjust):
10
Ingredients
Pastry case
300

g

plain (all-purpose) gluten-free flour

1

teaspoon

fine sea salt

150

g

cold vegan margarine

80

ml

cold water
Vegetables
3

tablespoon

sunflower oil

500

g

leeks

trimmed, and sliced into rounds

600

g

chestnut mushrooms

cleaned and sliced, reserve a few slices for the top

6

cloves

garlic

smashed
Topping
reserved mushroom slices

8

baby leeks

sliced in half lengthways

1

teaspoon

olive oil
You will also need a 32cm (12") quiche or pie dish. If you have a smaller dish, adjust the portion slider at the top of this recipe card to suit.
Instructions
Make the pastry
Pre-heat your oven to 225°C (437°F/gas mark 7½).

Place the flour and salt into a large mixing bowl, and add the margarine.

Rub the margarine into the flour until you have something that resembles breadcrumbs. Don't worry if there are any larger lumps, it will all even out in the baking.

Add the water, and use your hands to mix together to form a dough.

Tear off two sheets of parchment, large enough to fit the quiche dish with a bit of overlap. Form the dough into a ball, flatten, and place onto one sheet of parchment. Cover the dough with the other sheet.

Roll out the dough until it will fit the quiche dish, then slide the whole lot - parchment and dough - into the dish. Keeping the top piece of parchment intact, gently smooth the dough over the bottom of the dish, and into the flutes (the wibbly wobbly side of the dish!). Roll the pin across the top of the dish, then carefully peel back the parchment, and remove the excess pastry. Replace the parchment, and trim away any flappy bits around the edge.

Bake the pastry case toward the top of the oven for 15 minutes. It doesn't need to be fully cooked - just enough to stop the bottom going soggy. Once it's baked, remove from the oven, discard the top piece of parchment, and set aside to cool slightly.

(Leave the oven on, as you'll need it again very soon.)
Cook the veggies
While the pastry case is baking, heat the oil in a large skillet or wok, and sauté the leeks over a medium-high heat for 5 mins, until they begin to turn translucent.

Add the sliced mushrooms and garlic, and continue to sauté for another 15 mins, until lightly browned and starting to caramelise. Set aside some of the mushrooms to use on top of the quiche.
Steam the leeks
While the veggies are sautéing, steam the baby leeks for 5 mins over a pan of boiling water. As soon as they have softened, remove from the steamer, and set aside.
Make the vegan egg
Blitz all of the 'egg' ingredients in a blender for 15 seconds or so, until you have a smooth batter. (I use my VAC2 on its highest setting for this.)

Reduce the heat under the veggies, and pour in roughly a third of the batter. Set the rest aside for now.

Stirring continually, cook the veggie and batter mix for a few minutes until the filling is thick.

Pour the rest of the batter into a saucepan over a medium low heat. Whisk occasionally to prevent any lumps forming. After a few minutes, the mixture will start to thicken - keep whisking until the whisk leaves thick trails on top. Remove from the heat, and set aside for a couple of minutes.
Put the quiche together
Tip the filling into the pastry case, and smooth so it's level.

Pour the rest of the batter over the top, again, smoothing to create a level surface. Decorate with the slices of fried mushrooms and the steamed baby leeks.

Sprinkle the olive oil over the top, then bake on the same shelf as before for 25 mins, until the top has started to turn golden.
Storing
Store wrapped or in an airtight container in the fridge for up to 5 days. Freeze for up to 3 months.
Notes
Please note that the only commercial gluten-free flour blends I've used are Dove's Farm and Free From Fairy, which can be used as direct substitutes for wheat flour (i.e. 1:1), so I cannot guarantee that other blends will yield the same results.
~~~
I used my Optimum VAC2 Air Vacuum Blender for this recipe; if you want to try out this great blender for yourself (more information in my review), Froothie is offering yumsome readers an extra £20 discount, in addition to free shipping. Simply add the following code into the comments box when you check out, or if you order by 'phone, relay the code to the person taking your order. The discount will be refunded to your credit or debit card.
In addition, Froothie offers a no-risk 30 day trial, plus a no-deposit, interest-free payment plan on every blender on the Froothie website. The VAC2 is often on special offer, with up to £200 off the usual price.
AMBASSADOR CODE 5252 + AMB20: £20 Discount
By the way, I get a small commission - at no extra cost to you - for every sale made using my affiliate code, so if you are thinking of buying something from the
Froothie website
, I'd really appreciate it if you use my link. Thanks so much! Affiliate sales and advertising, BTW, fund yumsome - without them, I wouldn't be able to provide you with free content.
Nutrition Facts
Vegan Mushroom and Leek Quiche
Amount Per Serving (1 portion)
Calories 376
Calories from Fat 153
% Daily Value*
Fat 17g26%
Sodium 200mg8%
Potassium 451mg13%
Carbohydrates 43g14%
Protein 10g20%
Vitamin A 422IU8%
Vitamin C 7mg8%
Calcium 54mg5%
Iron 3mg17%
* Percent Daily Values are based on a 2000 calorie diet.
Did you make this recipe?
Do mention @yums0me and/or tag #yums0me - I'd love to see how yours turned out!
Disclaimer
Measurements in parenthesis are approximate; it is beyond the scope of yumsome to be able to provide pinpoint-accurate ingredient quantities for every type of measuring utensil. As a guideline however, I make the assumption that:
1 cup = US cup = 240 ml
1 tablespoon = US/UK = 15 ml
1 fl oz = US = 30 ml
Further information may be found here
If you like this vegan mushroom and leek quiche recipe, you're sure to love these other summery yums!