Spicy, warming, filling, delicious, and full of fibre and protein, my vegan mulligatawny soup is just the thing for chilly autumn evenings.
Mulligatawny soup has such a strange name, doesn't it? I used to struggle with that name as a child… but not with eating it!
Although, the stuff my grandmother used to serve me up came out of a tin, was mud-brown, and had little pieces of what I think was minced meat. I'm not sure how similar it was to its authentic Indian cousin. I do remember really enjoying it though.
As a child. With an unsophisticated palate.
I say authentic Indian but I have yet to find any two recipes that can agree on which ingredients should be in the soup, nor even the origins of its name.
What does mulligatawny mean?
Some say that mulligatawny is an English corruption of the Tamil, milagu-thani (which means pepper water), while others claim that mulligatawny is a British Raj-friendly version of the south Indian soup, milagu rasam.
Milagu rasam was developed in the kitchens of the Madras Club in Chennai for the well-to-do British junta, who wanted something more akin to what they were used to back in Blighty.
With added meat, of course.
This latter, I suspect, comes from the British notion that vegetables were mere flavourings, not a foodstuff in their own right. Obviously, meat was real food!
According to Victorian and Edwardian thinking, vegetables were indigestible unless boiled to a mush. It certainly explains my grandmother's culinary brutality toward the produce my grandfather and I used to grow!
Whatever the real story of mulligatawny is, everyone seems to agree that when the British were in South India, a soup was developed, which would be less of a shock to their delicate systems than the traditional local fare on offer.
Vegan mulligatawny soup recipe
Here then, is my version of mulligatawny soup. It's very easy to make, especially if you already have the requisite masala blends (although you could make your own garam masala and Madras curry powder). If you've already made my other Indian dishes, you already know how to make this.
Something I really love about Indian food is that once you have learned the basics, you realise that everything is really a variation on a theme, and that while there may be quite a few spices involved, the dishes really are very simple to make.
You'll love my vegan mulligatawny soup
Because it's...
warming
comforting
spicy
filling
full of goodness
quick and easy to make
deliciously more-ish
Serve this soup its own, with naan, (or even with a fresh crusty roll), and you won't go wrong.
Enjoy!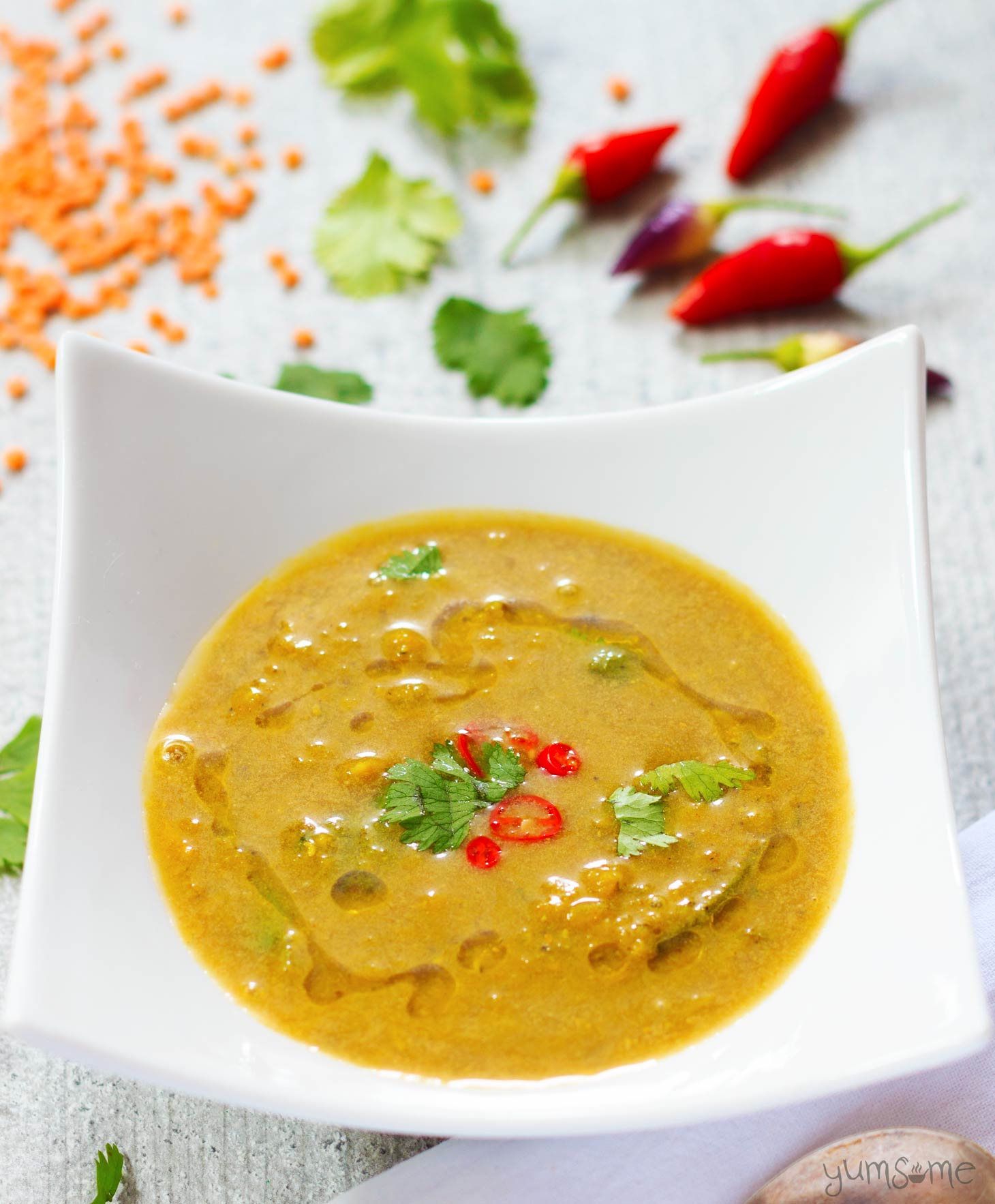 📖 Recipe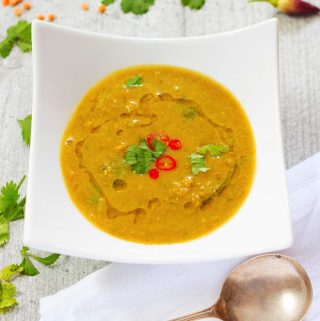 Vegan Mulligatawny Soup
Spicy, warming, filling, delicious, and full of fibre and protein, my vegan mulligatawny soup is just the thing for chilly autumn evenings.
Print
Rate
Makes (slide to adjust):
4
servings
Ingredients
250

g

red lentils

1

tablespoon

coconut oil

1½

teaspoon

cumin seed

1

large onion

finely sliced

½

teaspoon

turmeric

4

cloves

garlic

5

cm

piece of ginger

(about 1")

1

large green chilli

1

large tomato

finely chopped

2

teaspoon

madras curry powder

1

teaspoon

garam masala

1

L

vegetable broth

1

tablespoon

chopped fresh coriander

(aka cilantro)

Sea salt

to taste

Dash

lime juice

Chilli flakes

to finish

ground black pepper

to finish
Instructions
Rinse the lentils, then place in a large pot with enough cold water to cover. Bring to the boil, then reduce the heat, and simmer for 15-20 minutes, until soft, and the water has been absorbed.

While the lentils are cooking, heat the oil in a large pan (medium heat), add the cumin seeds, and allow to splutter for 30 seconds.

Add the onions, and sauté until they start to become translucent.

Stir in the turmeric, and continue to cook for another couple of minutes.

Pound the garlic, ginger, and green chilli together to make a paste, and add to the onions.

Fry for a few minutes, until the raw garlic and chilli smell has gone.

Mix in the tomato, curry powder, and garam masala and continue to fry, stirring occasionally, for another 10 minutes or so, until the oil separates out, and the paste comes away cleanly from the side of the pan.

If you want to have a smoother soup, now is the time to blend the veggies.

Reduce the heat, add the vegetable stock and the lentils, and simmer for 10 minutes.

Taste, and season with the salt and lime juice.

Add the coriander leaves, and serve with a few chilli flakes sprinkled on top, and a few grinds of black pepper.
Notes
This may seem like a lot of calories for a fasting day but if you're like me, and generally only have one meal on F-days, then it's perfect. With a 65g wholemeal roll, the meal comes to around 500 very filling calories.
Nutrition Facts
Vegan Mulligatawny Soup
Amount Per Serving
Calories 310
Calories from Fat 54
% Daily Value*
Fat 6g9%
Sodium 201mg8%
Carbohydrates 51g17%
Protein 17g34%
* Percent Daily Values are based on a 2000 calorie diet.
Did you make this recipe?
Do mention @yums0me and/or tag #yums0me - I'd love to see how yours turned out!
Disclaimer
Measurements in parenthesis are approximate; it is beyond the scope of yumsome to be able to provide pinpoint-accurate ingredient quantities for every type of measuring utensil. As a guideline however, I make the assumption that:
1 cup = US cup = 240 ml
1 tablespoon = US/UK = 15 ml
1 fl oz = US = 30 ml
Further information may be found here
If you like my Vegan Mulligatawny Soup recipe, you'll love these other soupy yums!