Soft and fudgy, with a rich caramel flavour, my delicious cookie butter and macadamia blondies are really easy to make, and dangerously more-ish!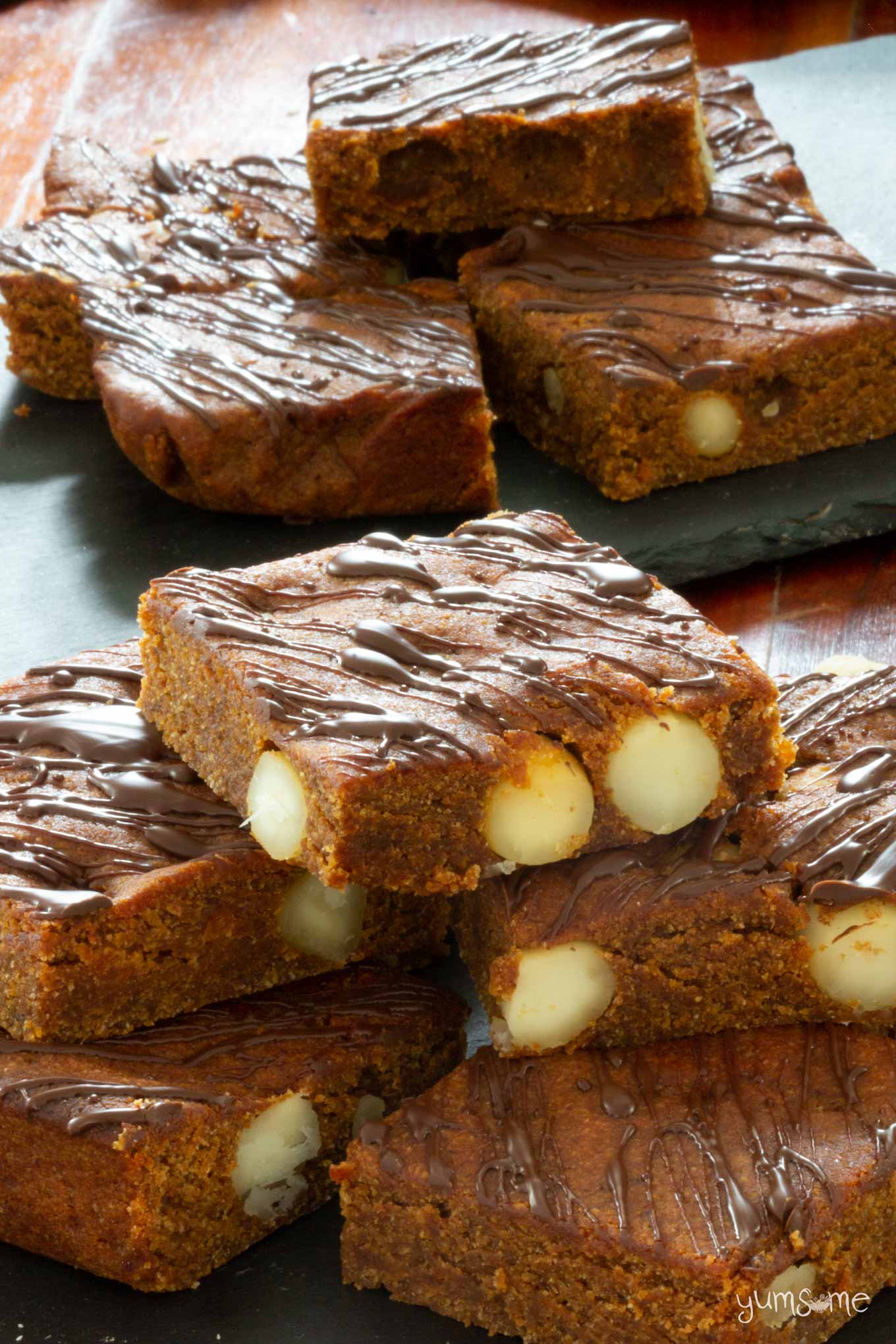 Although admittedly not very diet-friendly, this bondies recipe is an absolute a corker. All of you watching your waistline, please look away now. (Or y'know, just lick your screens.)
I can't tell you how many of these I've made. No, actually, I can, around 650 a month when I was baking professionally in Margate. At home, I've made them scores of times.
What is cookie butter?
Also known as Biscoff Spread, cookie butter is made from Speculoos cookies ground to a thick paste with flour, sugar, and some form of fat. It has the consistency of peanut butter or chocolate hazelnut spread, and can be eaten on toast, pancakes, waffles, and much more. So much more. Le sigh.
This gorgeously rich, spiced caramel-flavoured spread was invented by 70 year old Oma Wapsie (real name, Rita) from Dronten in the Netherlands, and published on her website in 2002. It was inspired by the frosting on her own mother's post-WWII koekjestaart (cookie cake), which she made every year at Christmas when Rita was a child. A cake that Rita went on to make for her own children and grandchildren.
In 2008, Rita was contacted by someone from Lotus, the manufacturer of Speculoos cookies. He told her that his company was currently embroiled in a legal wrangle with a chef from a Belgian reality TV show who, prior to the show, had patented Oma Wapsie's cookie butter recipe in 2006. And actually, someone else on the same show claimed to have invented cookie butter, and worked with Lotus to manufacture it.
Lotus eventually purchased the patent in 2009, and then proceeded to threaten other manufacturers with legal action if they didn't cease production!
However, in January 2011, when a coalition of these manufacturers filed a counter suit against Lotus, it became apparent that Rita had invented cookie butter. The patent was then overturned by the Court of Commerce in Ghent, Belgium.
Unfortunately, despite cookie butter now being made by several brands across Europe and the United States, as far as I know, Rita has never received a penny for her invention. Just some Speculoos Spread and some cookies from Lotus.
Lotus does not even credit her with their million-selling spread at all. Instead, on their website, all the credit goes to the reality show contestant.
"I think it's a pity that I don't get a cent from it. Because I was first, right? Everyone seems to be getting rich with this except me. The others received money from Lotus Bakeries for that patent. Actually, those competing companies should be able to give me something, because thanks to me they can now continue to make and sell their speculaas paste. I don't need millions - a few thousand euros is such a nice gesture."
(I know how she feels. Similar has happened with my carrot bacon.)
Ingredients
The sweet potatoes are there for moisture, structure, and added goodness, while the cookie butter provides fat and flavour.
If you can't get date sugar, then coconut or dark brown sugar will also work. Date sugar does, however, give a richer, caramel flavour to these blondies.
Like with my fudge brownies, I always use coconut flour for this blondies recipe. I haven't tried using any other type of flour, so if you do swap flours, do let me know how you get on.
Regarding plant milk; as I've said in other recipes, I prefer Oatly but I've used soya milk too, and it works well. In fact, I've used vanilla flavoured soya milk before, which meant I could leave out the vanilla extract altogether.
If you don't have plant milk, dairy can be used. I wouldn't recommend goat milk though, as it may impart a weird 'goaty' flavour to the blondies!
Macadamias are indigenous to Australia, where they are also known as bauple, bush, or Queensland nuts. They have a mild, light flavour, and a crisp texture (unlike cashews, for example, which are quite creamy - hence my cashew cream!).
NOTE FOR DOGGIE PEOPLE: while not normally life-threatening, do be aware however, that macadamias are toxic to your canine pals. They can cause muscle tremors, abdominal issues, and joint pain. If your dog eats any macadamias, please seek veterinary treatment straight away. Don't feed them these blondies!
making cookie butter blondies
When I say that these are practically idiot-proof, I mean it. The only way these could possibly go wrong is if you use the wrong ingredient quantities or over-bake them. Even if you under-bake them, it won't be a disaster.
Of course, if you choose to change the ingredients, there is more potential for failure but if you follow my recipe as written, I promise you won't go wrong.
It's just a case of mixing the sweet potato (which is there for moisture) and cookie butter together with a stand mixer, adding the sugar, mixing a bit more before adding the milk, and then the rest of the ingredients. Basically, the mixer is doing all of the hard work so you don't have to. Once everything is mixed together, dump it into your baking tray, level it off, and bake for 20 minutes.
Now, I haven't tested this out with multiple ovens - just the two I have at home - so as ever, you know your own oven. If you know it runs warmer or cooler, then please do adjust the baking time. Once the top feels firm to the touch, it's fine to take out the tray, and leave the blondies* to cool and firm up.
Then all you have to do is swish some molten chocolate over the top, let it set, cut up into squares, and sit back and bask in all the glory that'll be coming your way when your friends and family get their laughing gear around these beauties. Or just keep them to yourself. No judging here. 😉
*Existential question: are they blondies only once they've been cut up? What state of existence are they in before cutting? A giant blondie? A traybake?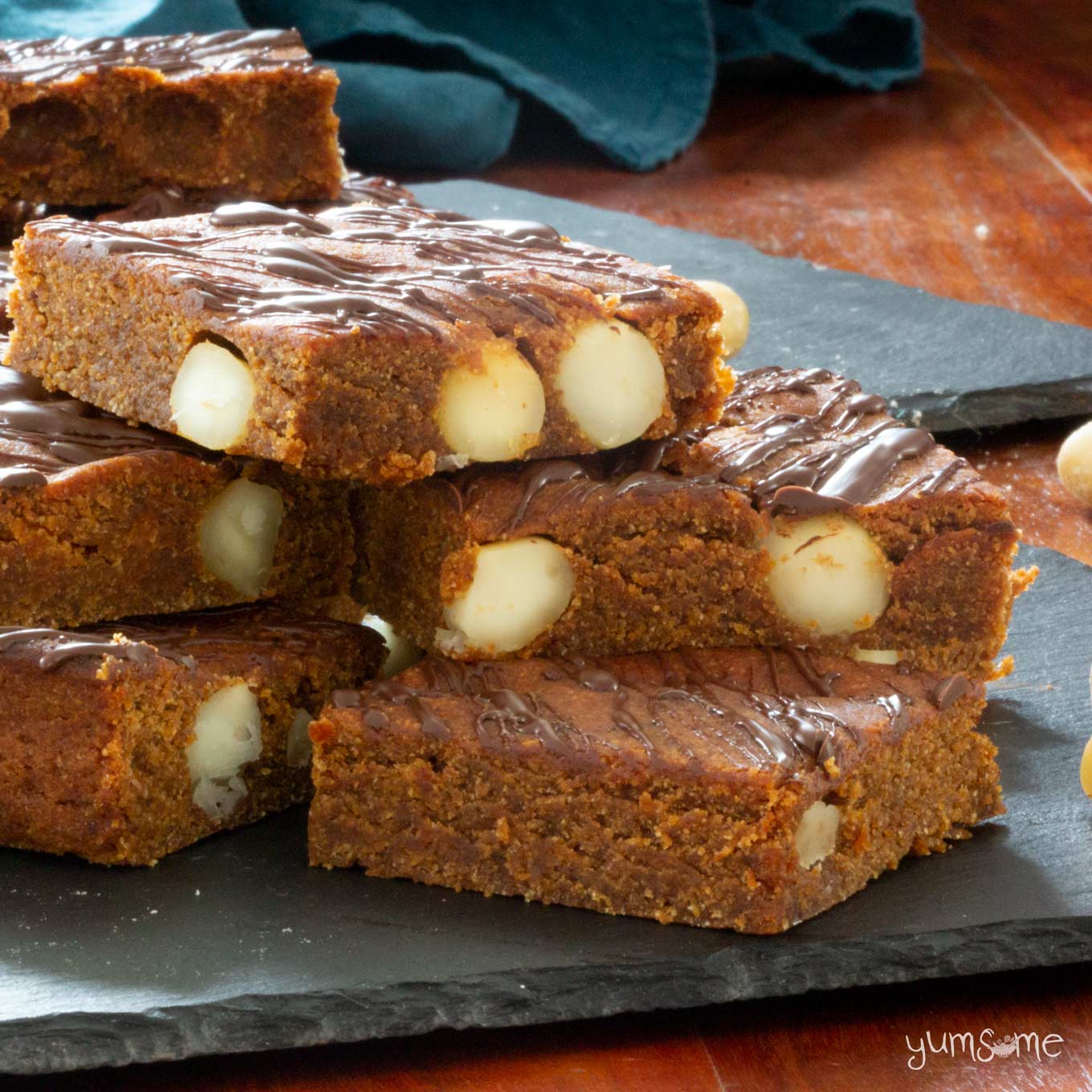 Tips
I find the easiest way to level the blondie mixture is to spread it with a flexible spatula, and then use a small rolling pin to make sure it's all even.
Don't worry if the blondies still feel a little soft, they will firm up as they cool. You don't want to over-cook them, or else they'll be dry.
If you don't want to add coconut oil to the chocolate for the topping, that's fine. It just serves to make it a little more flexible but it will be absolutely fine without it.
Store in an airtight container at room temperature for up to a week. In the fridge they'll keep a bit longer, and if you freeze them, they'll be good for around three months.
Serving these blondies
Served warm with a scoop of good vanilla ice cream, or simply enjoyed cold on their own (they go very well with a nice cup of tea), these blondies are sure to put a smile on everyone's face! What's more, they'll keep in an airtight container for a week or so, and can also be frozen for up to three months.
Bet you can't eat just one! (No, actually, you could - they are very rich!) Enjoy!
📖 Recipe
Cookie Butter and Macadamia Blondies
Soft and fudgy, with a rich caramel flavour, these delicious cookie butter and macadamia blondies are really easy to make, and dangerously more-ish!
Print
Pin
Rate
Makes (slide to adjust):
24
blondies
Instructions
Line a 40cm x 27cm x 2,5cm (16" x 11" x 1") baking tray with non-stick baking parchment, and pre-heat your oven to 225°C (440°F/gas mark 7).

Place the cooked sweet potato and cookie butter into the bowl of a large stand mixer fitted with a standard beater, and mix on the lowest speed for 5 mins.

Add the date sugar, and mix for a further 3-5 mins, until the sugar has dissolved.

Mix the coconut flour with the salt and baking powder, and then add to the mixer, and continue to mix for 2-3 mins, until the flour has been incorporated.

Mix the vanilla with the milk, and add to the mixer. Mix for another minute or so.

Add the macadamias, and mix for another 30-ish seconds, just until they're evenly distributed.

Turn the blondie mix out onto the baking tray, and level off, making sure you get right into the corners.

Bake in the centre of the oven for 20 mins.

Remove from the oven, and leave for an hour to cool before removing from the tray.

Once fully cool, melt the chocolate and coconut oil in a bowl over a pan of hot water, then decorate the top of the blondies by swiftly drizzling the molten chocolate back and forth in a diagonal pattern.

Once the chocolate is set, cut into 24 squares, and enjoy!
Nutrition Facts
Cookie Butter and Macadamia Blondies
Amount Per Serving (1 blondie)
Calories 335
Calories from Fat 189
% Daily Value*
Fat 21g32%
Sodium 196mg8%
Carbohydrates 35g12%
Protein 3g6%
Vitamin A 3300IU66%
Vitamin C 4.1mg5%
Calcium 40mg4%
Iron 1.3mg7%
* Percent Daily Values are based on a 2000 calorie diet.
Did you make this recipe?
Do mention @yums0me and/or tag #yums0me - I'd love to see how yours turned out!
Disclaimer
Measurements in parenthesis are approximate; it is beyond the scope of yumsome to be able to provide pinpoint-accurate ingredient quantities for every type of measuring utensil. As a guideline however, I make the assumption that:
1 cup = US cup = 240 ml
1 tablespoon = US/UK = 15 ml
1 fl oz = US = 30 ml
Further information may be found here