Creamy, savoury, filling, and bursting with deliciousness, this gluten-free vegan asparagus and sun-dried tomato quiche is really easy to make, and perfect for al fresco dining now the warmer weather is upon us!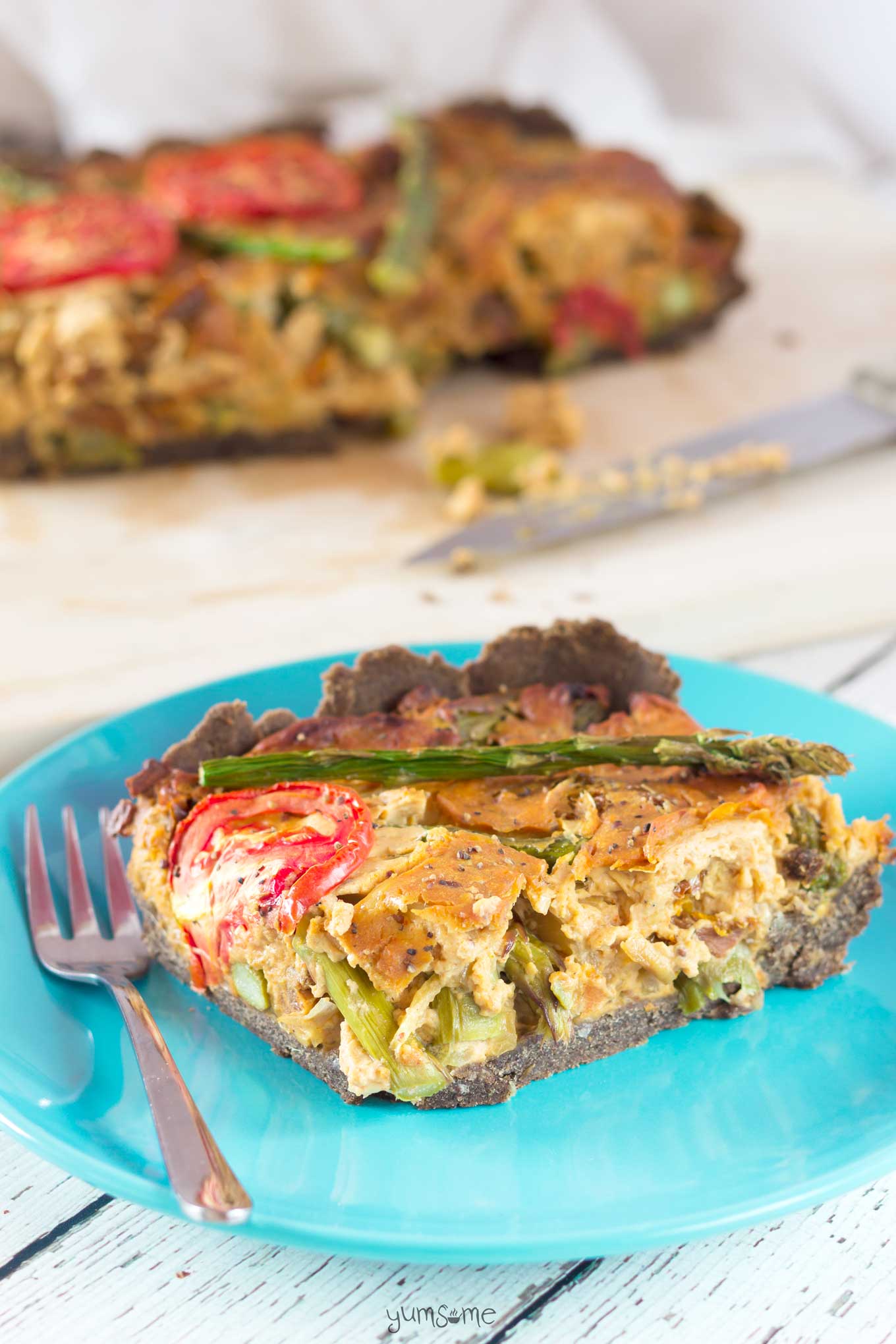 Did you know that asparagus used to be called 'sparrow grass', and was considered a peasant food?
So many of the high-end foods we now consume were once cheap staples for the masses; oysters, rocket, samphire, wholegrain bread... while today's staples (e.g. potatoes, cauliflower, white bread, sugar, pepper) were luxury items, and used less as essential sustenance but more as a means of demonstrating one's wealth to visitors.
Years ago, when I was living in Britain, amato mio and I built, grew, and maintained an early 17th century cottager's garden within the grounds of a local stately home.
Holdenby House, built by Elizabeth I's Lord Chancellor, and one of the largest, grandest homes in England at the time, later became a residence of Charles I, and it was life during this period of history that we recreated. Or rather, the life of an average, common-or-garden peasant.
Yarp!
We had a replica cruck house, built by a regiment of the English Civil War society, and we grew not only food plants but also those used for dyeing and making medicines.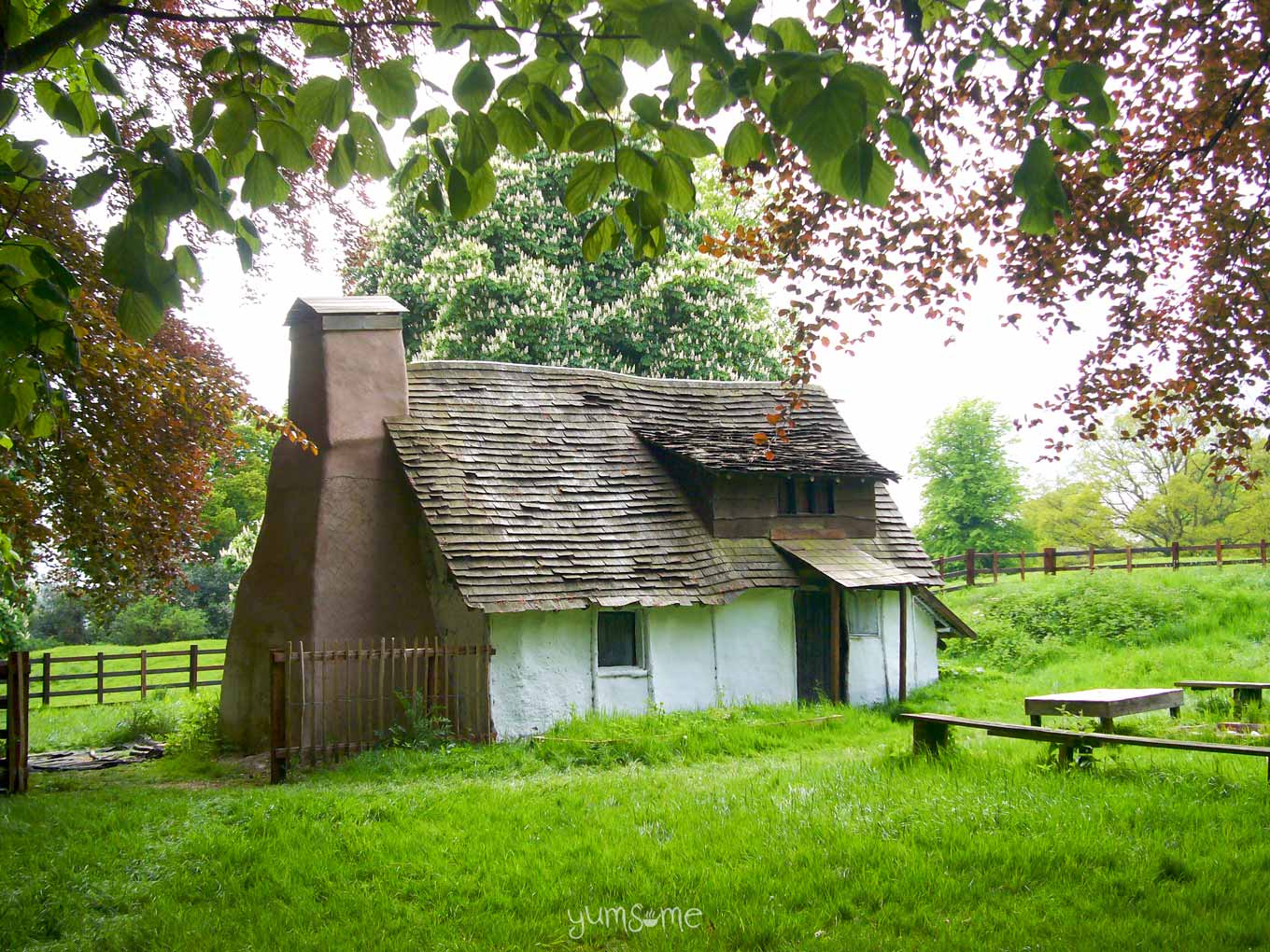 Any huswife worth her salt in the early modern period would have to known how to grow and prepare food, plus also how to take care of her family's ailments, and how to dye their clothing in order to 'refresh' it. A peasant woman's petticote (outer skirt) and bodice would most likely have been turned at least once (taken apart, and re-made inside out), and dyed several times, each time darker and darker, in order to not show stains.
At Holdenby, along with growing stuff, we'd give public demonstrations of cooking, and making remedies and dyes. If people were very lucky, they might even see me going about my daily chores, 17th century-style. People would be fascinated to see me using an upright pole to wring out the laundry, which was then spread over lavender bushes to dry in the sun!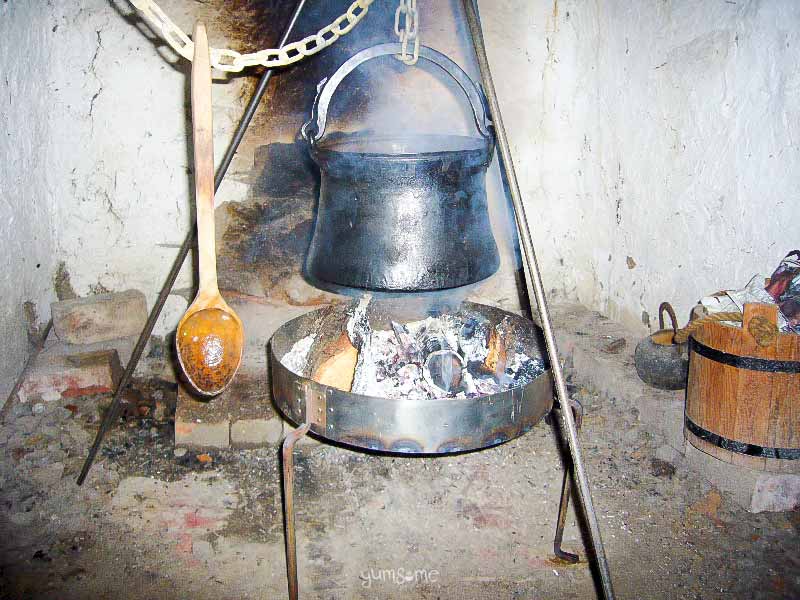 They were good times.
This gluten-free vegan asparagus and sun-dried tomato quiche is not something my 17th century self would recognise - not least because unlike today, pie crusts (called 'coffins' back then) were merely containers in which you cooked the actual food (e.g. meat). Pastry was also used to seal the oven door. It wasn't for eating!
Fortunately, today we understand how delicious pie crust is, and I must admit that I do love a hearty pie. Making the crust for this quiche with buckwheat and teff flours gives it a great taste, and a lot of bite. It's a very filling crust, in my opinion, and more satisfying, I think, than one made with white flour.
The basis of the filling is firm silken tofu but if you can only get extra firm, it will work as well - you'll just need to blend it a little longer, and maybe add a little more cream. If you don't have non-dairy cream, you could use milk (non-dairy of course!) but will be a little less creamy-tasting. You could also use a tablespoon of cashew cream, which is something I often do but for this recipe, I wanted to keep it nut-free as well as gluten-free.
You can also use whichever veggies you like, as long as they're not too watery. I use the sun-dried tomatoes to ramp up the flavour, and to give a slightly sweet edge, but you could use fresh ones (de-seeded). Red, orange, and yellow peppers work too.
Or you could just leave them out all together, and have sparrow grass on its own.
Vegan Asparagus and Sun-Dried Tomato Quiche
Is...
full of veggies
filling
satisfying
savoury
cheesy
easy to make
gluten-free
dairy-free
nut-free
packed with protein and fibre
nutritious (Vitamin A 64%, Vitamin C 26%, Calcium 13%, Iron 40% RDV)
totally scrummy!
Serve it with some crisp green leaves, and my loaded potato salad, and make your tummy happy!
Have you ever had a vegan quiche? What's your favourite type? Tell me in the comments below!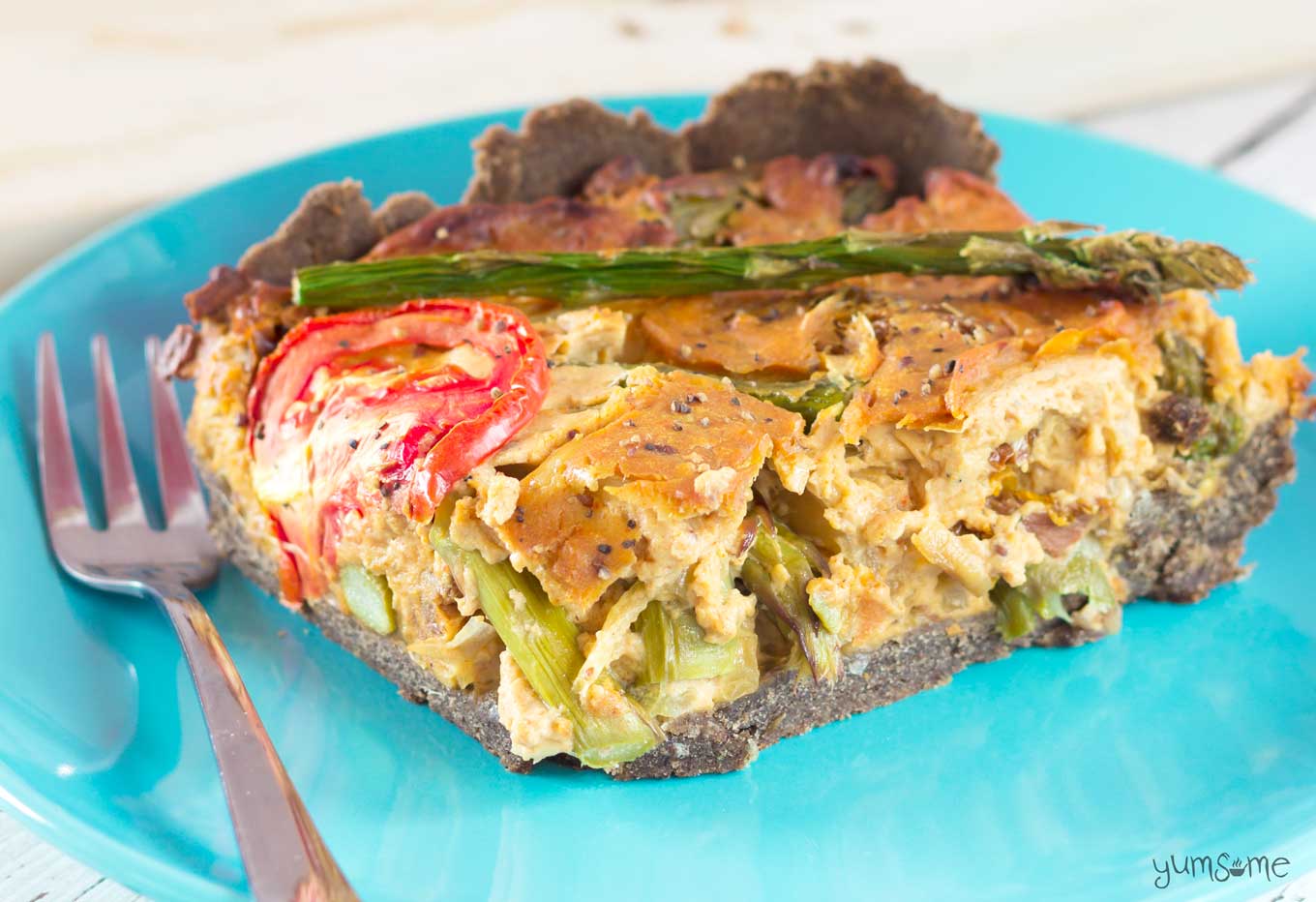 📖 Recipe
Vegan Asparagus and Sun-Dried Tomato Quiche
Creamy, savoury, filling, and bursting with deliciousness, this gluten-free vegan asparagus and sun-dried tomato quiche is really easy to make, and perfect for al fresco dining now the warmer weather is upon us!
Print
Rate
Makes (slide to adjust):
6
servings
Ingredients
Filling:
1

tablespoon

vegetable oil

1

large white onion

finely chopped

4

large cloves garlic

smashed

1

x 500g

1 lb bunch asparagus, trimmed

12

large sun-dried tomatoes in oil

drained and sliced

350

g

firm silken tofu

8

tablespoon

nutritional yeast flakes

2

tablespoon

non-dairy cream

note 2

1

tablespoon

cornflour

corn starch

1

tablespoon

paprika

1

tablespoon

fresh lemon juice

2

teaspoon

wholegrain mustard

note 3

¼

teaspoon

sea salt

¼

teaspoon

ground black pepper

1

large fresh tomato

thinly sliced
Instructions
Pre-heat your oven to 200C (390F).

Oil and line a suitable oven dish (note 5)
Make the crust:
Place the flours and salt into a large bowl, and mix together.

Add the oil and the water, and using your hands, mix until you have a smooth, firm dough.

Press the dough into the dish, making it as even as possible. (note 4)

Bake in the centre of the oven for 15 minutes.

Remove, and set aside.
Make the filling:
While the crust is baking, sauté the onions in the oil over a medium heat, for around 5 mins, until translucent.

Add the garlic, asparagus and sun-dried tomatoes, and continue to cook for another 3-5 mins, until the asparagus starts to become tender.

Turn off the heat, and set aside.

Blitz the rest of the ingredients -

except the salt, pepper, fresh tomato, and decorative asparagus

- in a 

blender

or

food processor

until smooth.

Add to the veggies, and mix well.

Taste, and season with the salt and pepper.

Pour the filling into the baked crust, and smooth the top.

Arrange the slices of tomato, and the reserved asparagus over the top. Finish with a few grinds of black pepper.

Bake in the centre of the oven for around 40 minutes, until the top is firm, and a toothpick when inserted, comes out clean.

Remove from the oven, and set aside for 15-20 minutes to cool.

Remove from the oven dish, slice, and serve.
Notes
Keep a few spears back to decorate the top of the quiche.
I prefer to use soy cream but have used rice too, and it works just as well.
Or 1 teaspoon mustard powder.
The dough is a bit too crumbly to roll out - it tends to break quite easily - so I find the best way to make the pie crust is to press it into the dish with my fingers.
I use a 23cm (9") square Pyrex dish.
Nutrition Facts
Vegan Asparagus and Sun-Dried Tomato Quiche
Amount Per Serving
Calories 423
Calories from Fat 171
% Daily Value*
Fat 19g29%
Sodium 418mg17%
Carbohydrates 48g16%
Protein 18g36%
* Percent Daily Values are based on a 2000 calorie diet.
Did you make this recipe?
Do mention @yums0me and/or tag #yums0me - I'd love to see how yours turned out!
Disclaimer
Measurements in parenthesis are approximate; it is beyond the scope of yumsome to be able to provide pinpoint-accurate ingredient quantities for every type of measuring utensil. As a guideline however, I make the assumption that:
1 cup = US cup = 240 ml
1 tablespoon = US/UK = 15 ml
1 fl oz = US = 30 ml
Further information may be found here
I used my Optimum VAC2 Air Vacuum Blender for this recipe; if you want to try out this great blender for yourself (more information in my review), Froothie is offering yumsome readers an extra £20 discount, in addition to free shipping. Simply add the following code into the comments box when you check out, or if you order by 'phone, relay the code to the person taking your order. The discount will be refunded to your credit or debit card.In addition, Froothie offers a no-risk 30 day trial, plus a no-deposit, interest-free payment plan on every blender on the Froothie website. The VAC2 is often on special offer, with up to £200 off the usual price.
AMBASSADOR CODE 5252 + AMB20: £20 Discount
By the way, I get a small commission - at no extra cost to you - for every sale made using my affiliate code, so if you are thinking of buying something from the Froothie website, I'd really appreciate it if you use my link. Thanks so much! Affiliate sales and advertising, BTW, fund yumsome - without them, I wouldn't be able to provide you with free content.
While you're here, why not check out these spring and summer yums?