Vegan bagels and lox, you say? From scratch you say? Why yes, of course; creamy vegan ricotta, smoky carrot lox, and soft home-made bagels make this a perfect lunch!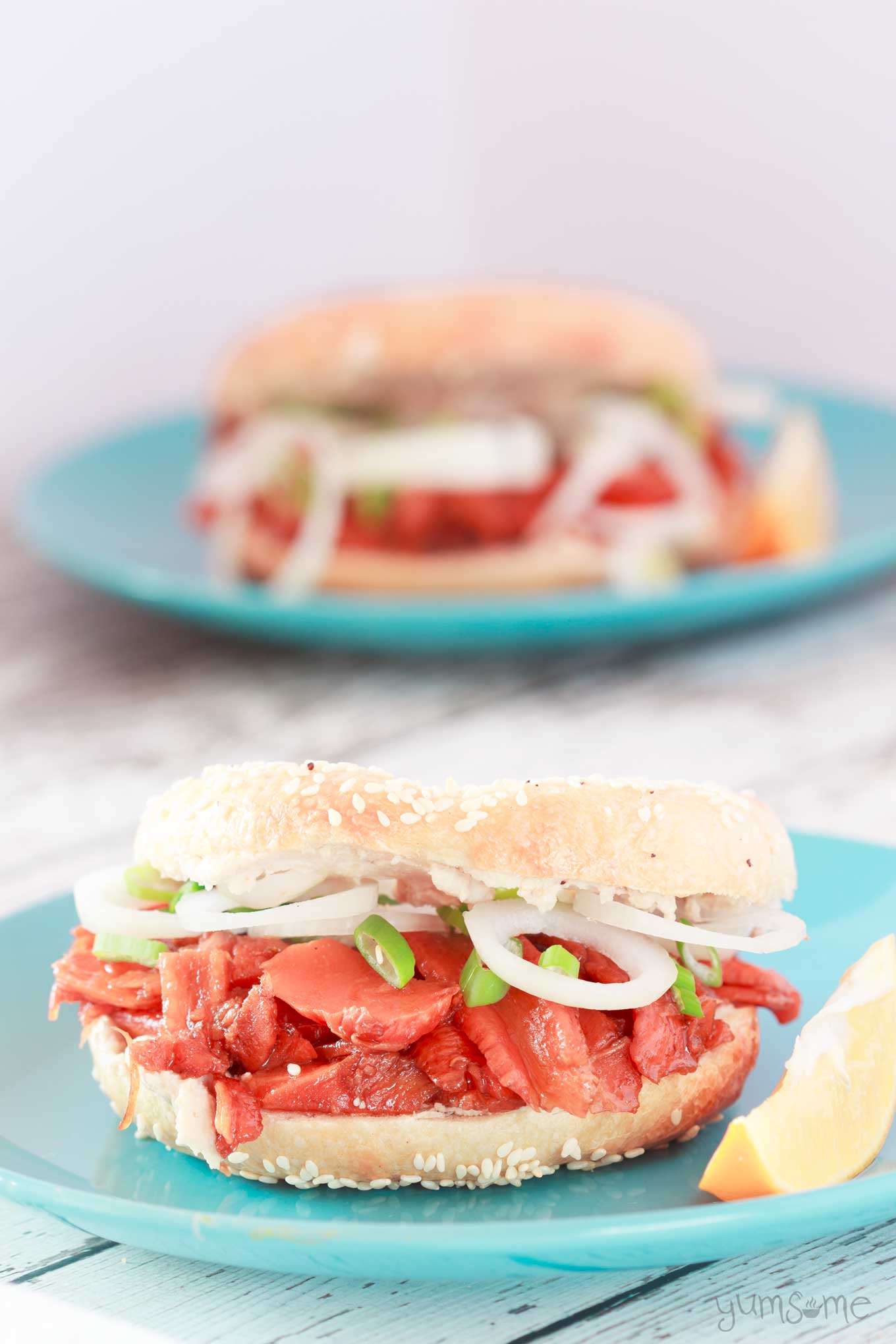 This post contains affiliate links. For more information, please see my privacy policy.
What can I say but wow - these babies are amazeballs. Really, really amazeballs!
This simple vegan smoked 'salmon' (lox) is made from slow-roasted carrots, marinated in smoky olive oil for a few days to really bring out their sweet and smoky flavour, and smooth texture.
But here's the rub; until last year, I had no idea that there was such a thing as carrot lox - after all, how can you make something from carrots that resembles smoked salmon? Also, I have to admit, that I've never been a fan of smoked salmon anyway. I only ever tried smoked salmon once, and found it barfable.
Truly.
The flavour was nice but that texture... ugh.
However, I love carrots, and I know that they can be used to make the most amazing not-at-all-carroty-things, such as 'bacon', cake, smoothies, and nacho cheese, so why not not-smoked-salmon?
Bagels, cream cheese, & Lox
Is now a good time for me to confess that I've never actually had a bagel with smoked salmon (lox) and cream cheese? Back in my youth, it was salt beef or nothing.
Oy.
Also, along with smoked salmon, I've never liked Kraft Philadelphia cream cheese either (which is where the lox and cream cheese bagels come from, so I am told). In my pre-vegan days, as a huge cheese lover, Philly was something I was never fond of. Curd cheese, yes - that particular brand, no.
(Sorry, Kraft!)
So why then, did I choose to create a vegan version of something I...
a) had never eaten
b) contained ingredients I have never liked?
Because when I saw this video from Sarah's Vegan Kitchen, I was intrigued. So I checked out the Olives for Dinner recipe that Sarah used, and decided that I was up for the challenge!
Plus, it looks really delish, right?
And here's the good news - it's more than really delish, it's completely and utterly yummy. So much so that amato mio was totally lost for words.
Totally.
Can't argue with that.
If you like this Vegan Bagels and Lox recipe, you'll love these other veganised favourites!
The Best Vegan Bagels and Lox
Are...
easy
healthy
smoky
silky
creamy
tangy
full of Vitamin A and Iron
non-vegan boyfriend-approved
delicious
Whether you were/are a fan of smoked salmon or not, I really would urge you to make these bagels and lox. I'm not saying they are going to pass a blind taste-test (not that I would know, of course) but they honestly more than hold up as a meal in their own right.
Enjoy!
What do you like to have in your bagels?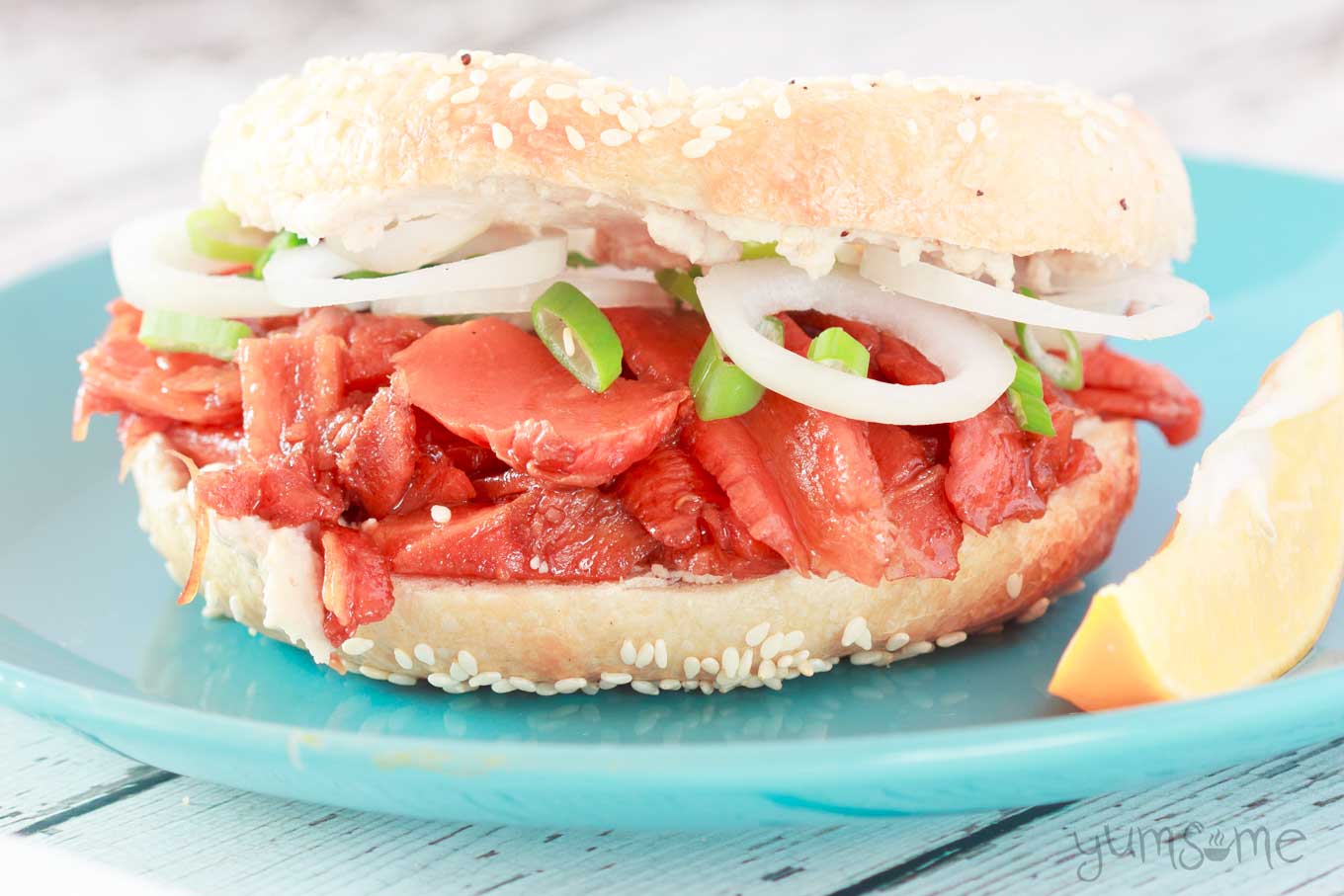 📖 Recipe
The Best Vegan Bagels and Lox
Vegan bagels and lox, you say? From scratch you say? Why yes, of course; creamy ricotta, smoky carrot lox, and soft home-made bagels make this a perfect lunch!
Print
Pin
Rate
Makes (slide to adjust):
4
bagels
Ingredients
For the carrot lox:
450

g

fine sea salt (or koshering salt)

3

large carrots

washed, topped, and tailed, but not peeled

1

tablespoon

extra virgin olive oil

2

teaspoon

liquid smoke

½ 

teaspoon

apple cider vinegar
The rest:
4

bagels

100

g

vegan ricotta

1

small onion

cut into fine rings

2

spring onions

green parts only, finely-chopped

Dash

sea salt

optional
Instructions
To make the carrot lox:
Pre-heat your oven to 190°C (375°F).

Place half of the salt into a

loaf tin

, and lay the still-wet carrots side by side on top.

Cover with the remainder of the salt, and bake in the centre of the oven for 90  minutes.

Once the carrots have been baked, remove the tin from the oven, and tip out onto a large baking tray. The salt should fall away from the carrots.

Leave to cool until you can handle the carrots, then brush away any remaining salt.

Remove as much skin as you can from the carrots: I find that the easiest way to do this is to use my thumbnail to break the skin, and then pull away the rest with my fingers. It can be a bit time-consuming but using a knife often results in losing large lumps of carrot flesh too.

Whisk together the olive oil, liquid smoke, and apple cider vinegar in a bowl large enough to contain the carrots and marinade.

Use a sharp knife to cut the carrots into thin strips, and then place them into the marinade.

Using your hands, gently massage the marinade into the carrot strips, ensuring that they're all well-coated. Don't worry if they seem overly greasy at this point, they won't be by the time they're done.

Cover the bowl with a lid or silicone bowl cover, and leave in the fridge for the next three days to marinate, turning the carrots over with your hands once a day to make sure they don't dry out.

When ready to eat, remove from the fridge, and bring up to room temperature.
To make bagels and lox:
Pile the carrot lox over the bottom halves of the bagels, and add the onion rings.

Sprinkle over some chopped spring onion and a little salt if using, then add the top half of the bagel.

Enjoy!
Notes
Nutritional information for this recipe has been calculated on the assumption that around a quarter teaspoon of salt will have been absorbed into the carrots.
My carrot lox is adapted from Erin's recipe, over at Olives for Dinner.
I know that the non-vegan version of bagels and lox should have capers and dill but I couldn't find any in my local supermarket, hence not using them! By all means add them if you want to though.
Nutritional data for the lox on their own is as follows (for ¼ of the recipe):
Calories 49
Total Fat 3 g
Sodium 178 mg
Total Carbohydrate 4 g
Dietary Fiber 1 g
Sugars 2 g
Nutrition Facts
The Best Vegan Bagels and Lox
Amount Per Serving (1 bagel)
Calories 450
Calories from Fat 126
% Daily Value*
Fat 14g22%
Sodium 694mg29%
Carbohydrates 68g23%
Protein 13g26%
* Percent Daily Values are based on a 2000 calorie diet.
Did you make this recipe?
Do mention @yums0me and/or tag #yums0me - I'd love to see how yours turned out!
Disclaimer
Measurements in parenthesis are approximate; it is beyond the scope of yumsome to be able to provide pinpoint-accurate ingredient quantities for every type of measuring utensil. As a guideline however, I make the assumption that:
1 cup = US cup = 240 ml
1 tablespoon = US/UK = 15 ml
1 fl oz = US = 30 ml
Further information may be found here