Ready in under four minutes, Thai stir-fried morning glory (phad pak boong fai daeng) may well be the fastest and easiest Asian food you'll ever make! Despite its simplicity, this spicy, garlicky street food dish with fermented soya bean sauce will also be one of the tastiest.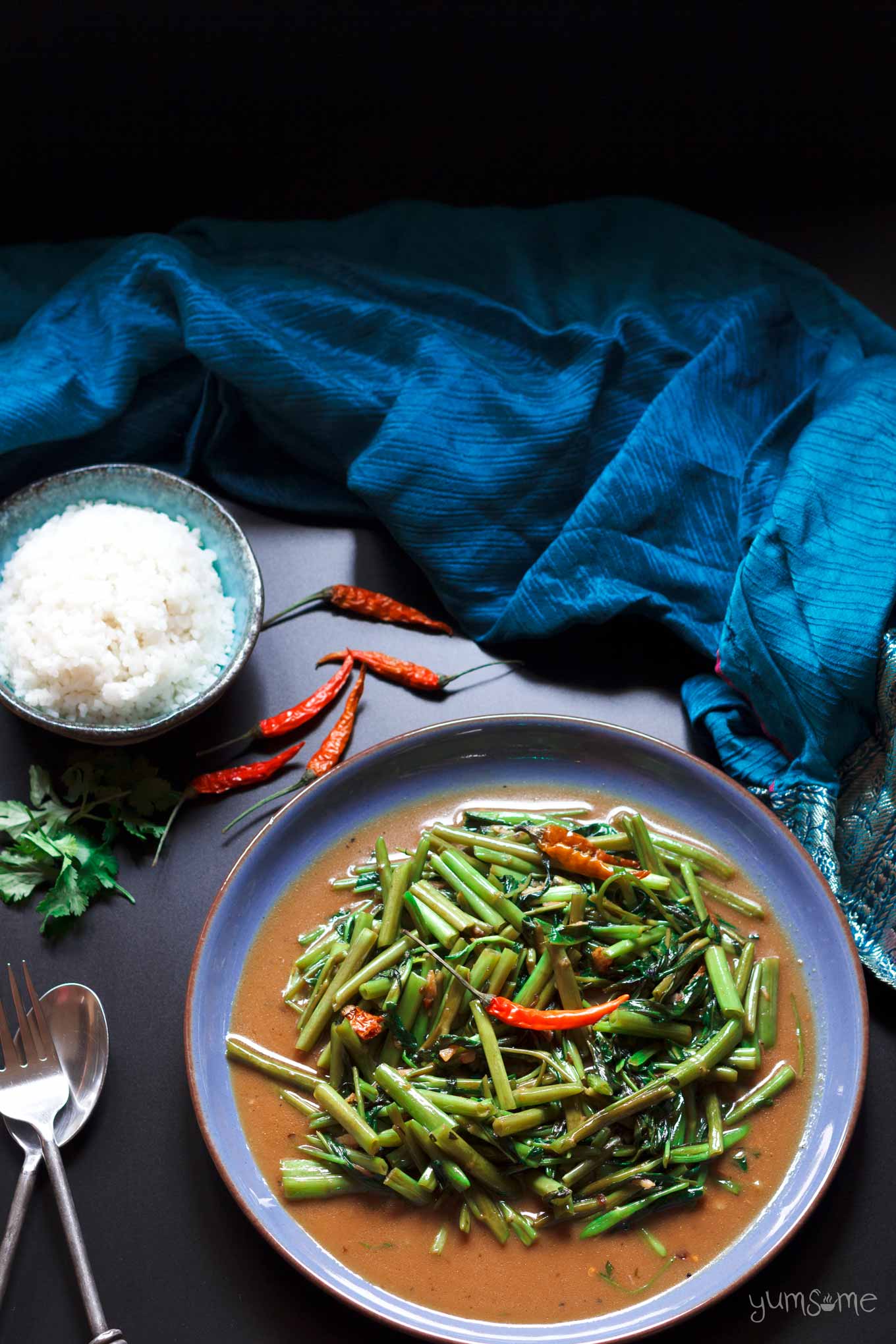 Unfortunately, this is not a dish you'll often (if ever) see on the menus of Thai restaurants in the West, which is a shame but I guess it's just not considered 'special' enough.
And, being completely honest, eating street food in a nice, pristine restaurant in Britain completely lacks the atmosphere of sitting on a plastic chair at the side of a busy road in Thailand on a warm evening, watching the world go by. I will never not miss that.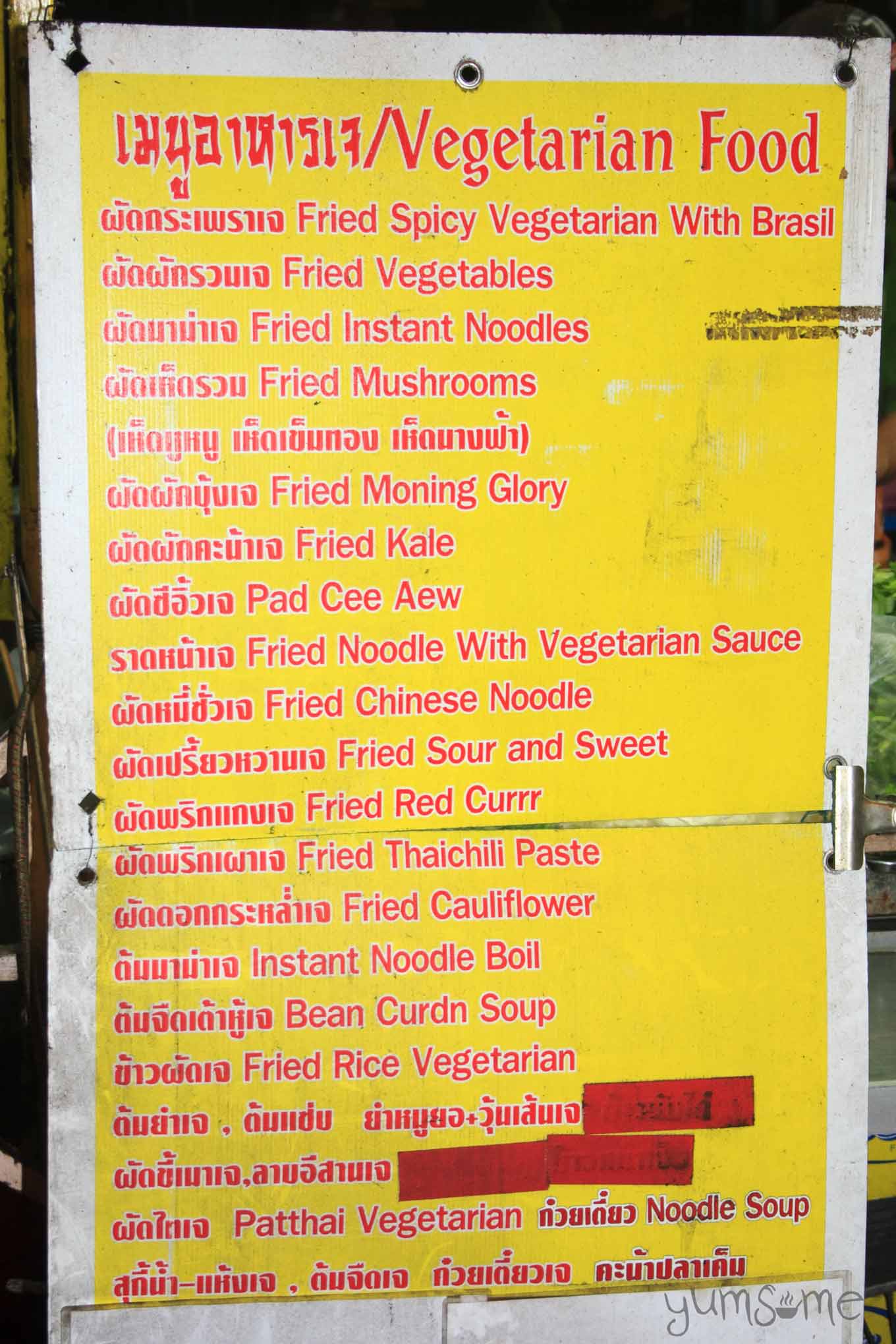 Phad pak boong fai daeng
Although I've eaten stir-fried morning glory all over South East Asia, I first came across it in Thailand when I was living in Mae Hee - a small village, not far from the Burmese border.
(Yes, I know I should call it Myanmar but that's actually a pretty contentious subject among the Burmese, so I prefer to go with Burma, since it's what everyone I've ever known from there prefers it to be called. #digression)
So anyway, back when I was living in my little bamboo hut on a lake, oftentimes I'd be working out on the veranda in the evening, getting distracted by somersaulting fish, little jingjoks chirruping to each other, lovelorn tokays calling out for a mate, blue crested dragons popping by to say hello...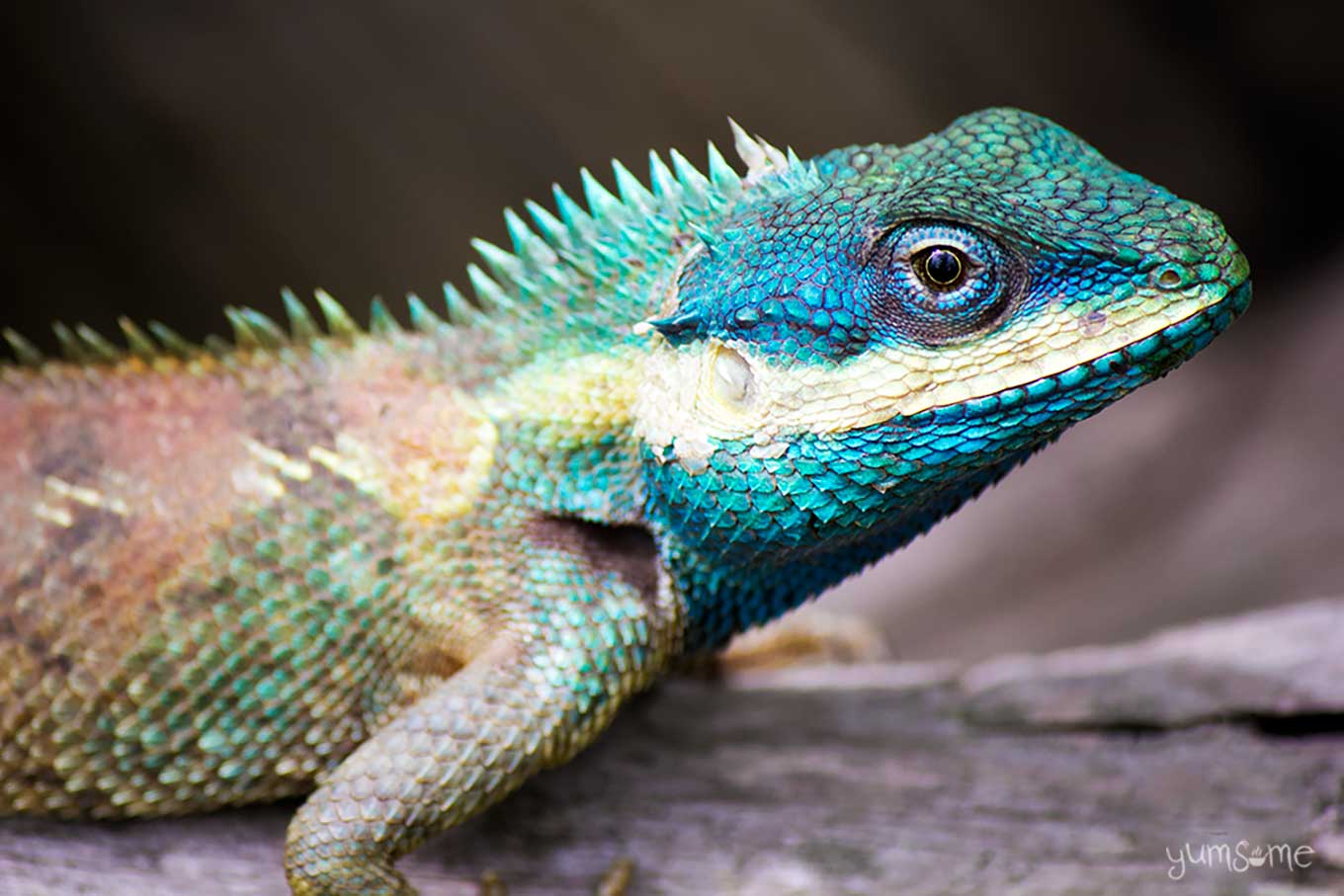 As I furiously bashed away at my keyboard, my friend, Orn, would come by, and say,
Nico, you work so late - I make you dinner, ka!
And she'd present me with a bowl of sticky rice, and a plate of THE most scrumptious stir-fried morning glory. It was always dressed with my favourite flower, frangipani.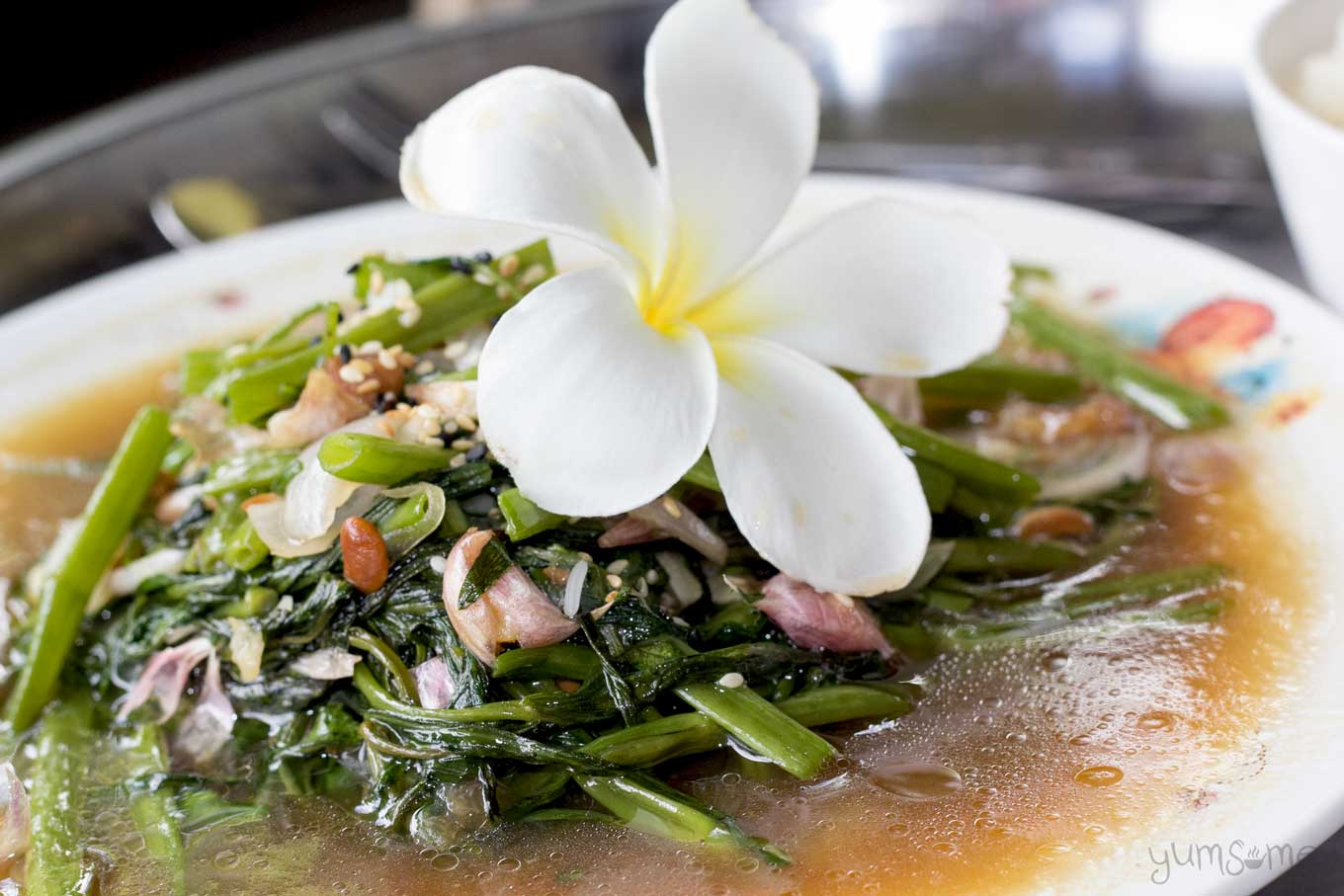 After the fifth or sixth time of making it for me, I finally managed to coax the recipe from her. I was astounded by how simple it is. And how quick too - it takes just a few minutes, and most of that is prep; the actual cooking takes around 90 seconds!
How to make Thai stir-fried morning glory
It's just a case of breaking up the morning glory, smashing the garlic, slitting the chillies, and then chucking everything into a really hot wok, along with a bit of seasoning. Stir-fry for 90 seconds, and you're done!
In case you're wondering, phad = fried, pak boong = morning glory (not a literal translation, of course), fai = fire, daeng = red. So basically, morning glory fried over a red-hot fire.
Yes folks, we're heating our woks all the way up to eleven for this!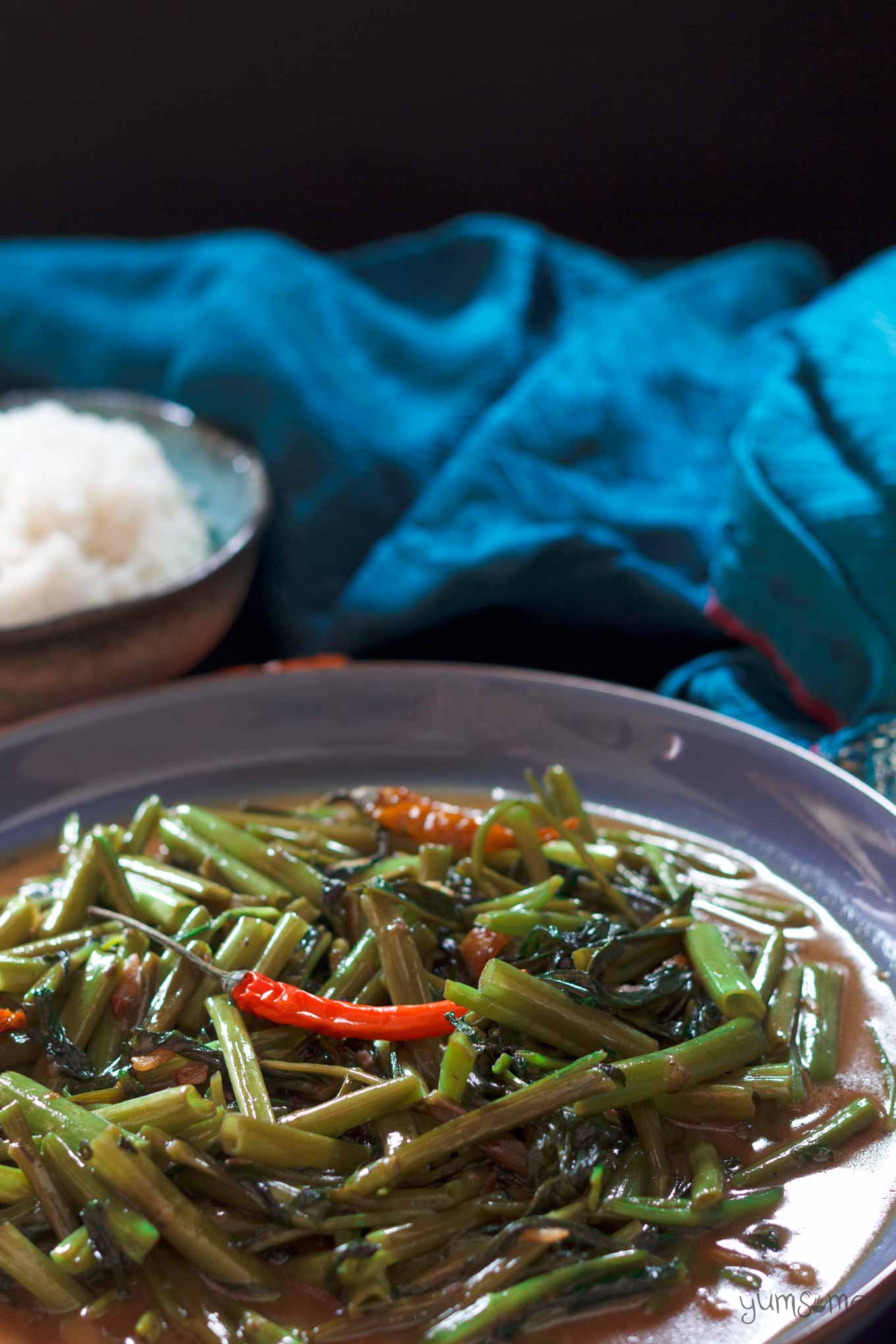 What is morning glory?
Morning glory, is a hollow-stemmed semi-aquatic plant with long lance-like leaves. It's used throughout Asia but is perhaps best known by visitors to SE Asia who've seen theatrical street vendors cook it, then throw it across the street to be served up to goggled eyed and gasping tourists!
(Video courtesy of Skip Blumberg.)
English names for pak boong (ipomoea aquatica) vary; as well as morning glory (not to be confused with the garden plant of the same name, the seeds of which have hallucinogenic properties), it's known as water convolvulus, water spinach, river spinach, Chinese spinach, and Chinese watercress.
Plus, no doubt Shrek's favourite - swamp cabbage.
Morning glory across Asia
Across Asia, pak boong (or phak bung) is known by many names too; in China (Cantonese) it's ong choi/choy - actually, it's labelled as such in my local Sri Lankan store, despite it being called kankung in Sinhalese. It's also called kangkung in Malaysia and Indonesia, and kangkóng in the Philippines. In Mandarin-speaking China, it's kongxincai, and eng chai in Taiwan.
The Burmese, who often serve it with squid, call it kazun, to the Lao it's pak boong, as it is in Thailand, while in Vietnam it's known as rau muống. The Khmer people of Cambodia refer to it as trokuon, and in India it's called variously; kolmou xak (Assamese), vallal (Tamil), kalmi saag (Hindi), and kalmi shak (Bengali) - to name but a few.
Naturally, dishes which use pak boong abound, and aside from stir-fried morning glory, one of my favourite ways to eat it is in thoran, of which I ate a lot when I lived in Kerala.
By the way, if you live in Florida, Hawaii, California, or Texas, you may be able to find pak boong growing in the wild! If not, it's easily available in Asian stores and online.
Where does this dish come from?
Stir-fried morning glory originated in China, and then spread throughout the Chinese diaspora in Asia, evolving as it travelled. Although the version I make is Thai, I do actually ditch fish sauce in favour of light soy and Chinese cooking wine (shaoxing). Of course, if you'd rather use vegan fish sauce, then please do (forget the soy sauce and shaoxing, and use 1 tablespoon mai nam pla instead).
Thai Stir-Fried Morning Glory
Is...
easy
fast
packed with vitamins and minerals
adaptable
delicious
Use as many or as few chillies as you like (they're only there for the kick, not to actually eat... unless you want to, of course); use a ton of garlic or a moderate amount; add a little less stock or even none if you prefer a drier dish; serve it with steamed or sticky rice. It's up to you. Above all though - enjoy!
Gin hai aroi ka!
Have you ever had Thai stir-fried morning glory?
📖 Recipe
Thai Stir-Fried Morning Glory
Ready in under four minutes, this may well be the fastest and easiest Asian food you'll ever make! Despite its simplicity, this street food dish of barely stir-fried morning glory in a spicy, garlicky, fermented soya bean sauce will also be one of the tastiest.
Print
Pin
Rate
Makes (slide to adjust):
2
servings
Ingredients
200

g

pak boong

(morning glory/water spinach)

2

tablespoon

vegan oyster sauce

(mushroom sauce)

1

tablespoon

all-purpose soy sauce

(note 1)

1

tablespoon

shaoxing rice wine

(note 2)

1

tablespoon

tao jiao

(salted/fermented soya bean paste) (note 3)

1

teaspoon

palm sugar

6-8

fat cloves garlic

3

red Thai chilli peppers

bird's eye chilli

1

tablespoon

rice bran oil

or other neutral-tasting oil
Instructions
Rinse the pak boong, shake it to remove as much water as possible, and then break the whole lot - stalks an' all - into 5cm (2") lengths. (note 4)

Put the pak boong onto a plate or in bowl, and pile the vegan oyster sauce, light soy, Shaoxing, tao jiao, and palm sugar on top.

Smash or pound the garlic (I use a large kruk - a Lao pestle and mortar). (note 5)

Partially split the chillies lengthways, and bash once or twice to release their oils.

Place a wok on the hob, and turn the heat up to high. Once it starts to smoke, add the garlic and chillies, and stir-fry for 10 seconds. (note 6)

Add the pak boong and veggie stock, if using, and continue to stir-fry for another 60 seconds or so, making sure that the greenery is coated in the sauce.

Serve immediately with steamed jasmine rice or sticky rice.
Notes
My favourite is Pearl River Bridge Superior Light Soy Sauce.
If you don't have Chinese cooking wine, you can use a tablespoon of dry sherry. At a push, dry white wine would work, and if you absolutely don't have anything else, use a tablespoon of apple juice or cider.

If you don't have or can't get tao jiao (aka

Tauco, Taucu, Taotjo, Tau chu)

, you can use either a tablespoon of doenjang, or one of miso instead. BTW, peach resin/gum is also called tao jiao (I know not why)... don't use that! 
The traditional way to do this is to pull the leaves from the main stems, then break the stems into pieces; allegedly, the morning glory retains its flavour but I've prepared it like this, and also just by breaking it all up together, and it makes no difference to the taste at all!
On Amazon.com, kruks are stupidly expensive (they're really cheap here in the UK) but if any of you across the pond want to buy one, Temple of Thai sell them for $27. Kruks are fantastic for making Thai salads (e.g. som tam)
If you're using an electric or ceramic hob, it will take longer to heat the oil, so you'll want to put the wok on the hob when you start to prep the ingredients.
Nutritional information doesn't include rice.
This is also a great way to cook Napa cabbage - just slice thinly, and follow the recipe - no need to do anything different! If you want to use baby bok choy, keep the leaves and stems whole.
Nutrition Facts
Thai Stir-Fried Morning Glory
Amount Per Serving
Calories 162
Calories from Fat 90
% Daily Value*
Fat 10g15%
Sodium 1175mg49%
Carbohydrates 10g3%
Protein 5g10%
* Percent Daily Values are based on a 2000 calorie diet.
Did you make this recipe?
Do mention @yums0me and/or tag #yums0me - I'd love to see how yours turned out!
Disclaimer
Measurements in parenthesis are approximate; it is beyond the scope of yumsome to be able to provide pinpoint-accurate ingredient quantities for every type of measuring utensil. As a guideline however, I make the assumption that:
1 cup = US cup = 240 ml
1 tablespoon = US/UK = 15 ml
1 fl oz = US = 30 ml
Further information may be found here
If you like my Thai Stir-Fried Morning Glory recipe, you'll love these other spicy yums!