Rich and tomatoey, with a hint of chilli, and so ridiculously delicious, these super quick and easy vegan Bolognese rolls are made from basic supermarket ingredients, and guaranteed to put a smile on the face of anyone who tries them!
So what do you do when you're moving home (again), and want something super-quick and easy but can't face yet another takeaway because that's all you've been living on for the past three days, due to a hectic work schedule, packing, furniture removal, and shopping at IKEA?
Improvise!
Fortunately, a little while ago, the lovely people at V-Bites sent me a box of goodies to try out, and I still had some of their VegiDeli Gourmet Meat-Free Vegetarian Mince, so I thought I'd make some kind of pasta. Quick. And. Easy. Right?
Wrong.
Trouble was, I'd packed all my pans (as well as my camera and lenses - hence the not-entirely-brilliant-taken-with-my-iPad-photos), barring a wok and a skillet, and I didn't have any fresh herbs. Ho hum.
I had a rummage in the fridge, and turned up half a pack of vegan puff pastry (Shire Foods if you're interested - 1 kilo for £2 from Iceland). Another rummage in one of the already-packed food bags, and I found a jar of amato mio's emergency pasta sauce* (Morrison's The Best Tomato, Garlic, and Basil Pasta Sauce - 350g for £1.30).
Sorted.
One totally winging it meal coming up.
(*He has a stash of easy things he can throw together because he really has no patience for making sauces from scratch!)
So amidst the chaos of having most of my kitchen gear packed up and ready to be loaded onto the removal van, I chopped up an onion (because I always know where my knives and chopping board are!), fried it off in a little olive oil with some chillies, smashed garlic, and rose harissa (very kindly sent to me by Belazu, along with the olive oil).
After that, I added the Vbites mince and Morrison's sauce, some capers, a bit of smoked paprika, and seasoned it all with some sea salt and a few grinds of black pepper. While it was warming through, I rolled out the pastry.
With a wine bottle.
Because I also always know where the wine is. 😉
Once the ragù was ready, it was just a case of spreading it over the pastry, rolling it up lengthwise, cutting it into eight rolls, then placing them in the skillet, and baking in the oven for 20 minutes.


Since I'd raided his grub stash, once the Bolognese rolls were baked and out of the oven, it was only fair that amato mio got to be the first to try them out...
Ho-leee shit - these are amazeballs!
...quoth he.
No, seriously, I don't even like pie** but these are awesome. Really, really frelling awesome!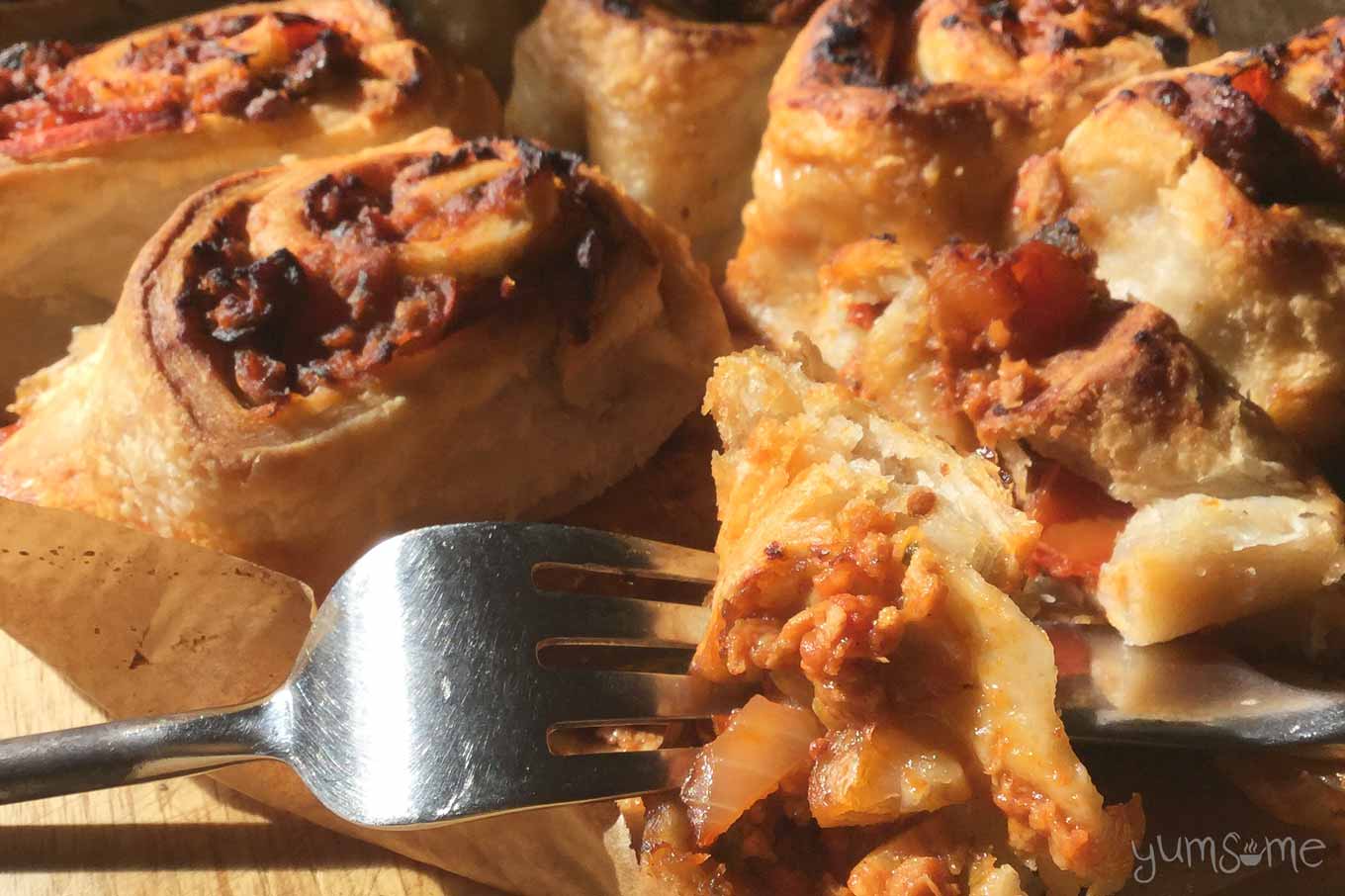 (**Yeah, I know... But what can y'do? He's otherwise pretty much flawless. Well, maybe not entirely flawless... I mean, he frequently has geek fails and he's not as dedicated a Fallout gamer as me... and he doesn't really get Star Trek TNG... but apart from that...)
So anyway, suffice it to say that these vegan Bolognese rolls, while not in any way authentically Italian, are nevertheless the dogs' wotsits. And definite keepers... especially if you don't have time to make everything from scratch.
Convenience Foods
I fully admit that I normally wouldn't use sauce from a jar, however, for this recipe, I'd be daft not to. Sure, if I happened to have some of my own Italian tomato sauce in the fridge, I'd use that but I have to be honest, and say that actually, in terms of time and cost - not to mention flavour - the Morrison's one is hard to beat. Ditto the puff pastry... because really, who actually has the time to make their own?
As you know, I'm a great advocate of cooking from scratch but the plain fact of the matter is that not everyone has time to do so, not everyone has the inclination, and not everyone has the necessary skills. There's the small matter of cost too, and very often, convenience foods are far more cost-effective than home-made. I'm not saying we should all ditch our pots and pans, and fill our cupboards with ready meals - just that sometimes, a jar of ready-made sauce is going to be a whole lot more convenient than making your own.
Although, you'll never convince me that anything in a carton, tin, or jar is going to be better than my soups or pesto!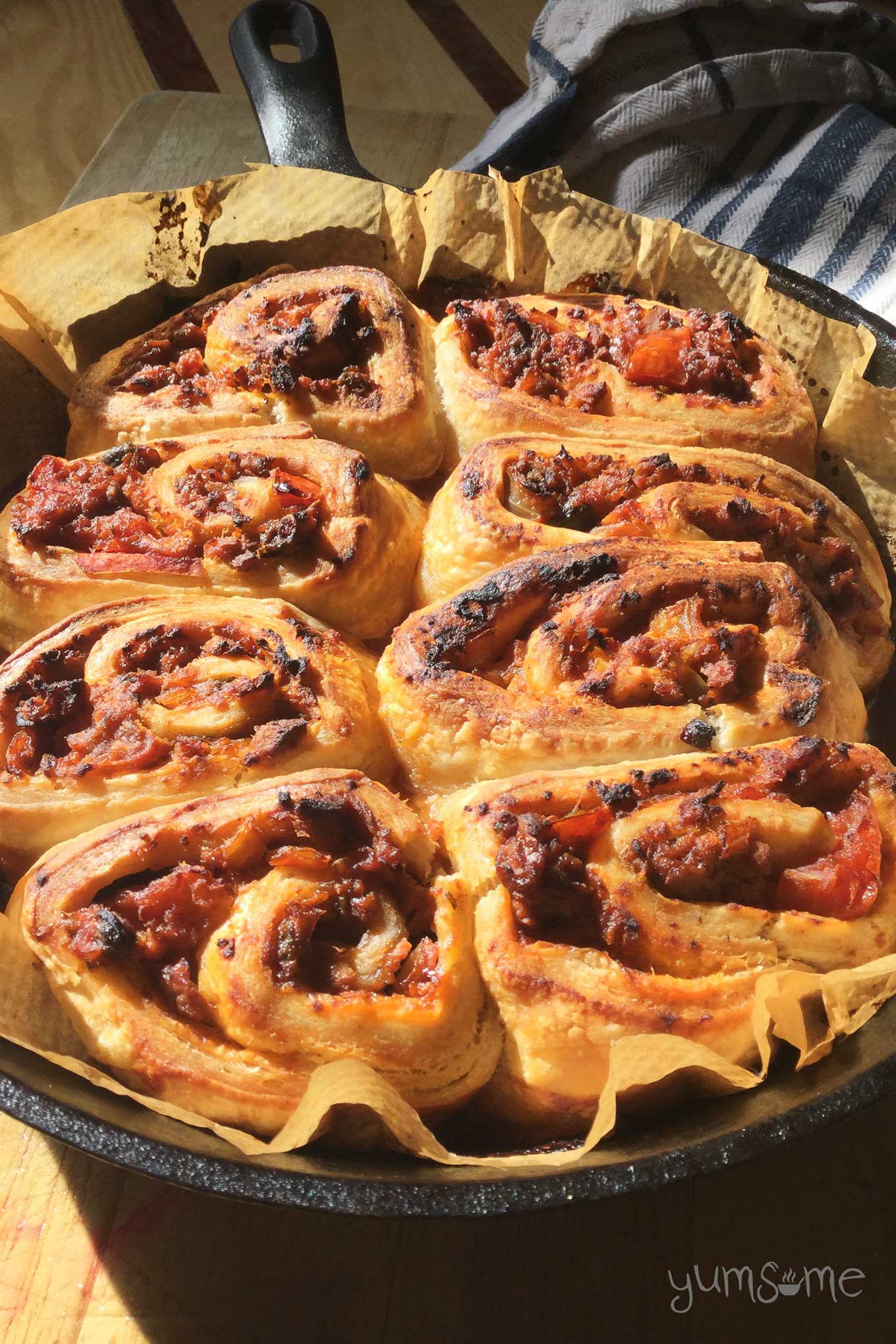 Super Quick and Easy Vegan Bolognese Rolls
Are...
Satisfying
Simple
Filling
Fast
Comforting
High in protein and Vitamin C
Super-delicious
But don't take my word for it, why not make them yourself, and see how quickly they fly off the plate? I guarantee they won't be around for long. And I can also pretty much guarantee that no one will know these are completely vegan unless you tell them. And by the way, served with a green salad and some slices of tomato, these Bolognese rolls make a fantastically filling main meal.
Enjoy!
So tell me - how tempting do these vegan Bolognese rolls look?!
📖 Recipe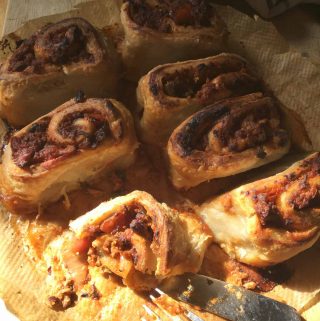 Super Quick and Easy Vegan Bolognese Rolls
Rich and tomatoey, with a hint of chilli, and so ridiculously delicious, these super quick and easy vegan Bolognese rolls are made from basic supermarket ingredients, and guaranteed to put a smile on the face of anyone who tries them!
Print
Pin
Rate
Makes (slide to adjust):
8
rolls
Ingredients
2

tablespoon

olive oil

1

large onion

finely sliced

6

cloves

garlic

smashed

2

large chillies

finely chopped

2

teaspoon

harissa paste

150

g

veggie mince

350

g

'Bolognese' sauce

1

teaspoon

smoked paprika

1

tablespoon

non pareil capers

Dash

sea salt

Dash

black pepper

500

g

ready-made puff pastry

(make sure it's vegan)
Instructions
Preheat your oven to 225°C (435°F/gas mark 7½).

Heat the oil in a large skillet over a medium heat, then gently fry the onion for 3-4 mins, until it starts to become translucent.

Add the garlic, chillies, and harissa, and continue to fry for another 2 mins.

Add the veggie mince, sauce, paprika, and capers, and stir well. Taste, and season with salt and pepper.

Reduce the heat to medium-low to warm the ragù through.

Roll out the puff pastry until it's about ½cm (a bit less than ¼") thick, and rectangular.

Turn off the heat under the ragù, then spread it evenly over the pastry, leaving a small border around the edge. Don't worry, the filling will ooze outward to cover this!

Carefully roll up the pastry and filling, lengthwise, until you have a long sausage shape. Seal the long edge of the pasty with a little water.

Cut the roll into 8 equal pieces, and place side by side in an ovenproof skillet, dish, or tray, then bake in the oven for 20 minutes, until the pastry is golden and somewhat puffed up.

Remove from the oven, and serve immediately.

These vegan bolognese rolls will keep in an airtight container on the counter for 2-3 days. If you want to freeze them, then do so before cooking, and then bake from frozen.
Notes
Although it's not overly spicy, if you're making this for children, or those who don't like chilli, feel free to leave out the chillies and harissa, or only use a little. 
The whole point of this recipe is that it's quick and really easy to make but if you'd rather make your own tomato sauce, I have a great recipe here.
Nutrition Facts
Super Quick and Easy Vegan Bolognese Rolls
Amount Per Serving
Calories 360
Calories from Fat 198
% Daily Value*
Fat 22g34%
Carbohydrates 30g10%
Protein 9g18%
* Percent Daily Values are based on a 2000 calorie diet.
Did you make this recipe?
Do mention @yums0me and/or tag #yums0me - I'd love to see how yours turned out!
Disclaimer
Measurements in parenthesis are approximate; it is beyond the scope of yumsome to be able to provide pinpoint-accurate ingredient quantities for every type of measuring utensil. As a guideline however, I make the assumption that:
1 cup = US cup = 240 ml
1 tablespoon = US/UK = 15 ml
1 fl oz = US = 30 ml
Further information may be found here