This spicy tofu scramble with roasted veggies is easy to make; incredibly filling, while still being light; full of goodness; and is a deliciously complete meal for brunch or supper.
Until a couple of years ago, I'd never tried tofu scramble – not because I thought it would be in any way difficult to make but because I have an aversion to 'eggy' things. I've been this way ever since I was small: I actually vomited over my gran once when she tried to make me eat a boiled egg.
I'm not proud of that.
Even now, the smell of cooked eggs makes my tummy churn.
I know loads of vegans who really miss omelettes, boiled eggs, etc., and do their best to replicate the dishes they loved, adding ingredients such as the sulphurous kala namak (black salt) to them to get that whiffy, eggy taste.
I am not one of them.
One day, I just bucked my ideas up, and made a tofu scramble - more out of curiosity than anything else, really. I loved it! We now eat it on a regular basis, especially for brunch or supper.
And despite appearances, it's not remotely eggy.
It's super easy to make, and pretty versatile with regard to the veggies you can use. My favourite combo is savoy and red cabbage… and not just because they are both so pretty! I just love cabbage. Which is just as well because here in The Balkans, cabbages are ubiquitous.
In addition to the other veggies - in this case, sweet potatoes and onions, I add unpeeled garlic cloves to the roasting tin because really, what's life without roasted garlic? And I use my own garam masala spice blend too.
If we're particularly hungry, I'll also chop up a couple of my vegan sausages, and throw those in too. Phew!
Gosh, my tummy is rumbling, just writing this post!
Spicy Tofu Scramble With Roasted Veggies
Is...
really easy to make
filling yet light
versatile
customisable
mildly spicy but not packing heat
full of goodness (Vitamin A 475%, Vitamin C 181%, Calcium 47%, Iron 30% RDV)
bursting with protein and fibre
gluten-free
nut-free
a complete meal
insanely delicious
I could continue to extol the many virtues of this spicy tofu scramble dish but why not make it, and see for yourself? I really don't think you'll be disappointed.
Enjoy!
How do you like your tofu scramble? Tell me in the comments!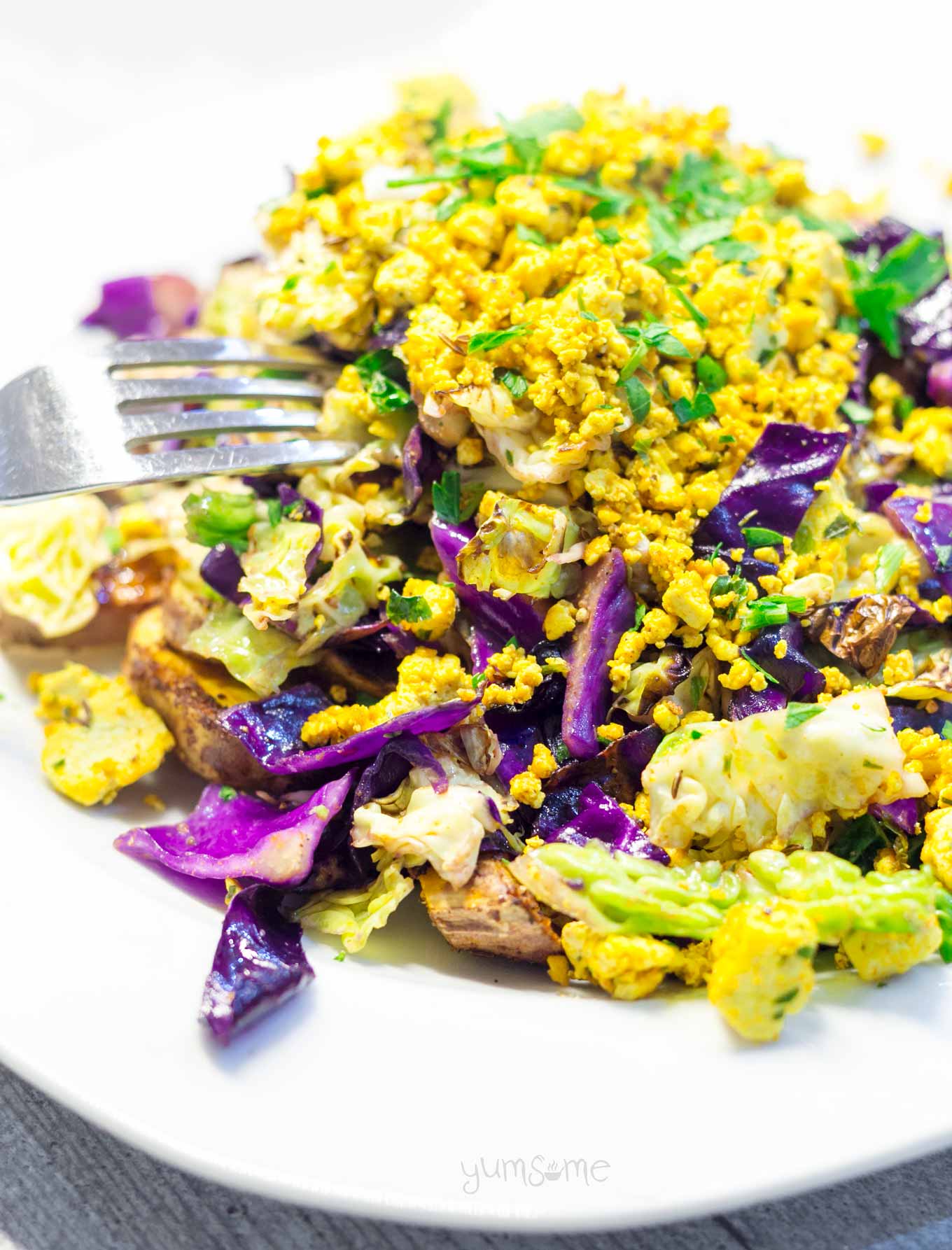 📖 Recipe
Spicy Tofu Scramble
This spicy tofu scramble with roasted veggies is easy to make; incredibly filling, while still being light; full of goodness; and is a deliciously complete meal for brunch or supper.
Print
Pin
Rate
Makes (slide to adjust):
2
servings
Ingredients
1

large sweet potato

washed and cut into bite-sized chunks

1

large onion

cut into thick slices

12

fat garlic cloves

(10 unpeeled, 2 peeled and smashed)

2

tbsp 

coconut oil

divided

1

teaspoon

palm sugar

Freshly ground sea salt

ground black pepper

2½

teaspoon

garam masala

divided

200

g

extra-firm tofu

(not silken)

2

tablespoon

chopped fresh parsley

¼

teaspoon

ground turmeric

200

g

savoy cabbage

shredded

200

g

red cabbage

shredded

Dash

Tabasco
Instructions
Pre-heat your oven to 200c (400F/gas mark 6).

Place the potato, onion, and 10 unpeeled garlic cloves into a large bowl, and season with 1 tablespoon oil, some salt and pepper, and 1 teaspoon garam masala. Make sure everything is well-coated, and then tip out into a

large oven tray

, spread out evenly, sprinkle the sugar over the onion slices, and roast for around 35 minutes. The onions will have begun to caramelise, and the potatoes and garlic will be soft.

In the meantime, press as much moisture out of the tofu as you can. I find the easiest way to do this is to wrap it in a wad of kitchen roll, and then, using my body-weight, press down as hard as I can. Turn it over, and repeat.

Crumble the tofu into a bowl, and season with 1 tablespoon chopped parsley, 1 teaspoon garam masala, a little more salt and pepper, and the turmeric.

Increase the heat, and add the tofu to the skillet. Stir into the cabbage, and stir-fy for a couple of minutes, until it's warmed through.

Remove the veggies from the oven, and divide between two plates or bowls, then pile the tofu and cabbage mix on top, sprinkle over the remaining parsley, and dress with a dash of Tabasco.
Nutrition Facts
Spicy Tofu Scramble
Amount Per Serving
Calories 463
Calories from Fat 171
% Daily Value*
Fat 19g29%
Sodium 231mg10%
Carbohydrates 61g20%
Protein 18g36%
* Percent Daily Values are based on a 2000 calorie diet.
Did you make this recipe?
Do mention @yums0me and/or tag #yums0me - I'd love to see how yours turned out!
Disclaimer
Measurements in parenthesis are approximate; it is beyond the scope of yumsome to be able to provide pinpoint-accurate ingredient quantities for every type of measuring utensil. As a guideline however, I make the assumption that:
1 cup = US cup = 240 ml
1 tablespoon = US/UK = 15 ml
1 fl oz = US = 30 ml
Further information may be found here
While you're here, why not check out these other brunchy yums?