My easy Thai pomelo salad (yum som-o) is super-simple to make, and is a deliciously refreshing example of the Thai flavour cycle of hot, sour, salty, and sweet.
This post contains affiliate links. For more information, please see my privacy policy.
What is Thai pomelo salad?
One of my favourite dishes when we lived in Thailand was yum som-o (pomelo salad). A mind-blowingly delicious fusion of fruity, salty, and sour flavours, all held together with a goodly dose of chilli.
This salad is made from shredded pomelo, toasted coconut, and chilli, with fried shallots and garlic, dressed in a hot, sour, salty, sweet sauce. And it's epic!

Did I mention how much I really love pomelo salad?! 😉
Pomelo salad in Chiang Mai
I first discovered Thai pomelo salad at a great vegan restaurant called Khun Churn, which was a few sois from our apartment. Although traditionally served with prawns, Khun Churn's vegan yum som-o was nothing short of amazing.

For me, this pomelo salad really epitomises that union of hot, sour, salty, and sweet, which is the backbone of the Thai flavour balance.
Unfortunately, Khun Churn moved to the other side of town, so we either had to grab a songthaew or tuk-tuk, or find an alternative restaurant for our yum som-o!

Luckily for us, the latter presented itself in the form of Hong Taew Inn, which was a mere two minutes' walk from our home. However, although delicious, their pomelo salad was far too spicy for me, so the most I could ever manage was just one or two small spoonfuls whenever amato mio ordered it. There was nothing for it, I had to learn to make it myself!
I don't mind admitting that for probably the first year that we lived in Thailand, I was in complete awe of yum som-o (does that make it awe-som-o? Ha ha!). I thought it must be such a complex dish but as it turned out, nothing could be farther from the truth!

Until I started experimenting with making other Thai dishes, though, I honestly had no idea how easy it is to make this spicy pomelo salad.
Check out these Thai recipes while you're here!
What is a pomelo?
In case you're wondering what the heck a pomelo is, it's a giant, thick-skinned, citrus fruit. It's similar to a grapefruit but with a far milder, sweeter, and less acidic, flavour. It's less juicy, too, which makes it perfect for this salad.

Pomelo (sometimes spelled pummelo) is the largest member of the citrus family, and is the ancestor of the grapefruit. It's native to Southeast Asia.

Its name comes from the Dutch, pompelmoes. In German, it's Pampelmuse, and in French, pamplemousse.

(I really like the name, pamplemousse... it makes me think of a cute elk-like creature!)

In Barbados, pomelo is called shaddock or shattuck, after Captain Philip Chaddock of the East India Company, who introduced it to the island in the 17th century. It's also called shaddock in Jamaica.

Hawaiians know it as jabong, and in India and Sri Lanka, it's called jambola. And in Thailand? Som-o!
How to cut a pomelo
The easiest way to prepare a pomelo is to cut through the skin, and then peel it away from the flesh.

You can then pull the segments apart, and cut away the pith with a sharp knife. If you leave the pith, it'll make the salad bitter.

You also want to remove the membrane covering each segment. Once you've done that, it's really easy to tease apart the little shreds of pomelo flesh.
Natural mosquito repellent!
BTW, don't throw away the pomelo peel because it makes a great outdoor mosquito repellent. If you're having a barbecue, just chuck some peel on the coals, and enjoy a mosquito-free meal!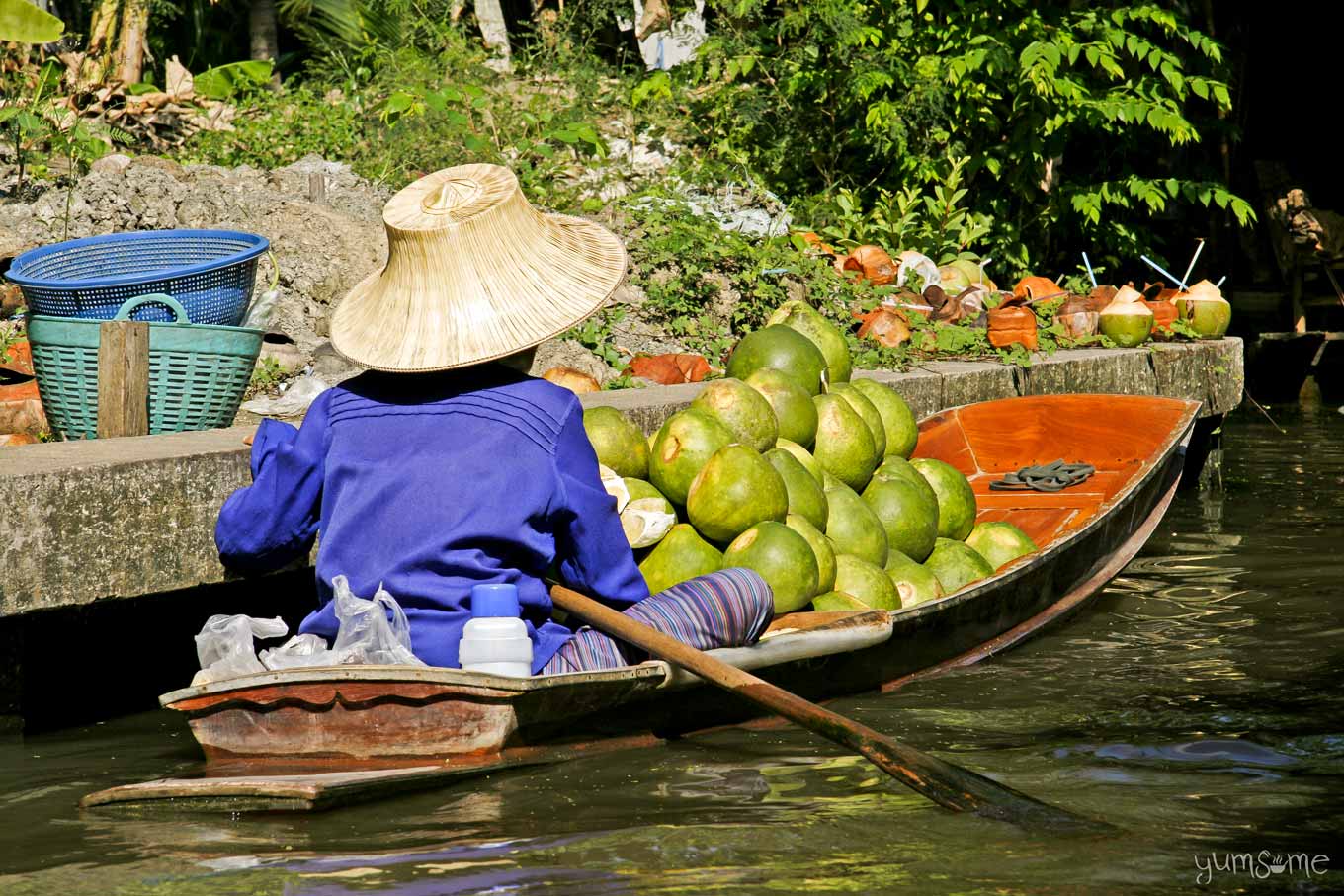 Thai pomelo salad recipe
Ingredients
You can make yum som-o with just a handful of ingredients. If you regularly make Thai or other Southeast Asian food, you probably already have most of what you need.
red chilli (dried and fresh)
onion, garlic, and shallots
sugar
lime juice
tamarind concentrate or pulp
vegan fish sauce
shredded coconut
peanuts
pomelo
plus a little coriander (cilantro) and coconut oil
How to make Thai pomelo salad
You need to make the yum som-o dressing first, so dry-roast the dried red chilli, and then blend it with some onion and garlic to make a paste.
Put this paste into to a small span, along with sugar, lime juice, tamarind, and vegan fish sauce, and simmer until the sugar has dissolved.
You'll want to taste it, and make sure the flavours are balanced. If you need to, you can add a little more sweet, sour or saltiness at this point.
Set the dressing aside to cool down while you make the salad.
Dry-roast the shredded coconut for a couple of minutes, and then do the same with the peanuts.
Fry the shallots and some more garlic in a little oil, until crispy, and then drain on kitchen paper.
Prepare your pomelo, and put the flesh into a large bowl. Next, add some minced fresh red chilli, roasted peanuts, some of the garlic and shallots, and enough dressing to just about coat everything. Get your hands in, and gently mix everything together!
Serve straight away, topped with some torn coriander leaf, and the remaining shallots and garlic.
Notes and Tips
I wouldn't advise using grapefruit as it can be too tart, and very juicy. If you do use it, then the best thing to do is once you have removed the pith, and shredded it, blot it in a few layers of kitchen roll to remove some of the juice. You might also find you need to adjust the dressing to compensate for its bitterness.
If you don't have any of my vegan fish sauce, there are now several commercial brands on the market. Or look for nuoc mam chay in Asian grocery stores. (Chay = vegan.)
The yum som-o dressing will keep for around a month if stored in an airtight jar in the 'fridge, and is great on other salads too!
Is pomelo salad gluten-fee?
If you use my vegan fish sauce, and make it with regular soy sauce, then no, this pomelo salad will not be gluten-free. If you use tamari, however, it will be.
Check the miso you use, too because some are not gluten-free. It depends which grain is used.
Is pomelo salad soy-free?
Again, if you're using my vegan fish sauce, it does contain soy from the soy sauce and miso, so no, this yum som-o won't be soy-free. However, there is nothing to stop you making vegan fish sauce with liquid coconut aminos, and using a gluten-free miso paste. These are usually made from chickpeas, adzuki beans, or rice.
I hope you enjoy my vegan yum som-o as much as we do... and of course, you can make it as spicy as you like - you don't have to be a chilli lamer like me!
Gin hai aroi na kha!
📖 Recipe
Easy Thai Pomelo Salad (yum som-o)
My easy Thai pomelo salad (yum som-o) is super-simple to make, and is a deliciously refreshing example of the Thai flavour cycle of hot, sour, salty, and sweet.
Print
Pin
Rate
Makes (slide to adjust):
2
servings
Ingredients
Salad
4

tablespoon

desiccated coconut

3

tablespoon

unsalted peanuts

1

tablespoon

coconut oil

3

large shallots

, finely sliced

2

cloves

garlic

, finely sliced

½

pomelo

, flesh only (around 250g / 2 cups)

½

large red chilli

, minced (more if you're not a chilli wimp like me!)

1

teaspoon

fresh coriander (cilantro)

, chopped
Instructions
Make the dressing
Dry-roast the dried red chilli in a wok over a high heat for a couple of minutes, and set aside to cool. Chop into pieces.

Place the onion, roasted chilli, and 1 clove garlic into a small food processor attachment, and blitz for a few seconds to make a smooth-ish paste.

Put the paste into to a small saucepan, and add the palm sugar, lime juice, tamarind pulp, and vegan fish sauce; simmer until the sugar has dissolved. This should take around 5 mins.

Taste - you want a balance of hot, sour, salty, sweet. If necessary, add little more sugar, lime, tamarind, or vegan fish sauce to get the right balance.

Set aside to cool.
Make the salad
Dry roast the coconut for around 2 mins until it begins to turn golden-brown. Set aside to cool.

Do the same with the peanuts. Once cool enough to handle, chop finely.

Fry the shallots and garlic for 5 mins or so in hot oil until crispy, then set aside to cool on kitchen paper.

Put the pomelo flesh into a large mixing bowl, then with your hands, gently mix with the minced fresh chilli, peanuts, coconut, half of the fried shallot & garlic, and enough dressing to generously coat everything. You don't want to drown the salad though.

Serve immediately, sprinkled with chopped fresh coriander leaves, and the rest of the fried shallot and garlic.

This yum som-o doesn't store particularly well, so it's best eaten within a couple of hours of making it.
Nutrition Facts
Easy Thai Pomelo Salad (yum som-o)
Amount Per Serving (1 portion)
Calories 383
Calories from Fat 189
% Daily Value*
Fat 21g32%
Sodium 854mg36%
Carbohydrates 46g15%
Protein 8g16%
* Percent Daily Values are based on a 2000 calorie diet.
Did you make this recipe?
Do mention @yums0me and/or tag #yums0me - I'd love to see how yours turned out!
Disclaimer
Measurements in parenthesis are approximate; it is beyond the scope of yumsome to be able to provide pinpoint-accurate ingredient quantities for every type of measuring utensil. As a guideline however, I make the assumption that:
1 cup = US cup = 240 ml
1 tablespoon = US/UK = 15 ml
1 fl oz = US = 30 ml
Further information may be found here