Hearty and warming, my simple vegan Irish stew is the perfect thing for filling hungry tums. Made with a handful of everyday staple ingredients, this easy frugal meal can be cooked on the hob in a large pan, or in a slow cooker. Although a substantial meal in itself, when served with a bowl of colcannon or buttery mashed potatoes, it's pretty much heaven on a plate. Just the thing for chilly autumn evenings!
I can't believe that autumn is well and truly upon us. Already! Earlier this week, I actually put the heating on for a couple of hours. On the plus side, it means that we're moving into the best food season of the year. Yay for autumn fare! Soups, stews and casseroles, cups of hot masala chai, fruit crumbles... yes please! I love autumn so much!
Traditional Irish Stew
Like traditional country fare around the world, there is no one definitive recipe for Irish stew*, although most would agree that it must contain meat, onions, and potatoes. Some folk swear the stew should be made with lamb, and some say mutton. I'm inclined to think that since people relied on sheep for wool and milk, it makes sense that mutton, and not lamb, is more traditional. That said, some food historians claim that goat was the way to go.
Although people around the world have been stewing meat and vegetables for at least a couple of thousand years, the Gaels didn't actually start to use cauldrons (then cooking pots) until some time during the 7th century (AD), and given that potatoes didn't reach our islands until a millennium later, it's not unreasonable to suppose that during the intervening centuries, other veggies were used in stews, especially as so many dishes like this have evolved from people using what has been readily available.
In terms of which vegetables go into Irish stew, again, opinion is divided: traditionally, onions and potatoes are the way to go, which, along with meat, parsley, and water, are simply boiled for a couple of hours. Other cooks however, prefer to add carrots, and some even go as far as to add barley too.
Egads!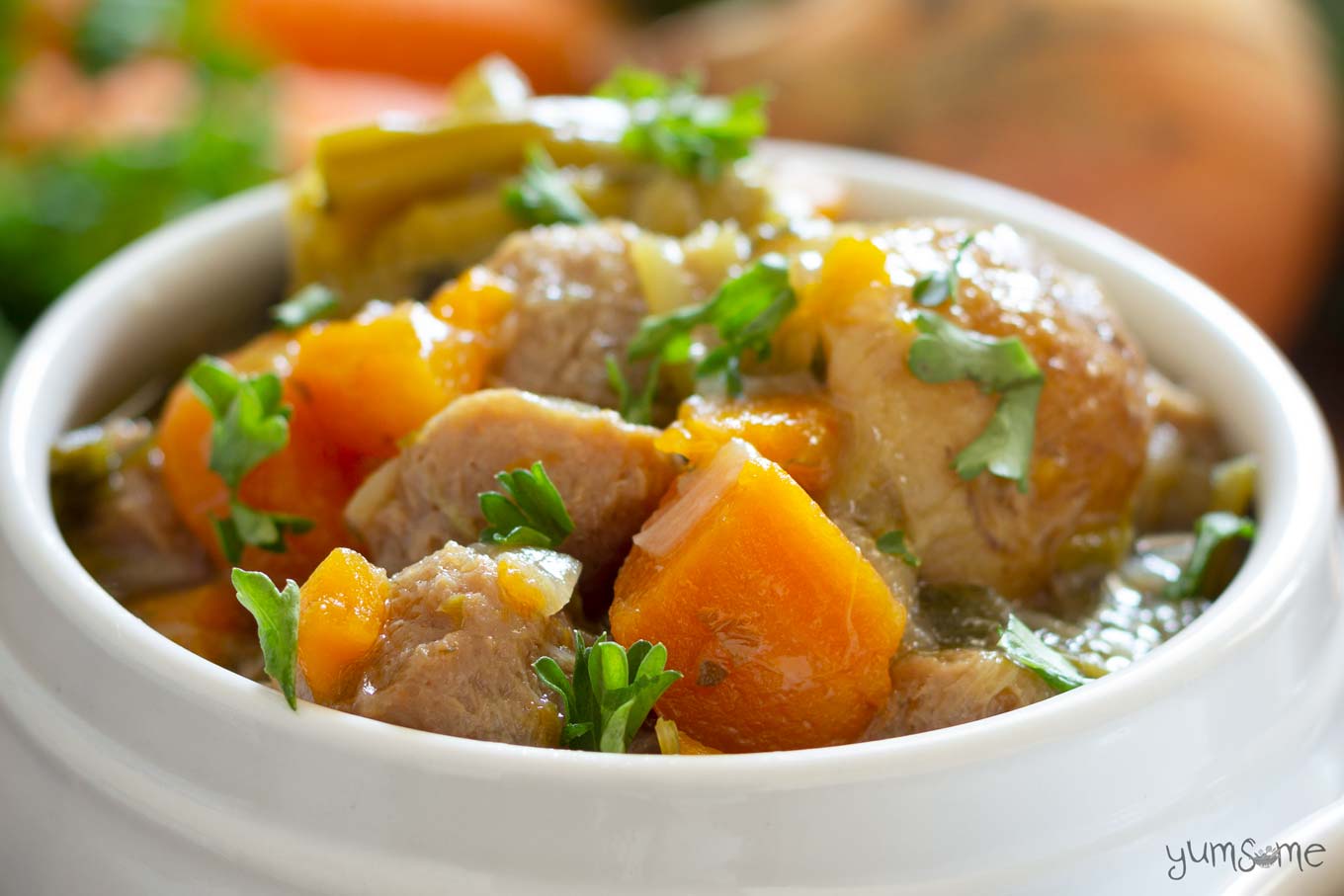 Vegan Irish Stew
When I make Irish stew, I generally use soya chunks (TVP) but sometimes I'll use seitan instead - especially if I have a couple of my sausages going spare! I have even been known to use both.
I know, I know - such decadence.
*No, Guinness (nor any other beer) is not an ingredient in conventional Irish stew!
Although I've cooked more Irish stew than I care to remember, I haven't actually eaten it made with meat since I was a child; I do remember it being absolutely delicious, though. Like all things stew-y, my gran was a wiz with a handful of veggies and a cheaper cut of meat. She was a firm believer in adding leeks to her Irish stews, as well as carrots, and using stock rather than water, so that's how I make mine. I also use a bit of celery, plus some thyme and bay.
Because that's how I roll.
Broth For Simple Vegan Irish Stew
I normally use my own vegetable broth but if I don't have any, I use Massel's 'beef' or 'chicken' stock powder. Although Massel is an Australian brand, it can be bought on Amazon, and is, without doubt, the best proprietary stock I've ever used. It's completely vegan, gluten-free, contains no allergens, GMOs, or MSG (not that I'm concerned about the latter two), and has reduced salt versions. Massel also makes vegetable stock, and all of their varieties come in cube form too. I believe the 'chicken' one also has a liquid version.
And no, they didn't pay me to enthuse about them - I'm just a fan!
And like Vegeta (or 'magic powder' as my son and DiL call it), it makes a great seasoning too.
Simple Vegan Irish Stew in a Crock-Pot
I think I've mentioned before that my MiL bought me this Crock-Pot for Christmas the year before last... it's a truly amazing piece of kit. (Click on the pic for more info.)
I love that I can use my Crock-Pot to sauté veggies before adding the rest of the ingredients (if you eat meat, you can sear it in this model too). I also love that once I've sautéed my onions, etc., I can dump everything else in, set the cooking level and time, press start, and forget about it until it's done. Once the food is cooked, this Crock-Pot automatically switches over to keep it warm until you're ready to serve.
In addition to being able to sauté and slow-cook, my Crock-Pot will also steam, bake, and roast - it's so useful, and economical with electricity too.
The sauté function is also very handy if you forget to set the timer, and come home to discover a pot full of raw veg - you can just switch it on, and 30 mins later, cooked grub.
Not that I would ever do that, of course... what kind of numpty would?
**eyeroll**
By the way, for those of you who don't have this particular Crock-Pot, you can sauté the veg in a pan, then add to the bowl. Some slow cookers have bowls which can be used on the hob too. And if you have neither, a large casserole or stock pot on the hob will work just as well.
Simple Vegan Irish Stew
Is...
hearty
filling
frugal
full of Vitamins and minerals
high in protein and fibre
low in fat and sodium
gluten-free
super-deliciously big on flavour!
Serve this Irish stew with fresh rustic bread - soda bread is great - boiled grains (e.g. barley), or as I like to do, with a big mound of buttery mashed potato (of course you can have two lots of potato in one meal) or some colcannon. Yum!
Enjoy!
What would you serve with this simple vegan Irish stew?
📖 Recipe
Simple Vegan Irish Stew
Frugal, filling, and fabulously delicious, my simple vegan Irish stew is really easy to make with just a handful of staple ingredients, and is just the thing to warm you up on chilly autumn evenings!
Print
Rate
Makes (slide to adjust):
4
servings
Ingredients
2

tablespoon

sunflower oil

or other light vegetable oil

1

Spanish onion

finely sliced

2

med-large leeks

sliced into rounds

2

med-large stalks celery

finely diced

1

teaspoon

fresh thyme leaves

or ½tsp dried

1

large bay leaf

3

medium carrots

cut into chunks

500

g

new or baby potatoes, cut in half

1,5

L

vegetable broth

2

tablespoon

fresh parsley

chopped
Instructions
Heat the oil in a large pan (e.g. a

stock pot

), and gently fry the onion, leeks, celery, thyme, bay, and carrot for 10 mins.

Add the rest of the ingredients, except the parsley, stir well, cover the pan, bring to the boil, then reduce the heat, and simmer for around 25 minutes, until the carrots and potatoes are tender.

Stir in the parsley, and serve immediately.

Store any leftovers in an airtight container in the fridge for up to 5 days, or in the freezer for up to three months.

To cook in a slow cooker:

follow step 1 above, add the rest of the ingredients, as per step 2, then cook on low for 10 hours or high for 5. Follow step 3.
Notes
It's more usual to use floury potatoes for Irish stew but I prefer waxy ones as they don't break up when cooked over a long period of time, which makes them ideal in the slow cooker. By all means though, use whichever ones you prefer. I don't peel my potatoes but if you want to, go ahead!
Instead of soy chunks or curls, use 300g cooked seitan, or 4 sausages
Nutritional data assumes that dried soya chunks are being used.
Nutrition Facts
Simple Vegan Irish Stew
Amount Per Serving (1 portion)
Calories 434
Calories from Fat 72
% Daily Value*
Fat 8g12%
Sodium 400mg17%
Potassium 2349mg67%
Carbohydrates 52g17%
Protein 26g52%
Vitamin A 3997IU80%
Vitamin C 103mg125%
Calcium 277mg28%
Iron 8mg44%
* Percent Daily Values are based on a 2000 calorie diet.
Did you make this recipe?
Do mention @yums0me and/or tag #yums0me - I'd love to see how yours turned out!
Disclaimer
Measurements in parenthesis are approximate; it is beyond the scope of yumsome to be able to provide pinpoint-accurate ingredient quantities for every type of measuring utensil. As a guideline however, I make the assumption that:
1 cup = US cup = 240 ml
1 tablespoon = US/UK = 15 ml
1 fl oz = US = 30 ml
Further information may be found here