Filling and frugal, laced with warming sweet spices and crunchy walnuts, and drizzled with miso caramel sauce, these simple spiced baked apples are just the thing to warm you up on chilly autumn evenings. And they only take around 30 minutes to cook too!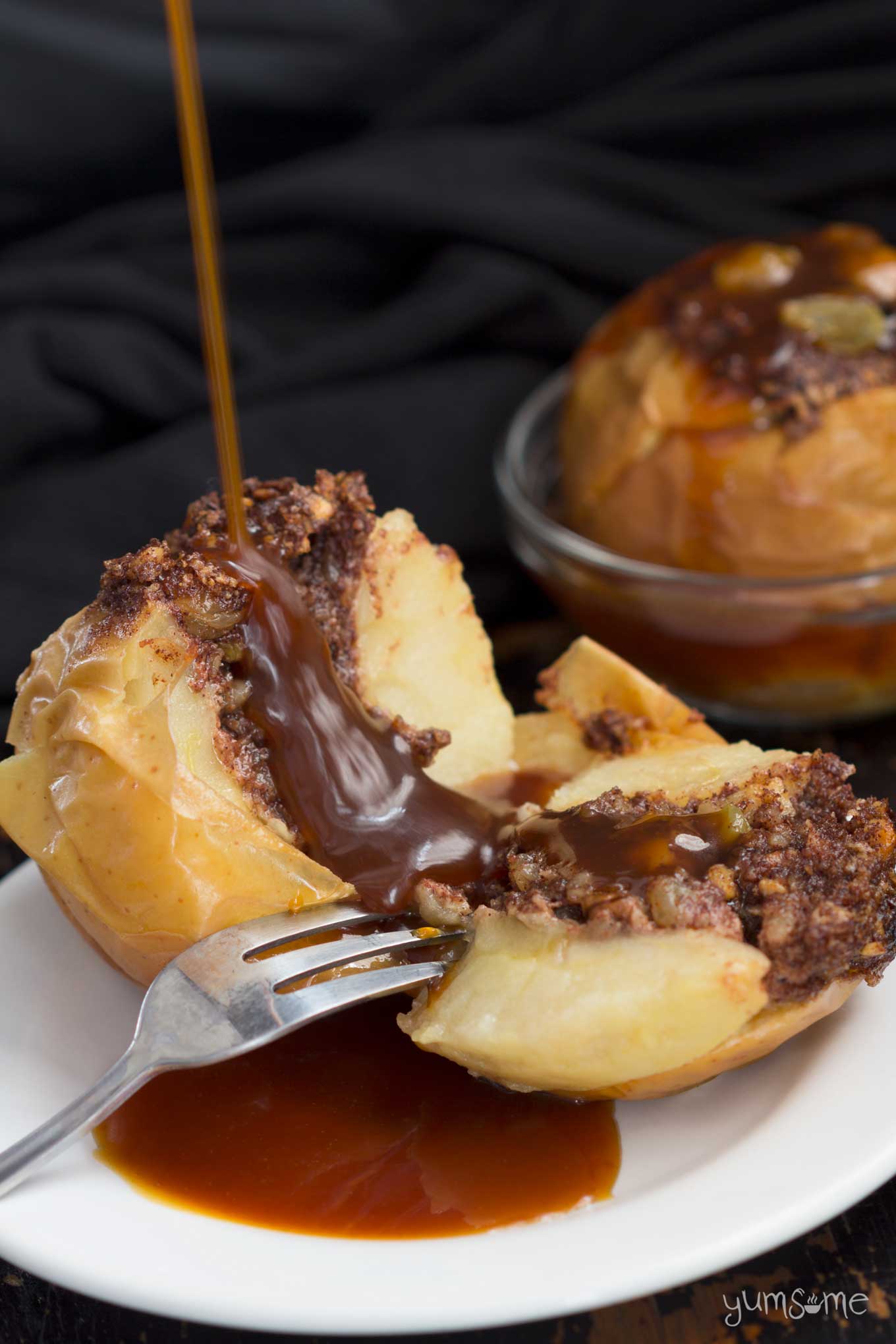 As the days start to cool off, and night falls earlier and earlier, what better to stave off autumn chills than some hearty, comforting spiced baked apples?
Let's face it, autumn and stuffed apples just go together, don't they?
When I was a child, my gran often made baked apples, using Bramleys from the tree in our garden, stuffed chock-full of currants (she didn't believe in raisins or sultanas) and demerara sugar.
More often than not, they'd be served with a gorgeous lake of steaming hot, thick, creamy custard... but sometimes, for a real treat, she'd let me have a scoop of Cornish or vanilla ice cream instead.
As I'm writing this, memories come flooding back of sitting in the warmth of my gran's kitchen while she cooked, and I can almost taste her baked apples. Yum!
One time though, she courted rebellion from my granddad and me; instead of apples from our garden, she used Granny Smiths.
What? Why? Why would she do that to us?!
Just in case anyone reading this doesn't know the difference, Bramleys - also known as cooking apples - are big, fat, and semi-sweet, whereas sharp and sour Granny Smiths are the work of Beelzebub himself.
To compound her crime, not only did she add mixed candied peel and glacé cherries (barfetty-barf) to the currants, she also didn't use nearly enough sugar. Although to be fair, there's not enough sugar in the world to take away the lip-pursing, face-sucking sourness of those little green balls of evil.
She only did it the once. Ha!
(Even she wasn't impressed with her creation.)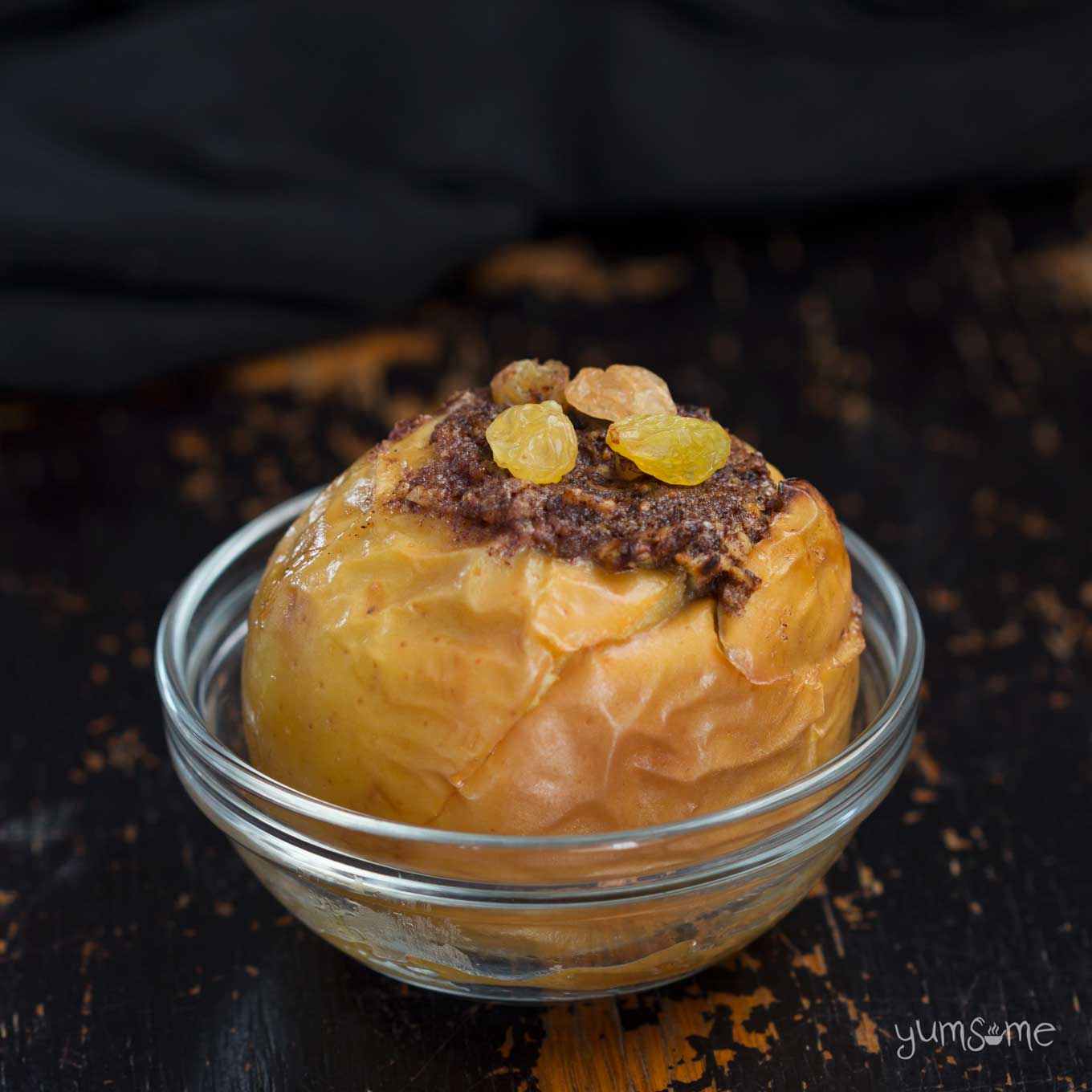 As an adult, baked apples were something I used to make a lot for my son - they were such an easy, cheap, and filling dessert to throw together. I'd sometimes make them for supper too (who says supper always needs to be savoury?).
I'd put the apples in the oven, and then we'd take the dogs for a long evening walk through the fields at the back of our house. By the time we returned, all pink-faced, and chilly, the kitchen would welcome us home with a truly wondrous spiced apple aroma.
And yes, we'd have them with a lake of rich and creamy custard!
I still love to have baked apples with custard, and sometimes with cinnamon vanilla ice cream, but y'know what else is fantastic? Drizzling them with caramel sauce! In this case, miso caramel sauce.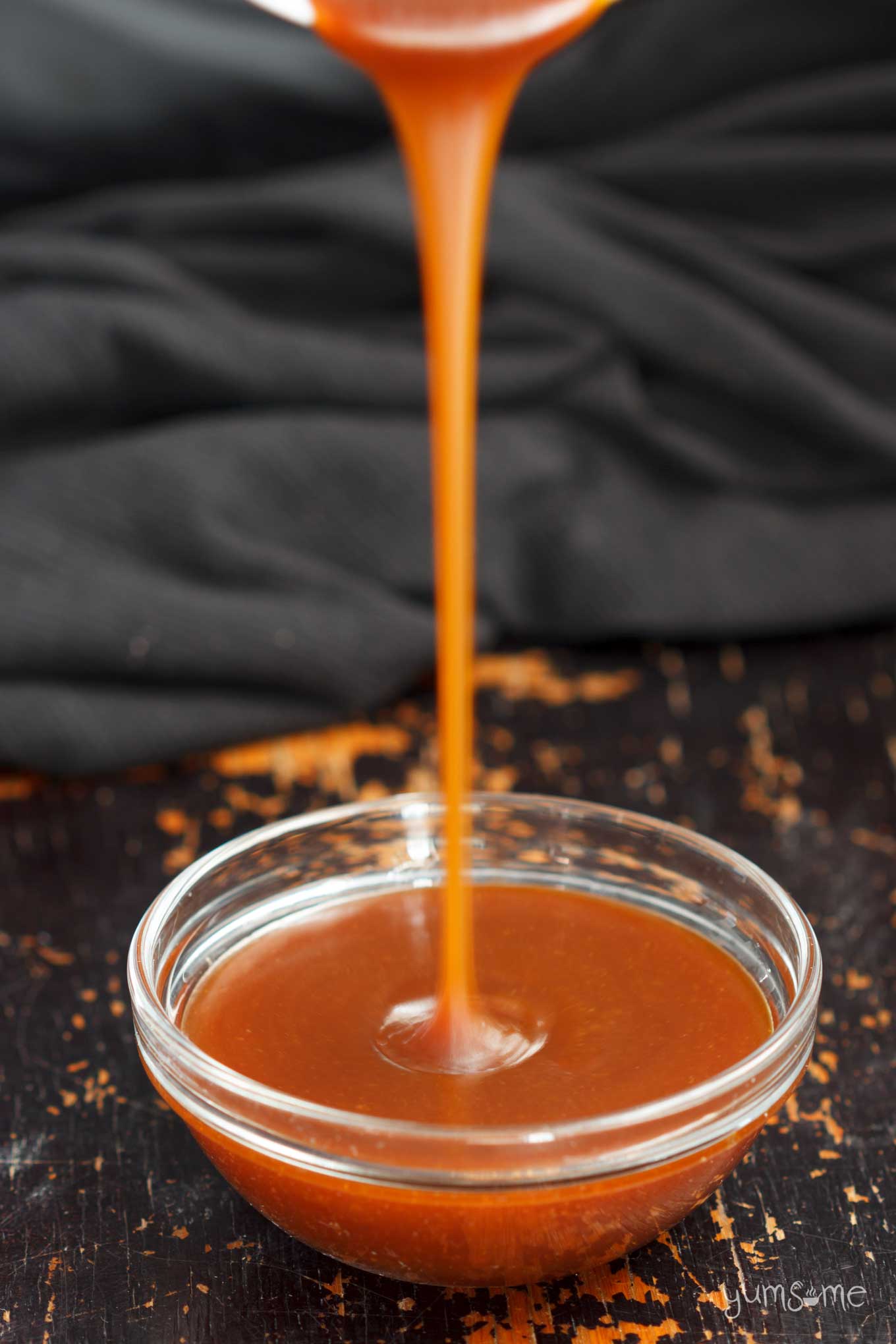 A few weeks ago, our friends, Emilia, Antonel, and Ioana came over for lunch, and because they are truly lovely people, they brought with them a bottle of wine from their vineyard, the best home-made vinetta (aubergine salad) I've ever tasted, and some mere coapta - Romanian baked apples. All made with produce from their own land.
Unlike in Britain, from what I can make out, baked apples in Romania are made exclusively from eating apples. Maybe they don't have cooking apples here - I've certainly never seen any. Or maybe it's because traditionally, Romanian food is made with what's available.
The baked apples are stuffed with walnuts (which grow in abundance in the Balkans) and honey. Yes, Emilia's baked apples were made with honey, and yes, I did eat one. And it was gorgeous!
I don't normally consume honey but I didn't realise until it was too late, and there was absolutely no way I was going to be churlish, and not eat the food my friend had lovingly prepared, especially given that she had very deliberately, and very kindly, made food which would be suitable for us.
Does that make me a bad vegan? Possibly. Does it make me a reasonable human being? I hope so.
Anyway, my baked apples therefore, are a fusion (I can't believe I just said that) of my childhood favourite and Romanian mere coapta. While they may not be one nor the other, they comprise, I believe, the best of both worlds. Two worlds, which at first glance, appear to be very different, and yet scratch beneath the surface, and you find more similarities than differences.
And everyone loves apples!
Simple Spicy Baked Apples
Are...
sweet
soft
warming
comforting
filling
gluten-free
full of Vitamin C (18% of our average daily requirement)
really easy to make
so very delicious!
Nigel Slater once said that a fluffy baked potato is the food equivalent of a hug - if that is true (and I believe it is), then these baked apples are the equivalent of sitting in front of a roaring log fire on a snowy evening, in the company of family and friends.
Enjoy!
Do you prefer baked apples with ice cream, or custard?
📖 Recipe
Simple Spicy Baked Apples
Filling and frugal, laced with warming sweet spices and crunchy walnuts, and drizzled with miso caramel sauce, these simple spiced baked apples are just the thing to warm you up on chilly autumn evenings.
Print
Rate
Makes (slide to adjust):
4
servings
Ingredients
4

large eating apples

4

tablespoon

walnut halves

4

teaspoon

demerara sugar

½

vanilla bean

seeds only (note 1)

4

teaspoon

vegan butter or margarine

1

teaspoon

ground cinnamon

2

green cardamom pods

seeds only, ground to a powder

1

teaspoon

grated ginger

2

tablespoon

sultanas
Instructions
Pre-heat your oven to 180°C (350°F/gas mark 4).

In a

food processor

, blitz together the walnuts, sugar, vanilla, vegan butter, cinnamon, ground cardamom, and ginger for a few seconds, until you have a coarse paste.

Remove the blade, and mix in the sultanas.

Stuff the cavities of the apples with the paste, making sure you press it in firmly.

Cover with some tin foil, and bake in the centre of the oven for 30 minutes, until the apples are soft.

Remove from the oven, and serve drizzled with miso caramel sauce.

These baked apples will keep in the fridge for 3-4 days if wrapped in tin foil.
Nutrition Facts
Simple Spicy Baked Apples
Amount Per Serving (1 apple)
Calories 257
Calories from Fat 99
% Daily Value*
Fat 11g17%
Sodium 11mg0%
Carbohydrates 41g14%
Protein 3g6%
* Percent Daily Values are based on a 2000 calorie diet.
Did you make this recipe?
Do mention @yums0me and/or tag #yums0me - I'd love to see how yours turned out!
Disclaimer
Measurements in parenthesis are approximate; it is beyond the scope of yumsome to be able to provide pinpoint-accurate ingredient quantities for every type of measuring utensil. As a guideline however, I make the assumption that:
1 cup = US cup = 240 ml
1 tablespoon = US/UK = 15 ml
1 fl oz = US = 30 ml
Further information may be found here
I'm linking up my simple spicy baked apples recipe to these link parties, hosted at the following blogs - do click on the pics to find more yummy delights!
If you like my simple spicy baked apples, check out these sweet treats while you're here!