This post contains affiliate links. For more information, please see my privacy policy.
Meaning, 'fried (with) soy sauce', this pad see ew only takes around 15 minutes to make, and is both delicious and filling! This is a vegetarian version but you could add any kind of protein you want.
Pad see ew
Everyone knows about phad Thai but have you ever eaten pad see ew*? No? You really need to. Like, now!
(*AKA phad si io, pat see ew, pad siu, pad siew, etc.)
With just a handful of basic ingredients, it's a really simple dish to make, and as with my Thai morning glory, is super-quick too. You can have it on the table in a shade under 15 minutes, which far quicker than ordering a takeaway. And a billionty times better too.
Unless you happen to be in SE Asia, and are getting your takeaway from a noodle cart. Be still, my rumbling tummy.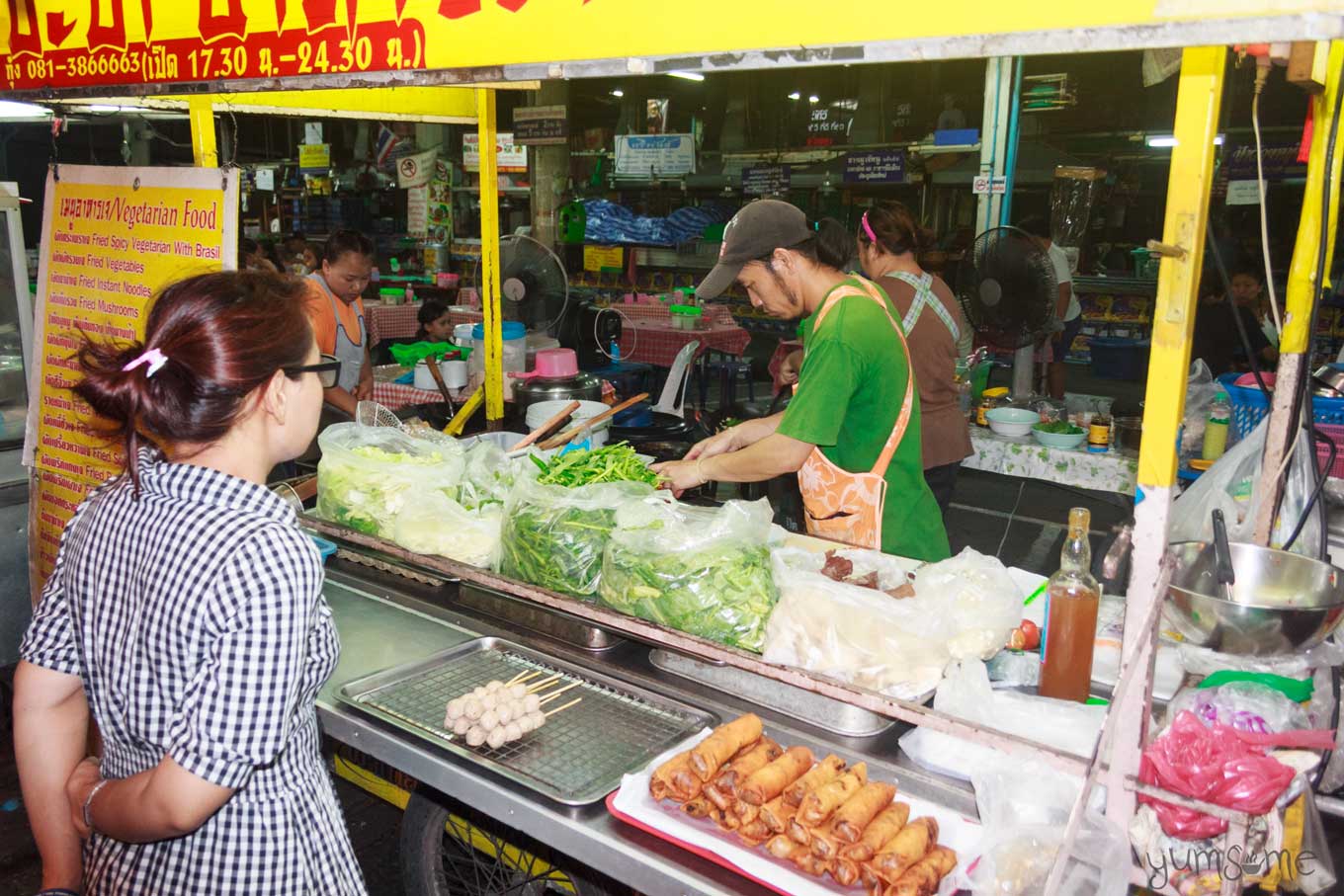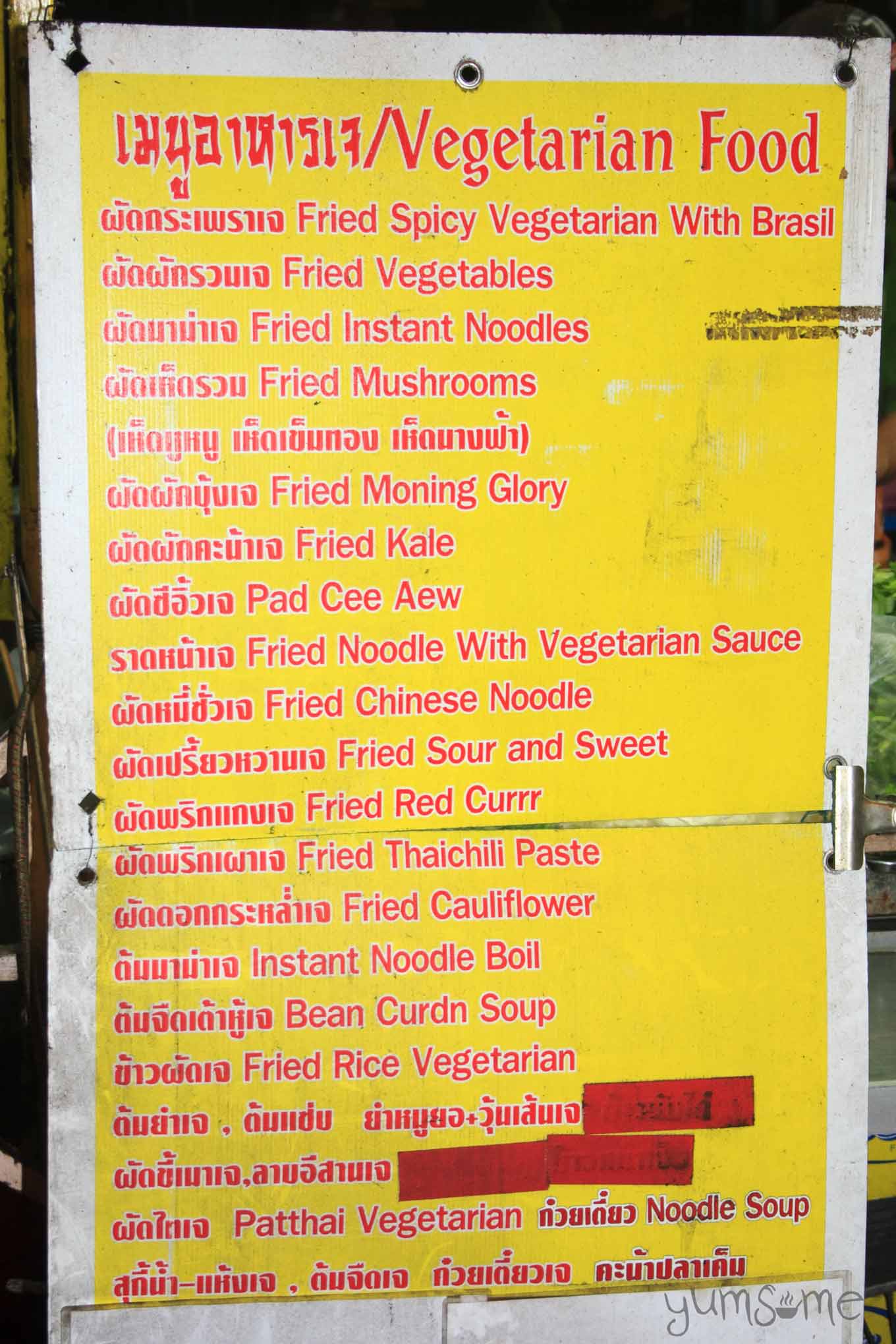 Thai street food
I've always found it curious that in Britain, fast food is often looked down upon, and yet almost everywhere else I've lived around the world, fast food tends to be a cherished institution. I can honestly say, with my hand on my heart, that I would far rather eat a meal from a Thai noodle cart than in a fancy-schmancy restaurant.
Why?
I can see the food being cooked right there in front of me.
I stand more chance of the cook being able to customise my meal.
I get great value for money.
I get to people-watch, sometimes even to chat to other hungry customers.
I always get utterly delicious food!
Street food makes you sick
In all my years of travelling, I have never had a bad street food experience, whether in terms of flavour or health. The same cannot be said of restaurant meals in Britain. I'm not in any way anti-restaurants, BTW, I just prefer street food. It's fast, it's cheap, it's delicious. And all life is there, it really is.
Street food is a great leveller too. Go to any food cart in Chiang Mai or Penang, for example, and you'll be rubbing shoulders with folk in suits, folk in sarongs, folk in jeans, folk in shorts - street food is for everyone. Damn, I miss those carts!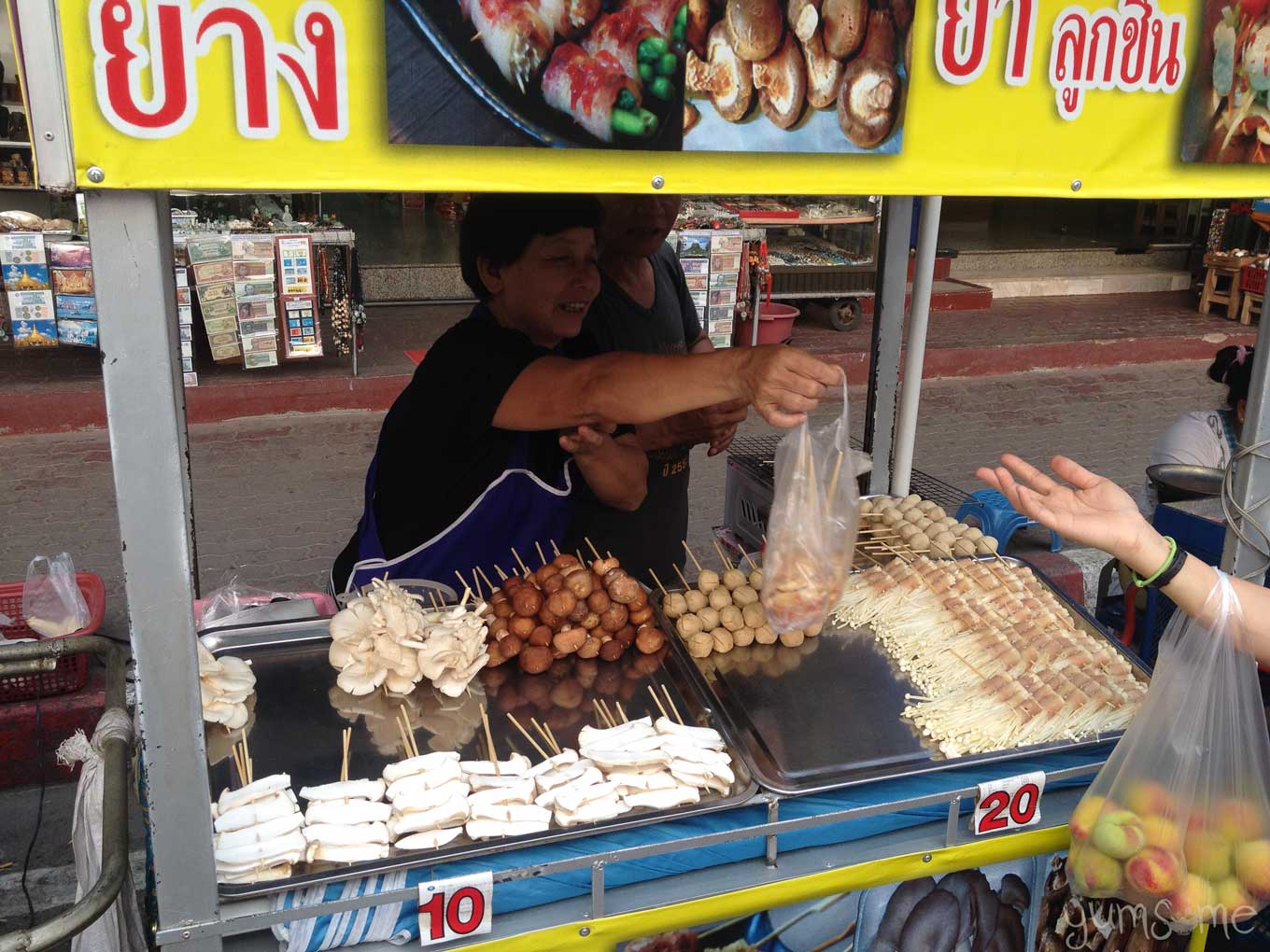 What is pad see ew?
Known as char kway teow in Chinese-speaking areas, pad see ew (ผัดซีอิ๊ว) is a simple dish of stir-fried wide rice noodles, flavoured with two kinds of soy sauce; light, see-ew khao, and dark, see-ew daam.
Actually, khao means white - and is also the word for rice, and daam means black. Thai is a beautifully simple language!
Which soy sauce to use?
My favourite light soy sauce is Golden Mountain, which doubles up as a seasoning sauce too (great for simple fried rice dishes, for example).
Pearl River Bridge Superior Light Soy sauce is another I cook with a lot, and the same brand dark soy is far better than most I've tried here in Britain. If you're particularly fond of heavy, slightly sweet dark soy sauce, go for Healthy Boy or kecap manis.
Healthy Boy seasoning sauce is a good alternative to Golden Mountain, BTW but I don't like their dark soy sauce. It has a bit of an aftertaste.
If you can't have gluten, substitute tamari instead, for both the dark and the light soy, and add a little extra sugar. Maybe another quarter of a teaspoon.
Noodles for pad see ew
It really is best to use fresh rice noodles. You'll want the wide ones (kway teow sen yai in Thai, which means 'big strip noodles' - usually just called sen yai).
Sen yai can be bought online or at your local Asian store. Depending on the type of store, they may also be called kway teow (Chinese) or ho fun (Cantonese).
If you're feeling adventurous, you could make your own. It's really not difficult but it can be time-consuming. It's well worth the effort though. My friend, Kip, has a recipe on her most excellent blog, Messy Vegan Cook.
Fresh noodles are infinitely superior to dried ones but if you really can't get fresh, and don't fancy making any, then soak some dried wide rice noodles in warm water until they're soft. Should take around 30 mins.
Vegetables for pad see ew
Along with the noodles, and soy sauce, pad see ew is always made with garlic and Chinese broccoli (pak kana in Thai, gai lan in Cantonese).
If you can't get Chinese broccoli (Asian stores usually stock it), then I suggest substituting with some rapini (broccoli rabe in the US, friarielli/cime di rapa in Italy).
You could also add carrots, cabbage, green beans, mushrooms, beansprouts etc. I've had pad see ew with all of these at various cafés and carts around Thailand and Malaysia. The recipe below is the most basic one for this dish, so feel free to customise to your heart's content. Just be aware that if you add a load more veggies, you may need to use a little more soy sauce.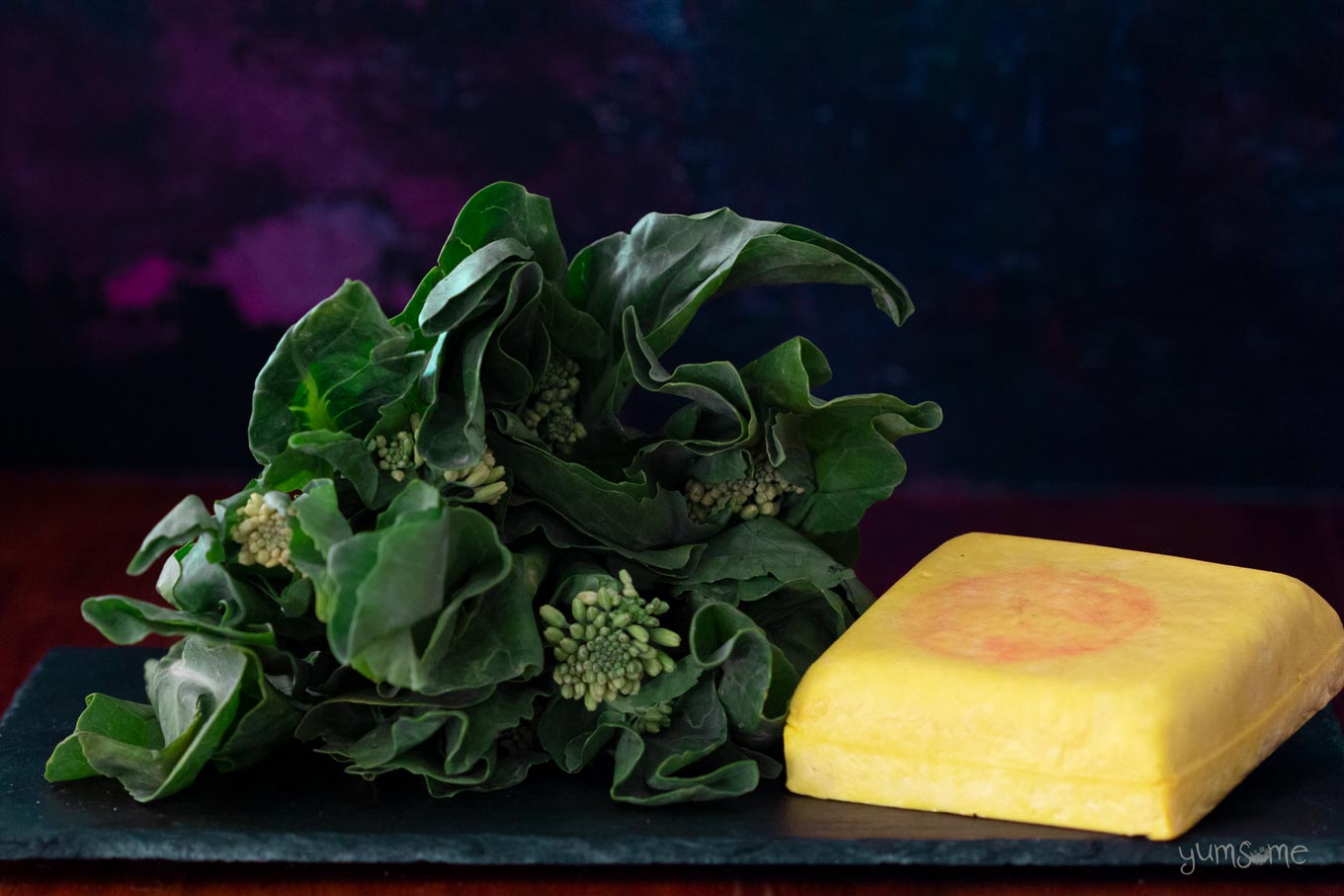 Adding protein
Since this was originally a quick and cheap meal to feed to labourers, a goodly amount of protein is added. Some kind of meat, seafood, or tofu, plus egg.
Thai tofu (dou gan) comes in small dry blocks weighing around 250g (½ lb), and is either off-white or bright yellow (don't worry, it's just turmeric). It's super-firm, and is sometimes labelled as dry tofu or pressed tofu.
It's available from Asian stores, and can also be bought online. If however, you can't find any, you can sub extra firm tofu (not silken) but you'll need to press it first to get as much moisture as possible. To do this, either wrap in a clean tea towel, and place a heavy saucepan on top for 30 mins (I use my medium-sized le Creuset casserole), or use a tofu press. The latter is less faff but the former has more comedy value.
Cooking pad see ew
Pad see ew is fried very quickly over a really high heat. The highest your cooker can muster. If you have a well-seasoned wok, you really don't need a lot of oil. Don't be tempted to try to cook this over a wimpish heat, if you do, you'll have a wimpish meal. Trust me on this.
It needs to taste slightly smoky. If a little sticks to the wok, no problem, it's easily removed later with a brush. Don't be timid with the heat, it's key to the success of this noodle dish!
Penang, Malaysia
Although we moved to Thailand at the beginning of 2012, amato mio and I didn't actually try pad see ew from a street hawker until we visited Penang in 2013, where our favourite guy (pictured above) would add beansprouts too. It was so delicious, I could have lived on just that!
TBH, I'm really not sure why we didn't seek it out in Chiang Mai. Perhaps it was the abundance of excellent phad Thai, or maybe because of all the other wondrous and exotic fare so readily available on the streets.
Pai, Thailand
When we went to live in Mae Hee (near Pai) in 2014, we discovered a lovely woman who made such delicious pad see ew that despite the wealth of amazing food on offer at the night market in Walking Street (or Nomming Street, as we called it!), we found ourselves returning to her over and over again.
Her pad see ew was well worth the 2,5km walk into town during the rainy season. Sometimes it was so muddy along the edges of the rice fields that my flip flops got sucked off my feet with such regularity that it was far easier to just take them off, and walk home barefoot!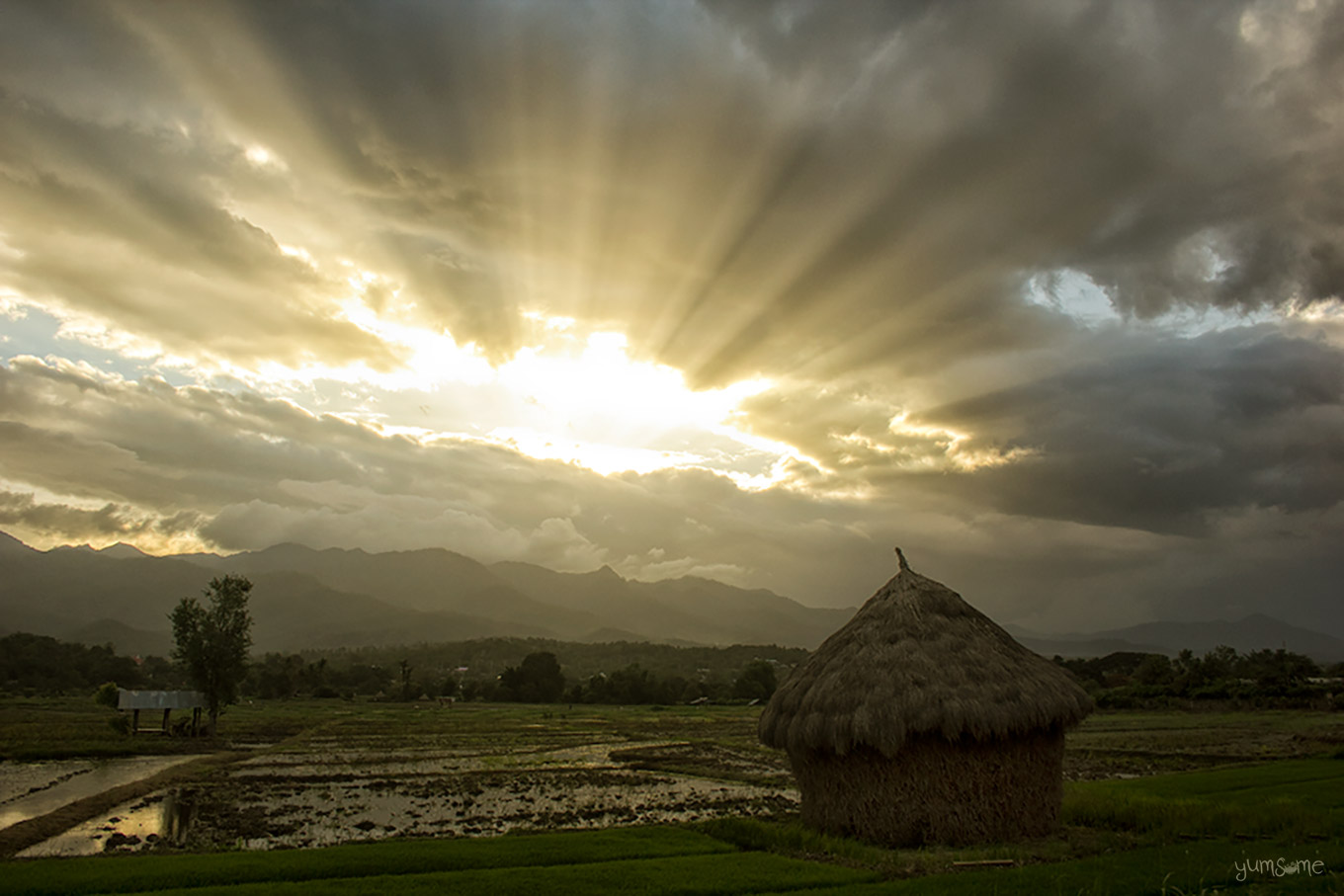 Check out these other Thai yums while you're here!
Whether you make this basic pad see ew recipe or add extra veggies, meat, or seafood, you're going to love these stir-fried noodles!
Gin hai aroi kha!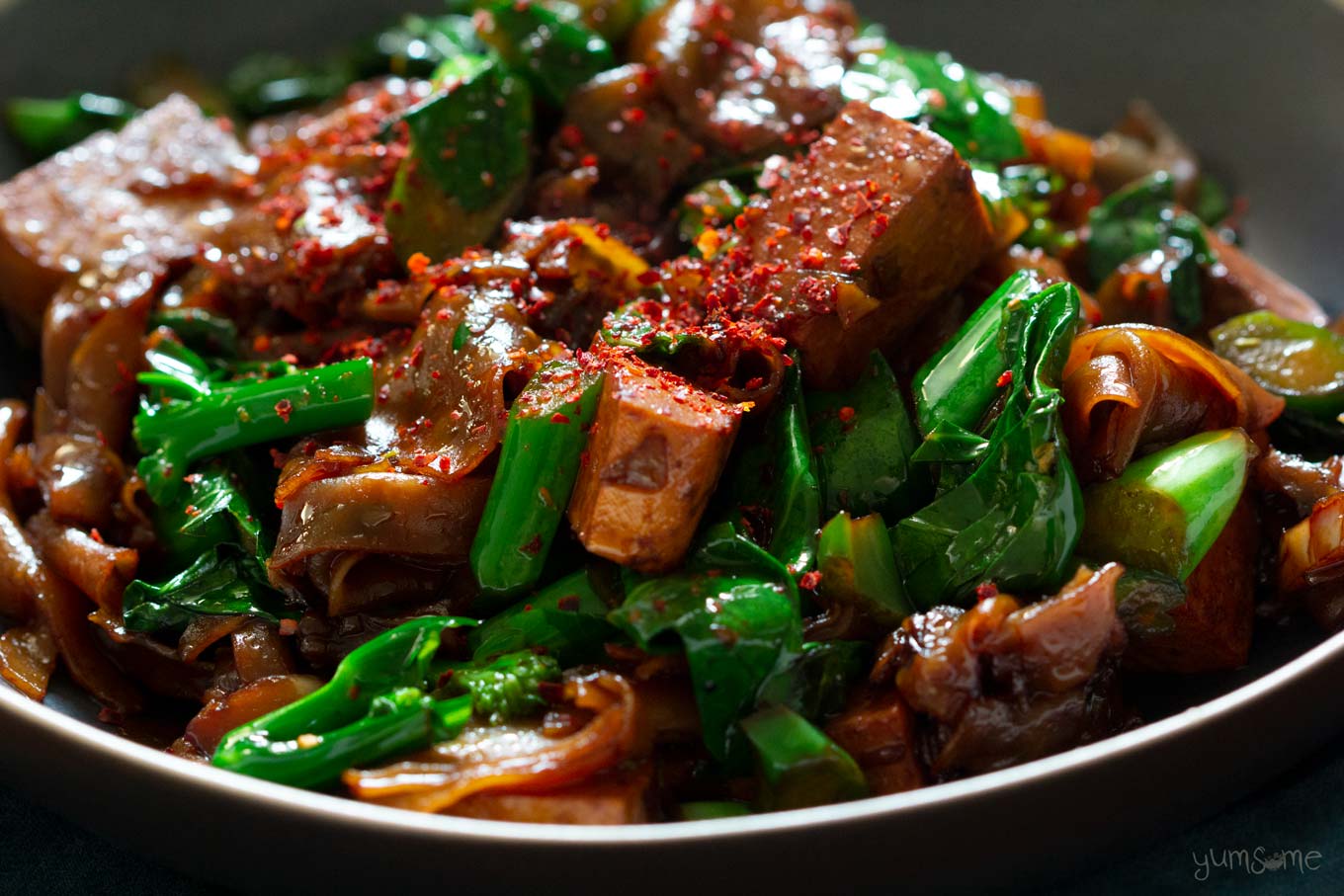 📖 Recipe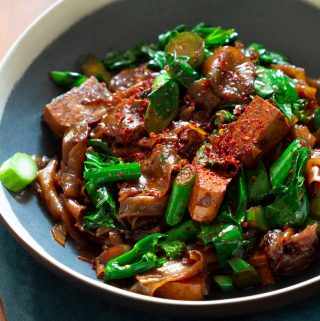 Pad See Ew (Thai Stir-Fried Rice Noodles)
Meaning, 'fried (with) soy sauce', this pad see ew only takes around 15 minutes to make, and is both delicious and filling! This is a vegetarian version but you could add any kind of protein you want.
Print
Pin
Rate
Makes (slide to adjust):
1
serving
Ingredients
250

g

fresh wide rice noodles

(aka sen yai)

3

cloves

garlic

100

g

extra firm Thai tofu

(aka dou gan/dry tofu)

100

g

Chinese broccoli

(aka pak kana/gai lan)

1

tablespoon

vegetable oil

1½

tablespoon

all-purpose soy sauce

½

tablespoon

dark soy sauce

½

teaspoon

palm sugar
To finish (optional):
Chilli flakes

White pepper

Chilli vinegar
Instructions
Separate any noodles that have stuck together, and set aside. If they are particularly stubborn, you can heat them in the microwave for 30 seconds or so.

Peel, smash, and roughly mince the garlic.

Cut the tofu into bite-sized pieces.

Slice the pak kana stalks into 1cm (½") strips, and the leaves into approximately 5cm (2") pieces.

Heat your wok over a high heat (the highest you can muster), and when it's hot, add the oil.

After a few seconds, once the oil is hot, add your garlic, and stir-fry for 10-15 seconds. It should be sizzling but not burning!

Add the tofu, and fry for 2-3 minutes.

Add the rest of the ingredients, and toss together for about 2 minutes.

Turn out into a bowl, and season to taste with chilli flakes, white pepper, and chilli vinegar.
Notes
When tossing the noodles, don't be too rough, or else you risk releasing a ton of starch, and them clumping together (this is also why you shouldn't stir pasta and rice while it's cooking!). If you're not used to cooking like this, then the easiest way is to use two wooden spatulas - wood is far more gentle than silicone or metal, both of which tend to have thinner edges, which makes it all too easy to bork the noodles!
Chilli flakes; some of you know that I invariably favour Korean red pepper flakes (gochugaru). They are far more flavoursome than regular chilli flakes, have a great colour, and aren't evil! If you want to use regular chilli flakes or grind up your own dried chillies, that's absolutely fine.
Chilli vinegar (nam som phrik dong); simply, vinegar with the addition of sliced chillies. One of the standard table condiments in Thai cuisine, which include white sugar, ground roasted chillies, crushed peanuts, phrik nam pla etc. These are used to season food and balance the flavours - just like having salt and pepper on the table in the West. 
Nutrition Facts
Pad See Ew (Thai Stir-Fried Rice Noodles)
Amount Per Serving
Calories 704
Calories from Fat 288
% Daily Value*
Fat 32g49%
Sodium 2470mg103%
Carbohydrates 87g29%
Protein 19g38%
Vitamin A 1700IU34%
Vitamin C 45.4mg55%
Calcium 210mg21%
Iron 3.8mg21%
* Percent Daily Values are based on a 2000 calorie diet.
Did you make this recipe?
Do mention @yums0me and/or tag #yums0me - I'd love to see how yours turned out!
Disclaimer
Measurements in parenthesis are approximate; it is beyond the scope of yumsome to be able to provide pinpoint-accurate ingredient quantities for every type of measuring utensil. As a guideline however, I make the assumption that:
1 cup = US cup = 240 ml
1 tablespoon = US/UK = 15 ml
1 fl oz = US = 30 ml
Further information may be found here