While it may not be the most attractive dish in the world, what this vegan tagine lacks in style, it more than makes up for in flavour. Chock-full of delicious veggies, and cooked with fiery spices and fragrant herbs, this vegan Moroccan vegetable tagine is not only a sumptuous feast of goodness, it's incredibly easy to make too.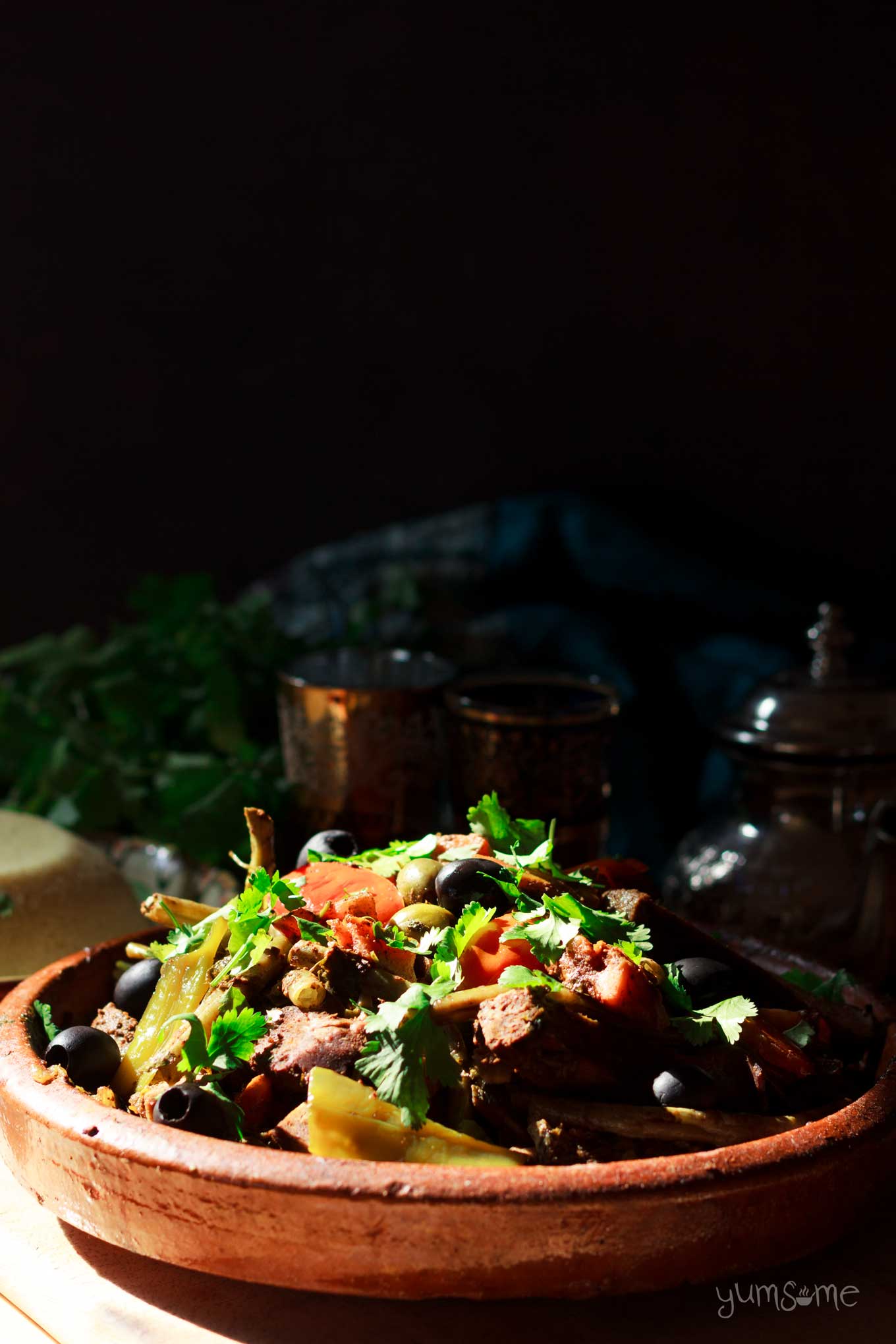 One of the best things about living in Taroudannt, in Morocco's Souss Valley, was the availability of fresh fruit, vegetables, herbs, and spices. Not only was there an abundance, it was all very reasonably-priced too - between 30p and 75p per kilo, depending on what I bought. Fresh dates, for example, were around 20 dirham per kilo (£1.50), olives were roughly 90p per kilo (12 dirham), and I could buy huge bunches of coriander, parsley, and mint for 2 dirham each (15p).
At the greengrocers in the souk, fruit and vegetables were sold by weight of the entire basket, not individual types of foods. So, for example, I would buy a couple of kilos of veggies each day, which could be a mix of potatoes, pumpkin, aubergine, onions, garlic, carrots, beans, tomatoes, peppers, chillis, etc., and my basket would cost me roughly 60p.
Bananas were a little more expensive but oranges were really cheap. And I have to admit that Morocco is the only place I've ever been able to eat oranges because usually they are far too acidic. The ones in Taroudannt were so sweet and juicy, and didn't burn my mouth at all. I was also able to drink freshly squeezed orange juice there - again, something I've never been able to do anywhere else in the world.
Like most places we've lived outside Asia and the West, bread in Morocco is a staple, so of course, like veggies, it's pretty cheap (although expensive compared to Serbia and Romania). We used to go out in the morning, and buy enough to see us through breakfast, lunch, and dinner. A typical conversation with our bread guy would be...
Us: "Marhaaban! Arbe arom, minfadlek." (Hello! Four breads, please.)
Bread man: "Khmst dirham, minfadlik" (Five dirham, please.)
Us: "Shokran!" (Thank you!)
Him: "Shokran!"
Us: "Ma'a salaama!" ('Bye!)
Him: "B'salaama!" (Goodbye!)
Every. Single. Day. 😉
Another thing I liked about living in Morocco was that very few foods were pre-packaged, which meant it could be bought in as small or large quantities as needed... therefore no food or wrappings waste. I would take my own basket to the souk, and no one ever reached for a carrier bag to put my purchases in! Dates would be put into paper bags, pastries and cookies into small cardboard boxes. The only time plastic bags were used were for olives and spices.
I absolutely loved shopping in the souk; there were no supermarkets, just tiny family-run stores and stalls, selling a variety of everyday goods (tea, sugar, household cleaners etc.), plus loads of fruit and vegetable sellers, herb and spice merchants, and purveyors of dates, olives, and biscuits. There were also a myriad sellers offering freshly roasted coffee beans, which smelled heavenly as I walked past.
Going to the souk every day to buy just enough food for our needs, and having the chance to chat with the merchants, plus learning new words in Berber was great - we used to have such a laugh! Our regular fruit guy stopped speaking English to us, instead he taught us Berber - and sometimes Darija - and if we got confused (which happened often), he'd translate to French, in order to demonstrate the similarity between the languages. Or perhaps he just enjoyed speaking in several tongues!
Our olive seller spoke no French, no English, and no standard Arabic - just Berber and Darija; at first I didn't have a clue what he was saying... and yet, in a short while, I managed to learn certain words and phrases, and found it quite easy to communicate, albeit it very basically!
Vegetable tagine
Although Morocco itself has a wide variety of dishes, in Taroudannt, there are a just few, which seem to be standard for everyone - tagine is one such dish, albeit tagine with meat. While there were some veggie tagines, sadly, they were not from the street vendors. We did find a couple of cafés though, which would make us veggie dishes for 20-30 dirham.
Like cucina povera, although there is a basic way of making vegetable tagine, there seems to be no standard recipe, so it's just a case of using what you have. The mix of veggies can be changed to suit, and if you don't have a clay tagine, then a casserole dish or large, lidded saucepan will work but you'll have to add more stock. The beauty of tagines is that their conical lids condense moisture, which mean you need to add little liquid to them. It also means all nutrients stay in the cooking.
You can also make this in a slow cooker, which works really well, but again, you'll need to add a bit more liquid.
Moroccan Vegetable Tagine
Is...
simple
customisable
nutritious (Vitamin A 116%, Vitamin C 78%, Calcium 8%, Iron 15%, Potassium 18% RDV)
filling
budget-friendly
delicious
Traditionally, in Morocco, people all eat from the same tagine, using pieces of bread to scoop out the chunks, and because the pot is made from clay, the food stays warm (remember this when you come to clear the table).
Besseha!
Have you ever had a vegan Moroccan vegetable tagine?
📖 Recipe
Moroccan Vegetable Tagine
As well as being frugal and filling, my hearty, spicy, Moroccan vegetable tagine is incredibly simple to make, and is just the thing to keep you warm on these still-cool evenings.
Print
Pin
Rate
Makes (slide to adjust):
4
servings
Ingredients
3

tablespoon

olive oil

divided

1

large onion

finely chopped

5

large cloves garlic

smashed

1

medium potato

cut into thick slices

1

small preserved lemon

chopped into approx 1cm (½") pieces

1

medium carrot

 cut into thick slices

1

small bunch coriander

cilantro, chopped

1

slice

pumpkin

(c.100g/3½ oz), cut into bite-sized pieces

1

small bunch flat-leaf parsley

chopped

1

small aubergine (eggplant)

sliced into finger-sized pieces

1

medium courgette

zucchini

small handful French beans

topped and tailed

1

large tomato

roughly sliced

20

olives

240

ml

vegetable broth

2

tablespoon

Ras el Hanout
Optional:
150

g

seitan of your choice, sliced
Instructions
Gently heat 1 tablespoon of the oil in the tagine, and fry the onions for a few minutes until they become translucent. Add the smashed garlic, and continue to cook for another 2-3 minutes, until the raw garlic smell has gone.

Turn off the heat while you layer the vegetables: the ones which take the longest to cook should be at the bottom, while the ones which require the least time should be on the top.

I do it in this order: potatoes (which I stir in with the onions to coat them in oil), then half the preserved lemon, carrot, half the coriander and parsley, pumpkin, half of the parsley, aubergine, courgette, French beans, the rest of the parsley, and the tomato. You should have a dome of food now!

Push the olives in anywhere you can - you don't have to be precise - and sprinkle a few on the top.

If using, arrange slices of seitan around the edge of the dome.

Whisk the Ras el Hanout and the remaining oil into the hot vegetable broth, until well-blended (it will thicken). Carefully pour all over the food.

Put on the tagine lid on, and turn the heat onto its lowest setting. If you're using gas, then a diffuser will come in handy.

The dish should take around 40-50 minutes to cook. It's possible the juices may overflow a little but don't worry - just clean it up afterward!

Carefully remove the tagine lid to check that the veggies are soft, then replace the lid, turn off the heat, and leave the tagine to stand for five to 10 minutes.

Bring to the table, sprinkle the rest of the coriander over the top, and dig in. Serve with fresh bread or couscous (or both).
Notes
Or use 1 vegetable stock cube (low sodium if possible) dissolved in 180ml (¾ cup) hot water.
Nutritional data includes seitan.
Nutrition Facts
Moroccan Vegetable Tagine
Amount Per Serving (1 portion)
Calories 320
Calories from Fat 198
% Daily Value*
Fat 22g34%
Sodium 963mg40%
Carbohydrates 31g10%
Protein 13g26%
* Percent Daily Values are based on a 2000 calorie diet.
Did you make this recipe?
Do mention @yums0me and/or tag #yums0me - I'd love to see how yours turned out!
Disclaimer
Measurements in parenthesis are approximate; it is beyond the scope of yumsome to be able to provide pinpoint-accurate ingredient quantities for every type of measuring utensil. As a guideline however, I make the assumption that:
1 cup = US cup = 240 ml
1 tablespoon = US/UK = 15 ml
1 fl oz = US = 30 ml
Further information may be found here
If you like this Moroccan Vegetable Tagine recipe, you'll love these other international yums!