Deliciously comforting and warming, my rich mushroom gravy can be made ahead of time, and is the perfect accompaniment for roast dinners, pies, mash, and more!
My make-ahead mushroom gravy owes its depth of flavour to the partially caramelised onions & leeks, liquid aminos, and paprika, as well, of course, to the mushrooms themselves. It's thick and savoury, and is perfect with roasts, pies, sausages, mash, roast potatoes, etc.
Basically, if it's in need of 'meaty' gravy, this is totally up to the job.
And speaking of meaty, my meat-loving friends and family all love this too. Some of them didn't even realise that it's vegan until I told them!
Blending mushroom gravy
I know that some people advocate straining the mushrooms prior to serving but I don't. Why would you ditch the best part?
I just blitz the whole lot with my immersion blender, and have done with it.
Thickening the gravy
By the way, if you don't have, or can't get tapioca flour (tapioca starch), you can use cornflour (corn starch), rice flour, potato starch, or arrowroot in exactly the same way.
Tapioca is my preferred choice however, because like arrowroot, it gives sauces and gravies an almost translucent, glossy quality, whereas the other starches tend to produce more opaque sauces.
Mushroom powder
Porcini, or other dried mushroom powders can be used instead of shiitake. I just happen to have shiitake because it's prevalent in this part of the world.
I've used several different types of mushroom powder in this gravy recipe over the years, and to be perfectly honest, it really doesn't matter which you use. It's just there to enhance the flavour of the fresh mushrooms.
If you don't have mushroom powder, you can use a couple of tablespoons of mushroom ketchup or oyster mushroom sauce (found in Asian stores and online).
Or, if you have a high-speed blender, you can make your own by grinding up dried shiitake.
Homemade vegetable broth
Most of the time I make my own vegetable broth, simply because food frugality is in my nature, and I hate to waste anything.
You can of course, use vegetable bouillon (available from most supermarkets) but I have to admit that I really do prefer home-made. Not least because unlike commercial brands, it's not loaded with sodium.
Making vegetable broth at home is beyond easy. I save all my peelings etc., and put them into a large plastic bag in the freezer (this also helps the freezer to run more efficiently because a full freezer is more energy-efficient than a half-full one). Then when I have enough to fill a stockpot, I chuck all the scraps into the pan, along with any bendy carrots and parsnips, and cabbage hearts that are lurking in the 'fridge (oh, come on, we all have them!). A couple of litres of water and some herbs complete the mix.
I cover the pan, and then just let it simmer away for a couple of hours. After that, I strain the vegetable matter (which then goes into the compost bin once it's cooled), and reduce the stock by about 25%.
And that's it. No additives, no preservatives, no hard-to-pronounce chemical names. Just vegetables and water.
Here are the full instructions for how to make vegetable broth from scraps. It'll level up your soup game, too!


Homemade mushroom gravy
As well as being really easy to make at home, and far more delicious than store-bought pouches, my mushroom gravy is both soy-free and gluten-free. It also contains no nuts or dairy.
It's savoury and full of umami, as well as being warming and comforting. It's the perfect accompaniment for roast dinners, pies, and mashed potatoes.
Make-ahead
Why is it make-ahead mushroom gravy? Because you can keep it in an airtight jar in the 'fridge for a couple of weeks, plus it freezes very well (for up to three months).
Why not make some soon? Whatever you have it with, I'm certain you'll love it. Enjoy!
📖 Recipe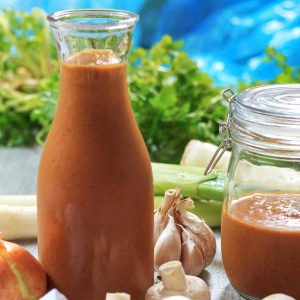 Make-Ahead Vegan Mushroom Gravy
Savoury, comforting, and warming, my make-ahead vegan mushroom gravy is the perfect accompaniment for roast dinners, pies, and mashed potatoes.
Print
Pin
Rate
Makes (slide to adjust):
10
Ingredients
2

tablespoon

olive oil

1

large

onion

, finely-sliced

1

medium-large

leek

, trimmed, cleaned, and finely-sliced

1

head

roasted garlic

1

tablespoon

coconut aminos

(or light soy sauce/tamari if you're OK with those)

1

litre

vegetable broth

1

tablespoon

tapioca flour

(tapioca starch) made into a slurry with 2 tablespoon water

250

g

mushrooms, sliced

1

tablespoon

sweet paprika

1

tablespoon

dried shiitake powder

1

teaspoon

sugar

Sea salt and freshly-ground black pepper

, to taste
Instructions
In a large skillet over a low heat, gently fry the onions and leeks in the oil, stirring occasionally, until they start to caramelise. (This should take around 30 minutes.)

Add the roast garlic to the onions and leeks, mash it a little to break it up, and cook for another minute or so.

Stir in the coconut aminos, and allow to evaporate.

Turn up the heat, add the mushrooms, paprika, shiitake powder, and sugar. Cook for another 5 mins, stirring all the time.

Add the stock.

Mix the cornflour with the water to make a paste, and add to the skillet. Keep stirring for a couple of minutes, until the gravy has thickened and just begins to boil.

Reduce the heat to low, cover, and simmer for around 20 minutes.

Remove from the heat, and blend until smooth.

Taste, and season.

If not serving immediately, this mushroom gravy can be stored in an airtight jar in the 'fridge for a couple of weeks. It can also be frozen.
Nutrition Facts
Make-Ahead Vegan Mushroom Gravy
Amount Per Serving (100 ml)
Calories 64
Calories from Fat 27
% Daily Value*
Fat 3g5%
Sodium 485mg20%
Carbohydrates 7g2%
Protein 2g4%
* Percent Daily Values are based on a 2000 calorie diet.
Did you make this recipe?
Do mention @yums0me and/or tag #yums0me - I'd love to see how yours turned out!
Disclaimer
Measurements in parenthesis are approximate; it is beyond the scope of yumsome to be able to provide pinpoint-accurate ingredient quantities for every type of measuring utensil. As a guideline however, I make the assumption that:
1 cup = US cup = 240 ml
1 tablespoon = US/UK = 15 ml
1 fl oz = US = 30 ml
Further information may be found here