4-ingredients. 2 mins. Vegan parmesan FTW! Flavour all the things! My vegan parmesan is perfect for adding a nutty, sweet-savoury flavour to all kinds of dishes. It's soy- and gluten-free too.
This post contains affiliate links. For more information, please see my privacy policy.
2-Minute Vegan Parmesan Recipe
Parmigiano, Pecorino, Grana Padano - I love the taste of them all but alas, they're not even vegetarian, much less vegan. So what's a body to do when she still craves that savoury, almost-nutty flavour that goes so well with pasta sauces, on top of baked potatoes, and to put the finishing touches to pizza?
Why, make it, of course!
I've tried proprietary brands in the past, and to be honest, they're not up to much, in my opinion (unless you actually like your food to smell like old socks). Besides, they're expensive and not that easy to come by when you're living in Eastern Europe.
Vegan cheese
A lot of vegans say the thing they miss the most is the cheese - or rather the taste and texture of it. I completely get that - after all, cheese is delicious stuff. Especially extra mature Cheddar.
Not gonna pretend otherwise. Which is why you have to try my vegan parmesan - it's amazing.
Does this vegan parmesan behave the same as dairy?
Will my vegan parmesan fool dairy cheese aficionados? Unlikely but that's not the point; the point is that this is something which adds a very similar flavour and texture to hard Italian cheese, which vegans can eat.
And because I only use fair trade cashews, no humans have suffered to put food on the table. I call that a win!
(The infographic above was part of a fair trade cashew campaign I worked on for Traidcraft.)
How long does vegan parmesan keep?
In an airtight jar at room temperature, about six months. I haven't tried freezing it.
If you like my Vegan Parmesan recipe, check out these vegan Italian yums too!
You'll love this vegan parmesan
Because it's...
savoury-sweet
nutty
cheesy
stupidly easy to make
gluten-free
soy-free
full of B Vitamins (including B12)
gorgeous!
Amato mio and I love this so much, I bet you will too. Buon appetito!
Enjoy this 2-minute vegan parmesan!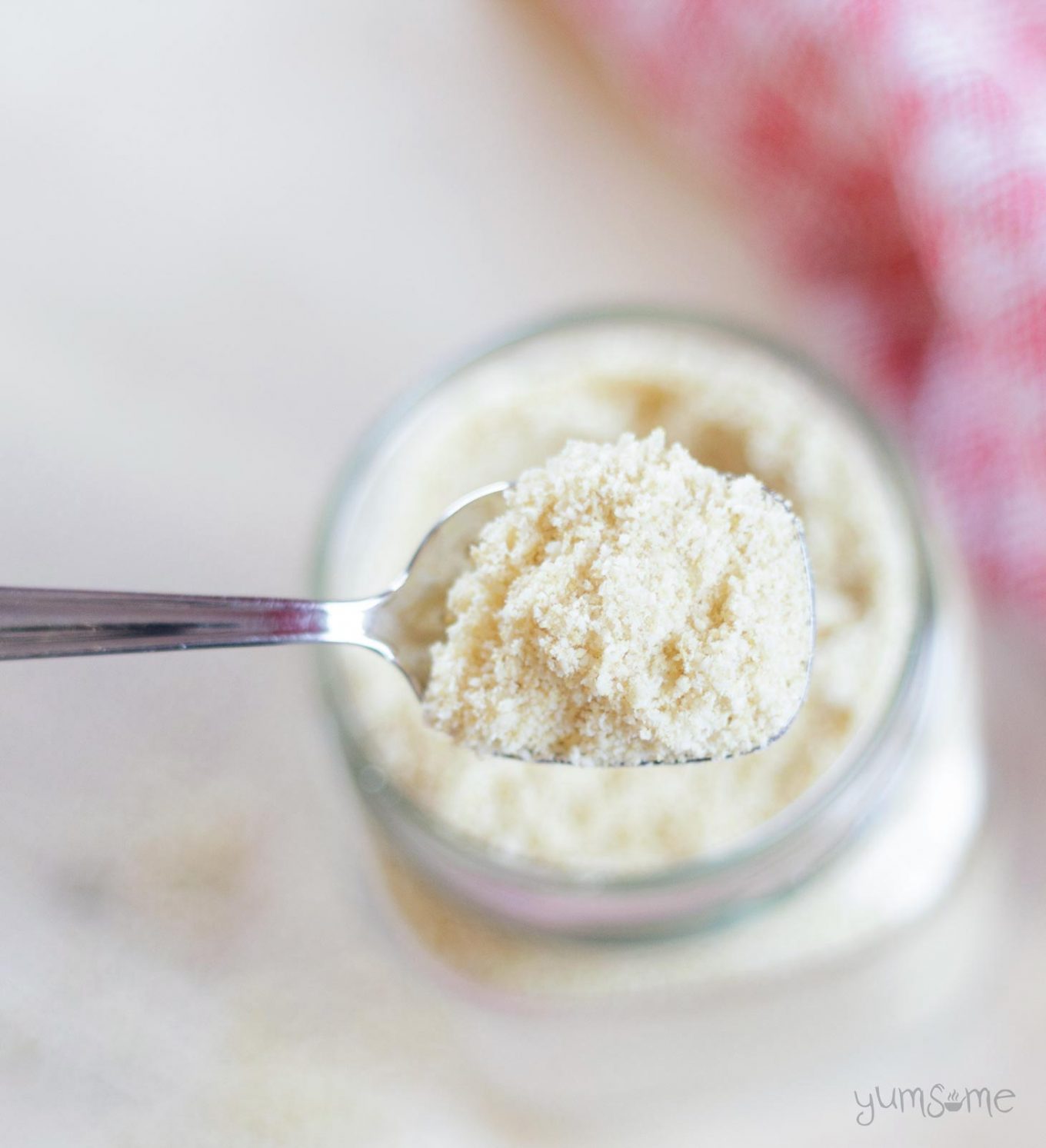 📖 Recipe
How To Make Vegan Parmesan
My vegan parmesan is perfect for adding a nutty, sweet-savoury flavour to all kinds of dishes, plus it's super-easy and very quick to make with just four ingredients. It's gluten-free too.
Print
Pin
Rate
Makes (slide to adjust):
20
tablespoon
Instructions
Whizz all the ingredients together a food processor or blender for a couple of minutes, until they resemble very fine breadcrumbs.

Store in an airtight jar at room temperature for up to 6 months.
Notes
This recipe also works well with ground almonds, walnuts, and hazelnuts.
~~~
I use my Froothie Evolve Blender for this recipe (see my review for more information); if you want to try out this great blender for yourself, Froothie is offering yumsome readers £100 discount and two years extra warranty (making seven years in all), as well as free shipping. Simply add the following code into the comments box when you check out, or if you order by 'phone, relay the code to the person taking your order. The discount will be refunded to your credit or debit card.
Ambassador (5252) special 2 extra warranty years  + Google100
By the way, I get a small commission - at no extra cost to you - for every sale made using my affiliate code, so if you are thinking of buying something from the
Froothie website
, I'd really appreciate it if you use my link and/or code. Thanks so much! Affiliate sales and advertising, BTW, fund yumsome - without them, I wouldn't be able to provide you with all this delicious free content!
Nutrition Facts
How To Make Vegan Parmesan
Amount Per Serving (1 tablespoon (c.8g))
Calories 38
Calories from Fat 27
% Daily Value*
Fat 3g5%
Sodium 86mg4%
Carbohydrates 2g1%
Protein 2g4%
* Percent Daily Values are based on a 2000 calorie diet.
Did you make this recipe?
Do mention @yums0me and/or tag #yums0me - I'd love to see how yours turned out!
Disclaimer
Measurements in parenthesis are approximate; it is beyond the scope of yumsome to be able to provide pinpoint-accurate ingredient quantities for every type of measuring utensil. As a guideline however, I make the assumption that:
1 cup = US cup = 240 ml
1 tablespoon = US/UK = 15 ml
1 fl oz = US = 30 ml
Further information may be found here