Home-made naan is so easy to make, and is far superior to the pre-packaged breads you can buy in supermarkets, which tend to be a bit dry and crumbly. My naan is soft and pillowy, with just the right degree of chewiness. If you love the naan you have in Indian restaurants, you'll adore this!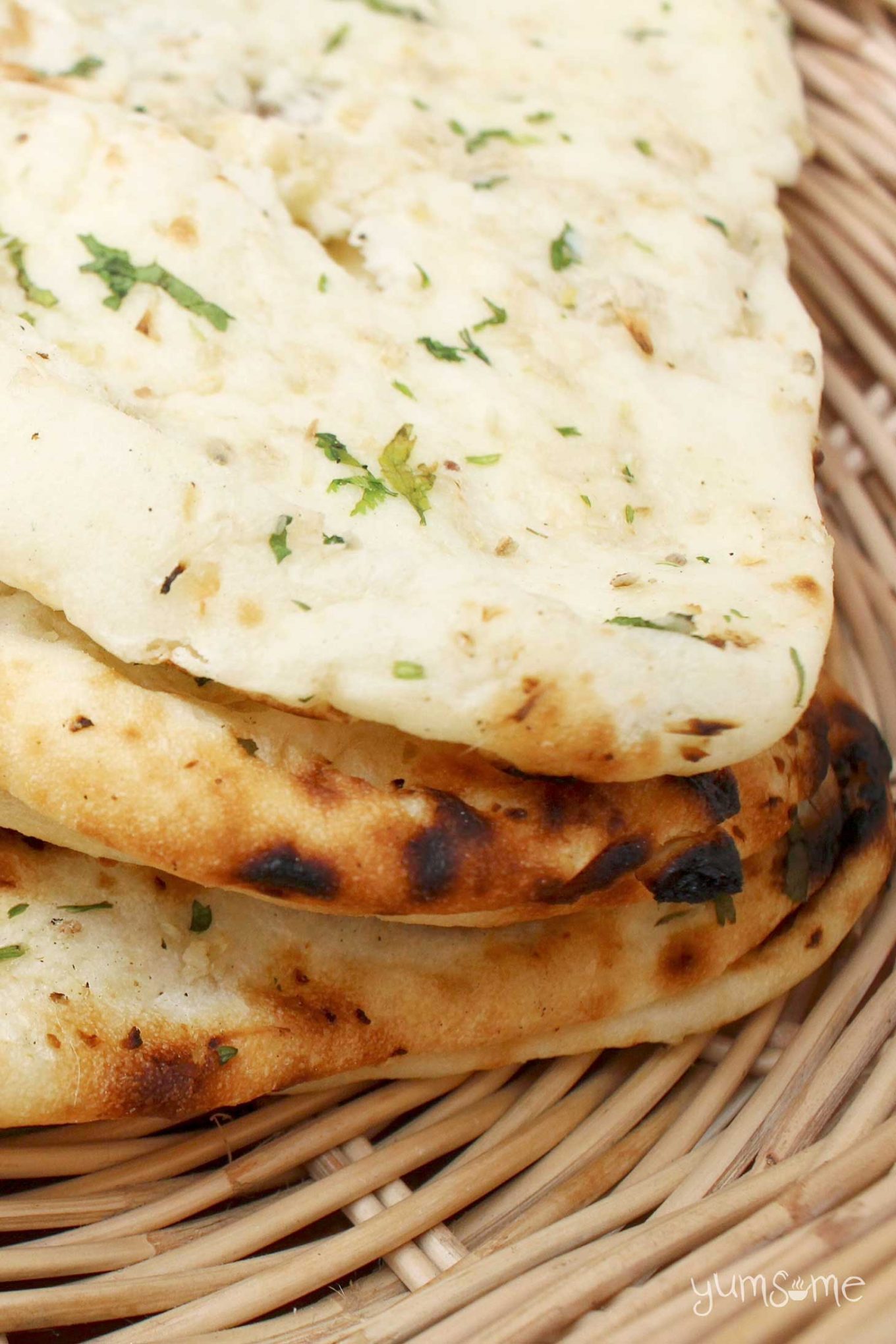 Some people advocate leaving out the yoghurt when making naan but I really don't recommend doing that, especially if you're not using any spices or herbs to flavour it because what you'll be left with is a largely dull and flavourless flatbread. Vegan yoghurt is really easy to make, and is readily available in most supermarkets these days, so there's no reason to not use it.
Also, the yoghurt makes the bread nice and soft.
Even though this is not cooked in a tandoor (and really, who has one of those in their homes? Shush, my Indian friends!), there really is little to distinguish my naan from those cooked the more traditional way. In fact, I'd go as far as to say that this is the best naan I've had outside India.
(Or from Indian restaurants in Britain.)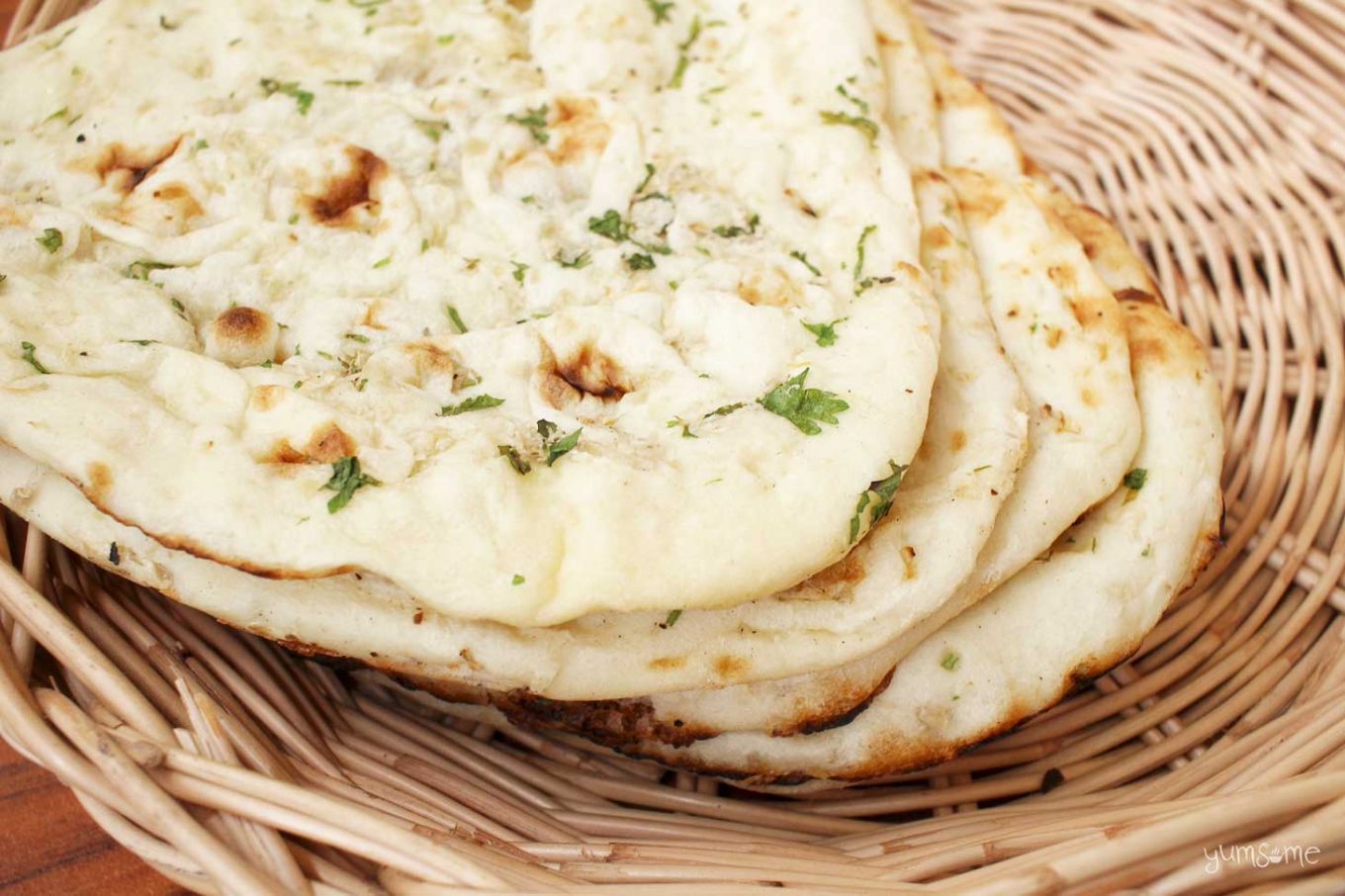 Incidentally, you don't have to say "naan bread" - naan actually means 'bread' (it's a Persian loan word, adopted throughout many central and southern Asian nations), so if you say naan bread, you're actually saying bread bread!
(I didn't know this until I lived in India!)
Vegan naan
Is...
soft
pillowy
slightly chewy
a little tangy
easy to make
high in protein
satifying
delicious
Enjoy your taste of India!
What do you like to eat your vegan naan with?
📖 Recipe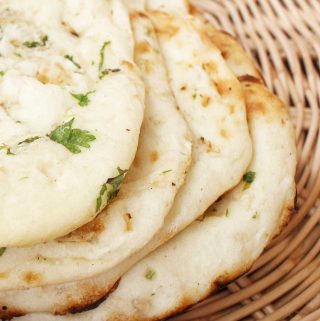 How To Make Vegan Naan
This naan is soft and pillowy, with just the right degree of chewiness. If you love the naan you have in Indian restaurants, you'll adore this!
Print
Rate
Makes (slide to adjust):
4
naan
Ingredients
1½

teaspoon

dried yeast

4

tablespoon

warm water

½

teaspoon

sugar

note 1

300

g

plain (all-purpose) flour

½

teaspoon

sea salt

Pinch

baking soda

1

teaspoon

cumin seed

optional

2

teaspoon

nigella seeds

optional

1

tablespoon

chopped coriander leaf

cilantro (optional)

2½

tablespoon

coconut oil

melted

6

tablespoon

plain plant yoghurt

e.g. soy
Instructions
Dissolve the yeast and sugar in the warm water, and set aside for 10 minutes to activate. It will become frothy, and have that distinctive yeasty smell.

In the meantime, mix the flour, salt, and baking soda, plus the seeds and coriander (if using) together in a large

mixing bowl

, then once it's ready, add the yeast mix, plus the yoghurt and oil.

Using your fingers, mix everything together until it forms a soft dough.

Knead the dough in the bowl for five minutes, until it's smooth and elastic.

Form into a ball, and remove it from the bowl while you brush a little oil over the bottom and sides. Return the dough to the bowl, and brush a little oil over the top.

Cover the bowl with a clean tea towel, and leave to prove (rise) in a warm place for 2-4 hours. (How long depends on the temperature of your home.) (note 2)

Once the dough has risen to double its size, tip it out of the bowl, and knock it back (punch it!) to remove the air.

Knead it again for another five minutes, then divide into four equal balls.

Set aside on a lightly-floured surface for another 30-40 minutes to rise again.

Dust each piece of dough with a little flour, flatten between your palms, then roll into a circle or teardrop shape about 1.5cm (½ ") thick.

Heat a heavy

skillet

over a high heat until it starts to smoke.

Lightly brush one side of a naan with water, and place – moistened side down - onto the hot skillet. (note 3)

Cover with a lid, and cook for around a minute. There should be bubbles on the surface of the naan, and it should come away easily from the pan.

Flip the naan over, and cook, uncovered, for another 30-90 seconds, until it develops charred spots on the underside.

Remove from the skillet, and if you want, brush with a little coconut oil or vegan butter. Wrap in a clean tea towel to keep warm while you cook the rest of the naan.

Serve with your favourite wet curries.

Individually wrapped in tin foil, and kept in the 'fridge, the cooked naan will keep for two to three days. Reheat, wrapped in foil, for a few minutes in a warm oven before serving.
Notes
If you don't want to use sugar, use 1½ teaspoon warmed maple syrup (as I do for my bagels).
During cold weather, I sometimes find that my dough doesn't rise very well, even with the heating on, so I heat the oven on its lowest setting for half an hour, switch it off, then put the covered bowl inside to prove. This kick-starts the rising process.
Brushing one side of the naan with water gives it a slightly crispy surface but there's no need to brush the other because the steam from cooking it with a lid will be sufficient.
This is an updated version of my original recipe, published in December 2015.
Nutrition Facts
How To Make Vegan Naan
Amount Per Serving (1 naan)
Calories 377
Calories from Fat 99
% Daily Value*
Fat 11g17%
Sodium 324mg14%
Carbohydrates 60g20%
Protein 10g20%
* Percent Daily Values are based on a 2000 calorie diet.
Did you make this recipe?
Do mention @yums0me and/or tag #yums0me - I'd love to see how yours turned out!
Disclaimer
Measurements in parenthesis are approximate; it is beyond the scope of yumsome to be able to provide pinpoint-accurate ingredient quantities for every type of measuring utensil. As a guideline however, I make the assumption that:
1 cup = US cup = 240 ml
1 tablespoon = US/UK = 15 ml
1 fl oz = US = 30 ml
Further information may be found here
If you're looking for something to have with this vegan naan, check out some of my other Indian recipes!