I can't stress enough how easy tahini is to make at home, nor how quickly it can be made. Best of all though, making your own tahini is so much more cost-effective than buying it. Half a kilo of sesame seeds costs around the same as two commercial jars of tahini from the supermarket.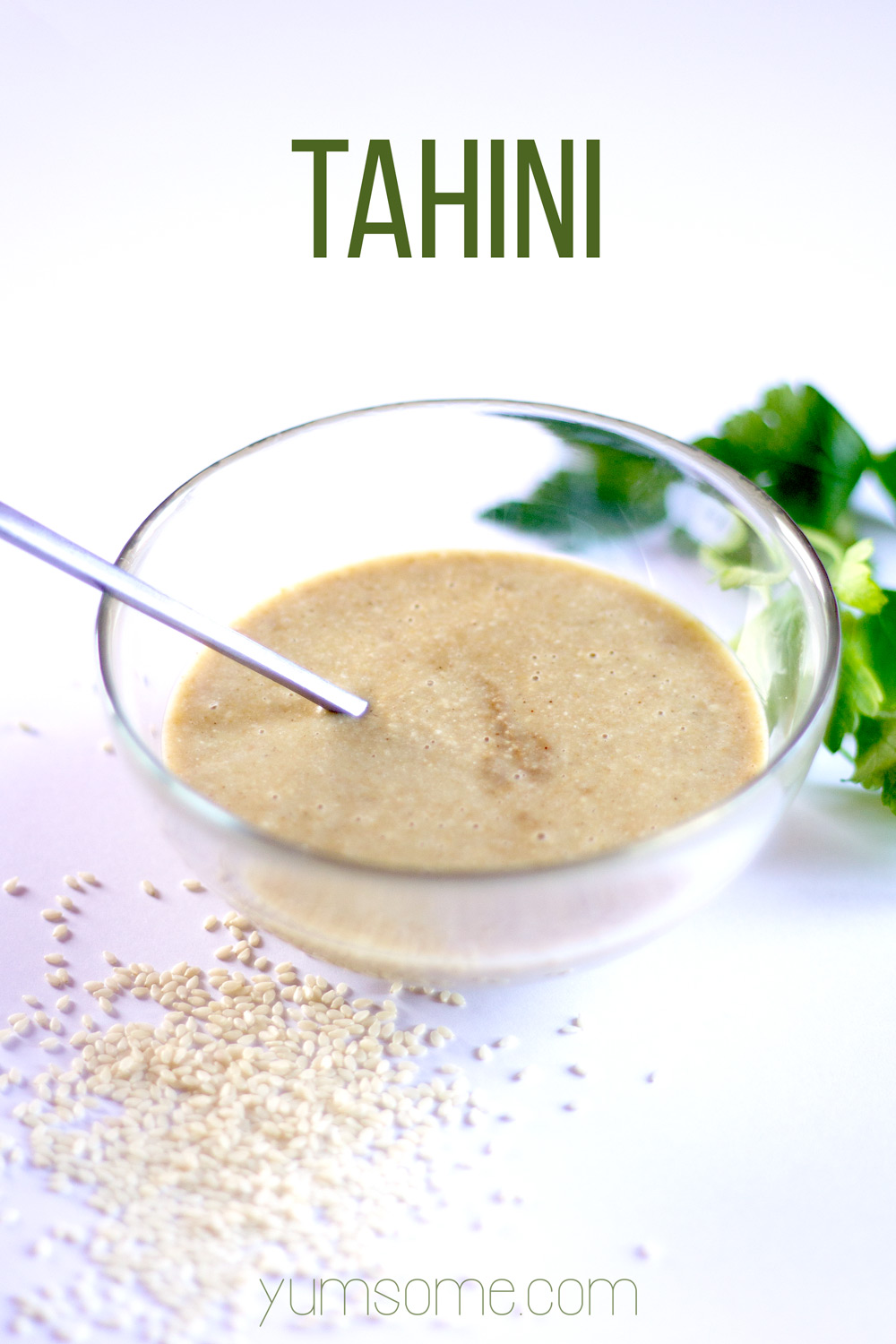 Another reason for making your own tahini is that sometimes the shop-bought stuff can be a bit icky, and even rancid, especially if it's not been stored in ideal conditions. I once bought a jar from a local corner shop, and discovered that although it was within date (just), it smelled really bad - like old oil. I suspect that at some point, the clear glass jar had been kept in direct sunlight, and that the oil had simply gone off.
Also, by making your own tahini, you can control how much - if any - salt goes into to it. I prefer to not add any salt, I'd rather season the actual recipe I am making, but some brands add salt to their tahini as a matter of course - and labels aren't always printed in a Roman alphabet!
Although it's not strictly essential to toast the seeds beforehand, I find it adds to the depth of flavour, and gives the tahini more of that lovely, nutty taste. Feel free to omit this step though, if you want.
Once you've made your tahini, use it in salad dressings, to make tarator, hummus, baba ghanouj, falafels, halva (omnom!), as a marinade for tofu, a dip for crudités, a topping for baked potatoes... or even in cocktails! While the uses for tahini are not endless, it can be used for so much more than hummus. Why not make some today, and see for yourself?
Enjoy!
📖 Recipe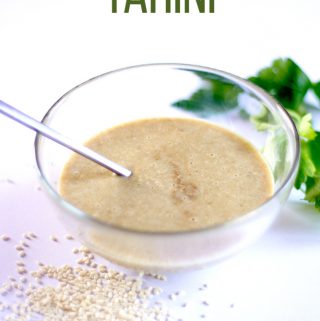 How To Make Tahini
Tahini is so easy to make at home, is ready in a jiffy, and you have full control of what goes into it. This will make around 270g.
Print
Rate
Makes (slide to adjust):
270
g
Instructions
Lightly toast the sesame seeds in a heavy skillet for 5 mins (don't let them brown). Keep the pan moving to prevent burning.

Add the seeds to your

food processor

bowl, and whizz on high speed for 5 mins, until the oil starts to be released from the seeds. (Depending on your processor's speed, you may need to process a little longer. You could use a

high speed blender

 instead.)

Drizzle in the olive oil, a little at a time, and keep processing until the tahini is at your desired consistency.

Store at room temperature in an airtight jar, away from direct sunlight. Some separation of tahini and oil may occur, just stir it in before using.
Nutrition Facts
How To Make Tahini
Amount Per Serving (1 tbsp)
Calories 103
Calories from Fat 89
% Daily Value*
Fat 9.9g15%
Sodium 1.4mg0%
Carbohydrates 2.7g1%
Protein 2g4%
* Percent Daily Values are based on a 2000 calorie diet.
Did you make this recipe?
Do mention @yums0me and/or tag #yums0me - I'd love to see how yours turned out!
Disclaimer
Measurements in parenthesis are approximate; it is beyond the scope of yumsome to be able to provide pinpoint-accurate ingredient quantities for every type of measuring utensil. As a guideline however, I make the assumption that:
1 cup = US cup = 240 ml
1 tablespoon = US/UK = 15 ml
1 fl oz = US = 30 ml
Further information may be found here
I use my Optimum VAC2 Air Vacuum Blender for this recipe; if you want to try out this great blender for yourself (more information in my review), Froothie is offering yumsome readers an extra £20 discount, in addition to free shipping. Simply add the following code into the comments box when you check out, or if you order by 'phone, relay the code to the person taking your order. The discount will be refunded to your credit or debit card.
In addition, Froothie offers a no-risk 30 day trial, plus a no-deposit, interest-free payment plan on every blender on the Froothie website. The VAC2 is currently on special offer, with £100 off the usual price.
AMBASSADOR CODE 5252 + AMB20: £20 Discount
By the way, I get a small commission - at no extra cost to you - for every sale made using my affiliate code, so if you are thinking of buying something from the Froothie website, I'd really appreciate it if you use my link. Thanks so much! Affiliate sales and advertising, BTW, fund yumsome - without them, I wouldn't be able to provide you with free content.
If you love this easy Tahini recipe, why not check out these other yums while you're here?