My extra mature vegan cheddar is simple to make, and is a mind-blowingly delicious, full-bodied, and robust dairy-free cheese.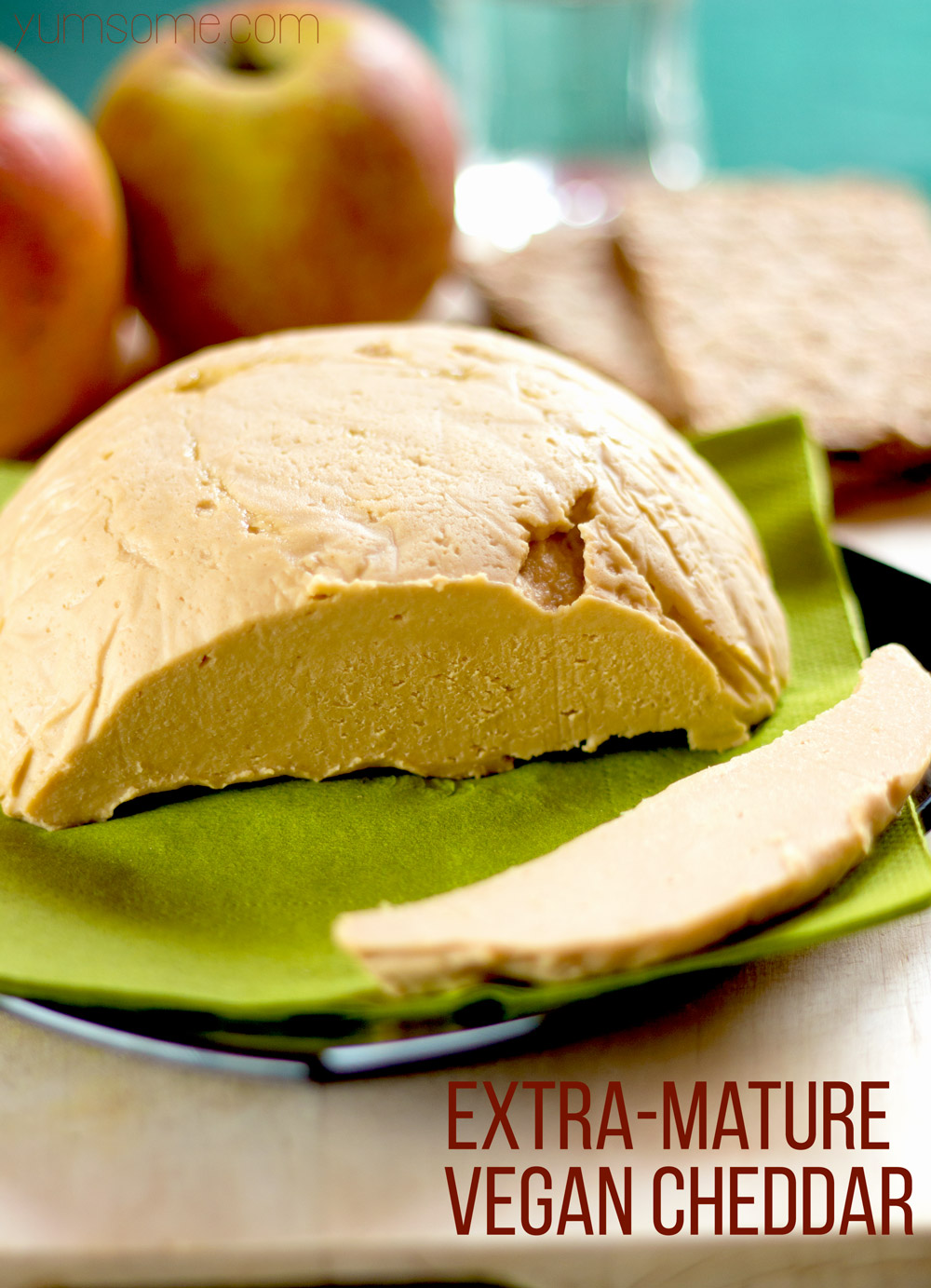 I must admit that I love dairy cheese. Why then do I bother to make vegan cheddar? Quite simply because occasionally, I want something really savoury that my vegan friends can eat, which works well in a sandwich or a salad, or in a dish. For example, my cauliflower cheese.
And let's face it, pizza without cheese is kind of like a black hole where fun goes to die.
Speaking of pizza, do try my easy meltable vegan mozzarella and my vegan parmesan. They're both pretty darn kickass on pizza (and in a panino with avocado too)! And my nacho cheese has been declared by all who've made it to be the best they've ever had. While you're at it, my vegan ricotta is awesome in vegan bagels and 'lox'!
Extra-mature vegan cheddar
I have to admit that I have never found a commercial vegan cheese that I've been fond of. Mostly they just taste rather like flavoured plastic, even the ones I've seen people rave about online. It's not just the taste, it's the texture too. If you've ever had the misfortune of having those nasty squares of 'burger cheese' inflicted upon you, then you'll pretty much know what most commercial vegan cheese is like.
I wanted to make one which not only tasted similar to extra-mature cheddar (the more gum-tingling, the better) but had a great mouthfeel too.
Vegan cheese, particularly cheddar, is never going to be just like cheese made with dairy, no matter how much some vegans will try to convince you otherwise. It just isn't. However, that doesn't mean it can't be every bit as good as its dairy counterpart.
And this is so very good.
So good in fact, that amato mio, who is the biggest cheese fan I know, and who is even more disparaging of commercial vegan cheese than I, actually declared this to be excellent. If you knew him, you'd know what high praise this is.
Is vegan cheese exactly the same as dairy?
That said, if you're expecting an exact replica of traditional extra-mature cheddar, this is not going to be it. Let's not fool ourselves, plants cannot produce the same results as dairy. However, if what you're looking for is a full-bodied and robust cheese, which contains no animal products, yet is still mind-blowingly delicious, then this, my friend, is for you.
Perfection cannot be rushed
Do be aware though, that this is not for the impatient cheese lover. Like anything worth having, it's worth waiting for. While the actual making of this cheese is very quick, waiting for it to mature is going to take the best part of a week. Waiting for the flavour to reach its fullest potential, and for the cheese to firm up, will be another couple of weeks.
But hey, delayed gratification an' all that*.
Of course, you could make two batches at a time. One to eat as soon as it's ripened (it makes an amazing cheese spread), and one to leave to mature.
Enjoy!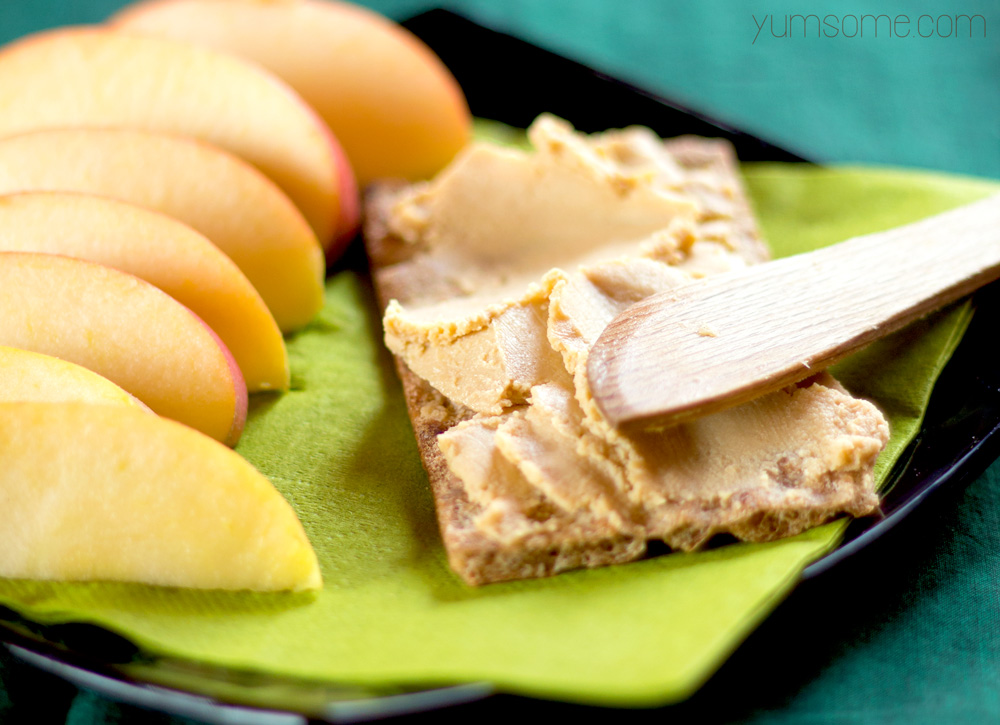 📖 Recipe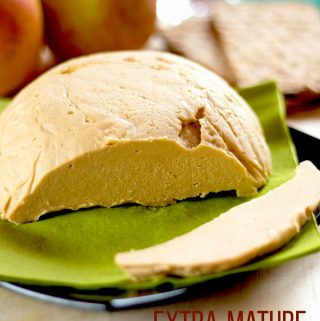 Extra Mature Vegan Cheddar
My extra mature vegan cheddar is simple to make, and is a mind-blowingly delicious, full-bodied, and robust dairy-free cheese.
Print
Rate
Makes (slide to adjust):
500
g
Instructions
Place all of the ingredients into a food processor, and whizz together until you have a smooth, creamy paste.

Transfer to a non-reactive bowl (e.g. a glass bowl), cover with cling film, making sure it's in contact with the entire surface of the 'cheese', and set aside to culture. This will take anywhere between one and three days, depending on the temperature of your home. The warmer it is, the quicker the cheese will culture.

Once the cheese has reached your desired tanginess, give it a stir to knock out the oxygen bubbles, then transfer it to lightly-oiled non-reactive container. Press down to make sure it's as compacted as possible, and smooth the top.

Cover with cling film, making sure the film touches the surface of the cheese (keeps out nasties), and place in the 'fridge for 2-3 days to ripen – longer if you want it to be firmer and have a deeper flavour.

Once it's fully matured (after 2-3 weeks), this cheddar can be sliced for use in sandwiches, wraps, salads, etc. Left at room temperature, it will be soft enough to spread. If you want to grate it, then freeze it, and grate while frozen.

Store in the 'fridge in a Ziploc bag or wrapped in cling film.
Notes
For the cashew cream, you will need the entire recipe's worth (c.240g).
Nutrition Facts
Extra Mature Vegan Cheddar
Amount Per Serving (25 g)
Calories 127
Calories from Fat 99
% Daily Value*
Fat 11g17%
Sodium 151mg6%
Carbohydrates 5g2%
Protein 3g6%
* Percent Daily Values are based on a 2000 calorie diet.
Did you make this recipe?
Do mention @yums0me and/or tag #yums0me - I'd love to see how yours turned out!
Disclaimer
Measurements in parenthesis are approximate; it is beyond the scope of yumsome to be able to provide pinpoint-accurate ingredient quantities for every type of measuring utensil. As a guideline however, I make the assumption that:
1 cup = US cup = 240 ml
1 tablespoon = US/UK = 15 ml
1 fl oz = US = 30 ml
Further information may be found here
**To prove my point…