Taking just 15 minutes to cook, this easy vegan kung pao jackfruit is better than anything you'll get from a takeaway. The Thai birds eye chillies deliver a hot and spicy kick, while the red peppers tone it down with a layer of sweetness. It's clean-tasting and fresh, and not in any way greasy or heavy. Serve on its own with noodles or rice, or with a selection of other dishes as part of a more elaborate meal.
Chinese takeout made at home? Yes please!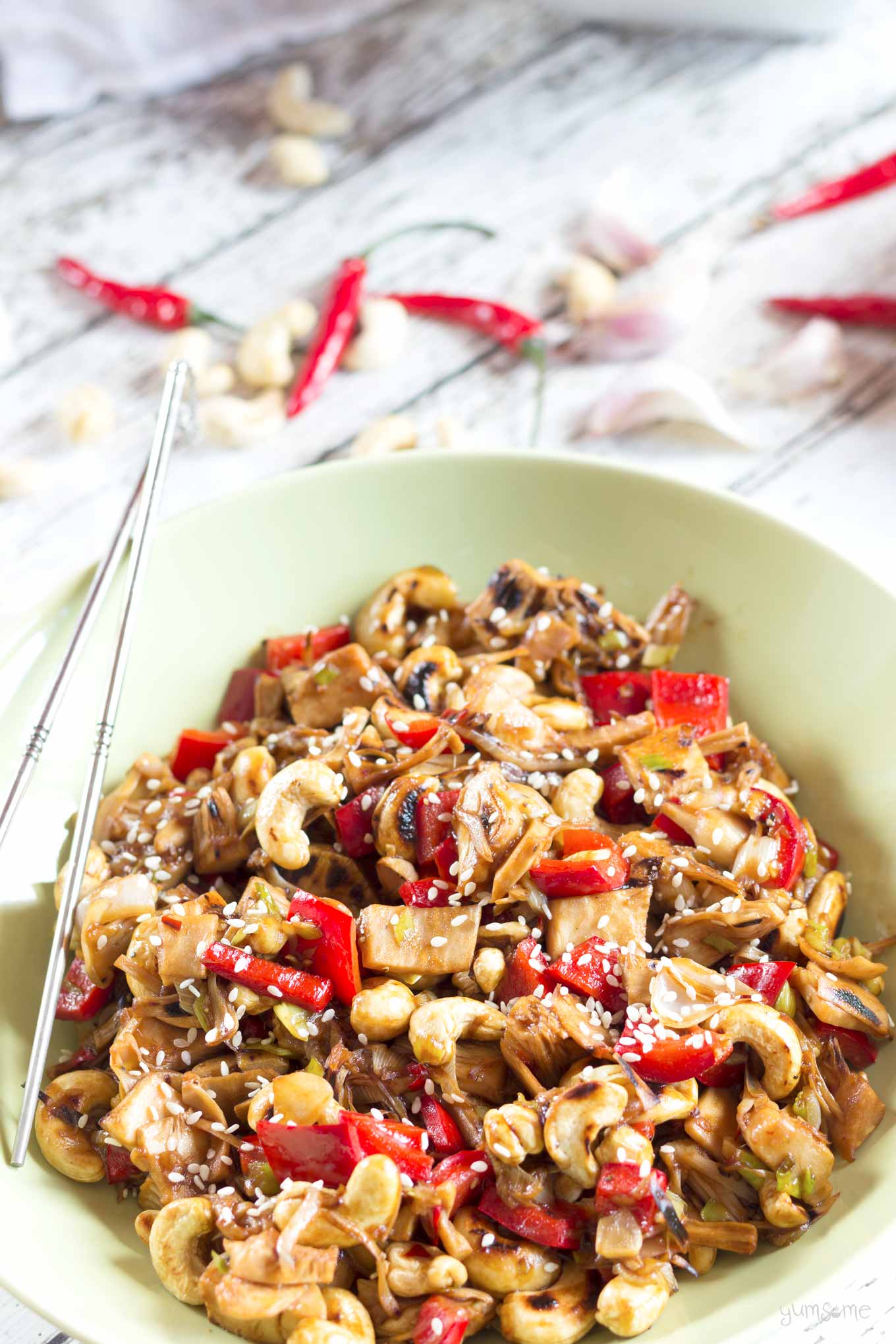 15-ish years ago, in Gerrard Street, in London's Soho, there was a delightful little Chinese restaurant, with a bright pink façade; amato mio and I often dined there, and each time we visited, we would ask them to make us something not on the menu - our only stipulation being that it was vegan. We were treated to some truly amazing food. It's where I discovered - and fell in love with - seitan.
Opposite the restaurant was a supermarket, and it was there that I first encountered jackfruit... enormous, green, semi-spiky fruits that looked like the kind of alien husks you see in science fiction films, where you yell at the screen...
"STAY AWAY FROM THE HUSKS!"

However, it wasn't until we moved to Thailand in early 2012, that I actually tried jackfruit. Why? Because prior to that, I really didn't want to commit to buying an entire fruit on the off-chance I might like it. Or even know what to do with it. In Thailand, you can buy as much or as little as you like, which is so much more convenient.
There was no shortage of fresh jackfruit there; at our first apartment in Chiang Mai, we had an auntie who would set up a stall in our condo scooter park each day, selling fresh fruit to those of us who lived in the building. For 20 baht (around 40p/50c), we'd get a large tray of ripe jackfruit, which would be enough for breakfast. And pudding after lunch.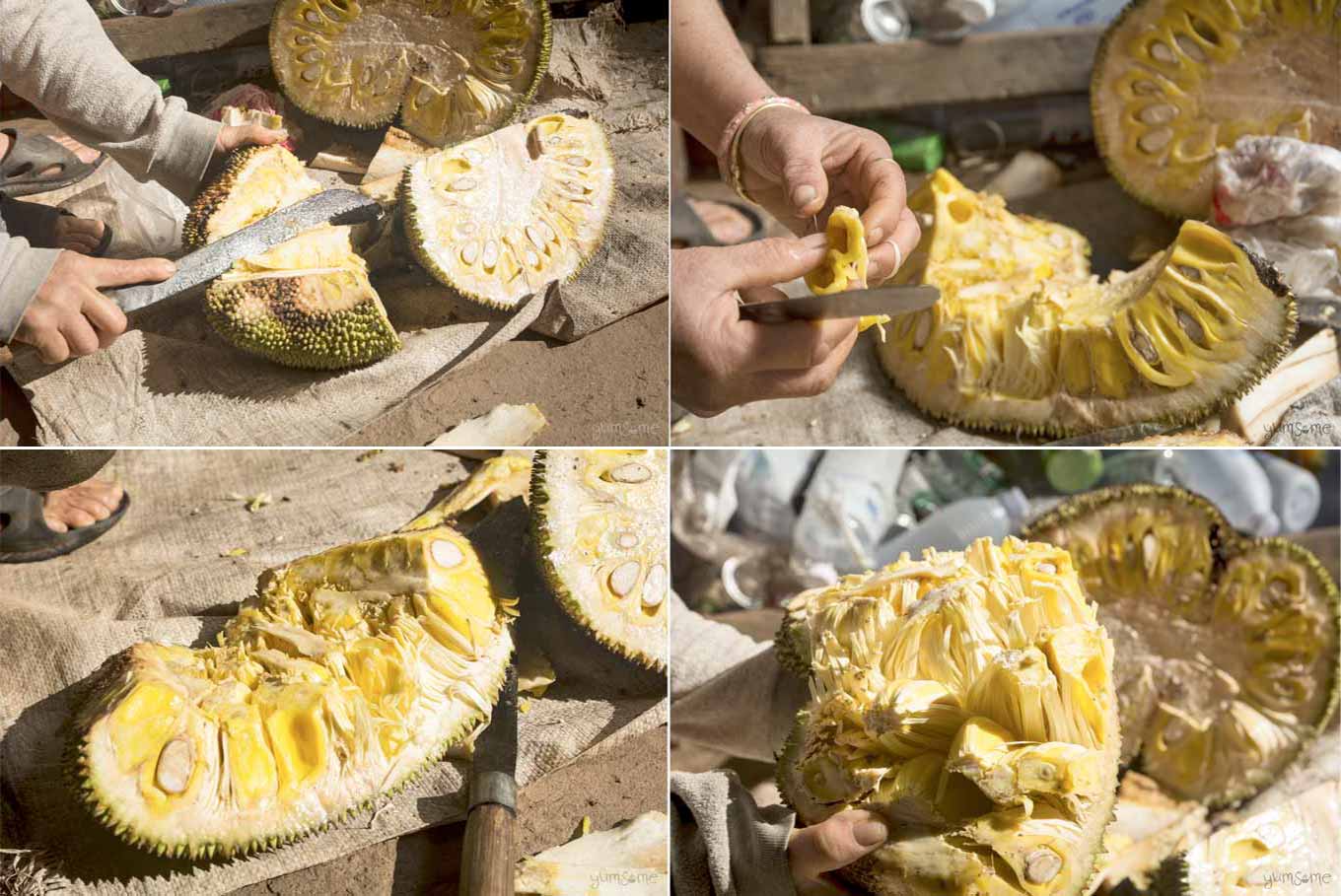 In Doi Saket and Mae Hee, we had jackfruit growing in our garden.
We also discovered it growing next door to us in Fort Kochi (India). In fact, it was in India that I learned to make chips (fries) from jackfruit seeds, and I have to tell you that deep-fried spicy jackfruit chips are pretty rad!
I also have to tell you that fresh jackfruit knocks the socks off the stuff you get in cans. Also, that I'd never tried the canned variety until I left Asia, and returned to mainland Europe.
I'll be honest here... I really don't get what all the fuss is about!
Canned Jackfruit
So many people claim that it's similar in texture to shredded meat... it's not. At least, not in my experience. Admittedly, it's been several decades since I last ate meat but jackfruit isn't remotely how I remember it. I've cooked it several ways now, and nope - not meat-like at all!
That said, I've not tried it smothered in barbecue sauce... but then, if you smother anything in barbecue sauce, and then shred it, it's going to resemble pulled BBQ pulled pork, simply because the sauce overwhelms any natural flavours there may once have been. And that includes actual meat.
(I've never actually had BBQ pulled pork. Nor any type of pulled pork. In fact, I'd never even heard of it until a couple of years ago.)
Having said all that, jackfruit is a pretty versatile ingredient... but please, can we just stop claiming it's indistinguishable from meat? Because y'know, it really isn't!
What it is is a neutral-tasting fruit (at least when it's young) that's good for bulking out dishes, and holding its texture when added to a sauce. Or in this case, a stir-fry.
My point is that as a fruit (or vegetable-like fruit), it's pretty fab once you've added your own spices and sauces; it's versatile, cheap, and can pretty much be anything you want it to be, especially in Asian dishes. Which is why I enjoy cooking with it.
But meat-like it's not!
Easy Vegan Kung Pao Jackfruit
Is...
spicy
savoury
slightly sweet
garlicy
nutty
full of goodness (Vitamin A 30%, Vitamin C 109%, Calcium 6%, Iron 20% RDV)
fast and easy
totally delicious
My kung pao jackfruit is a billionty times better than anything I can find in Asian restaurants outside Asia or Chinatown, and I'm sure you'll love it as much as we do!
吃好喝好 (chī hǎo hē hǎo)
Have you had Kung Pao? Have you tried jackfruit?
📖 Recipe
Easy Vegan Kung Pao Jackfruit
Taking just 15 minutes to cook, this easy vegan kung pao jackfruit is better than anything you'll get from a takeaway. The Thai birds eye chillies deliver a hot and spicy kick, while the red peppers tone it down with a layer of sweetness.
Print
Pin
Rate
Makes (slide to adjust):
4
servings
Ingredients
125

g

raw cashews

1

tablespoon

all-purpose soy sauce

½

tablespoon

dark soy sauce

1

tsp 

rice vinegar

note 1

1

teaspoon

sesame oil

divided

1

teaspoon

palm sugar

finely-chopped

1

teaspoon

cornflour

cornstarch

4

tablespoon

water

2

tablespoon

vegetable oil

e.g. Canola

3

fresh bird's eye chillies

split and bruised (note 2)

5

large cloves garlic

smashed

3

cm

piece ginger, smashed

(about 1")

1

can

jackfruit in brine

drained and rinsed, blotted dry, and shredded (note 3)

1

large red pepper

cut into bite-sized pieces

3

very large spring onions

green onions, finely-sliced

1

teaspoon

sesame seeds
Instructions
In a hot 

skillet

over a high flame, dry-roast the cashews for 2-4 minutes, until they start to turn brown.

Mix together the two soy sauces, rice vinegar, palm sugar, water, ½ teaspoon sesame oil, and the cornflour. Set aside. (note 4)

Heat your

wok

over a high flame, and fry the chillies, garlic, and ginger for 60 seconds in the vegetable oil.

Add the jackfruit and the red pepper, and stir-fry for 4-5 mins.

Give the sauce a shake to ensure it's all mixed together, stir it into the wok, and continue to stir-fry for another minute, until the sauce has thickened, and to ensure the cornflour is cooked through.

Mix in the dry-roasted cashews and sliced spring onions, fry for 30 seconds, just to warm them through.

Turn off the heat, stir in the rest of the sesame oil, and serve immediately, sprinkled with sesame seeds.
Notes
If you don't have rice vinegar, you could use apple cider vinegar instead; it's not the same but it will do in a pinch. Or you could use coconut (toddy) vinegar.
This is meant to be a spicy dish but do feel free to add as much or as little chilli as you like.
The jackfruit I use in this recipe is Chaokoh, which yields c.280g (c.10 oz) of fruit once it's drained. You can use all parts, just ensure you slice the core pieces quite finely. Do make sure you blot it well, otherwise you'll have a spitty wok when you come to fry it off.
I find the easiest way to mix together my Asian sauces is to put everything into a jar, screw the lid on tightly, and then give it a good shake. This also has the advantage that if there's any left over, you can just put it straight in the 'fridge. Less washing up = happy cook!
My kung pao jackfruit was inspired by Woks of Life's KungPao Mushrooms - if you've not checked out their blog, go and do it now... it's one of my favourites!
This recipe has been updated.
Nutrition Facts
Easy Vegan Kung Pao Jackfruit
Amount Per Serving
Calories 319
Calories from Fat 207
% Daily Value*
Fat 23g35%
Sodium 701mg29%
Carbohydrates 24g8%
Protein 8g16%
* Percent Daily Values are based on a 2000 calorie diet.
Did you make this recipe?
Do mention @yums0me and/or tag #yums0me - I'd love to see how yours turned out!
Disclaimer
Measurements in parenthesis are approximate; it is beyond the scope of yumsome to be able to provide pinpoint-accurate ingredient quantities for every type of measuring utensil. As a guideline however, I make the assumption that:
1 cup = US cup = 240 ml
1 tablespoon = US/UK = 15 ml
1 fl oz = US = 30 ml
Further information may be found here
If you like this easy vegan kung pao jackfruit recipe, why not check out these other Asian yums while you're here?