Are you planning a vegan Halloween party, and stumped for ideas? Or perhaps wondering which devilish vegan treats you can make for all the wee ghosts and ghoulies who'll be knocking at your door? Fear not, for help is at hand, with this collection of deliciously spooky vegan Halloween recipes... guaranteed to put the 'ooh' into Booooo!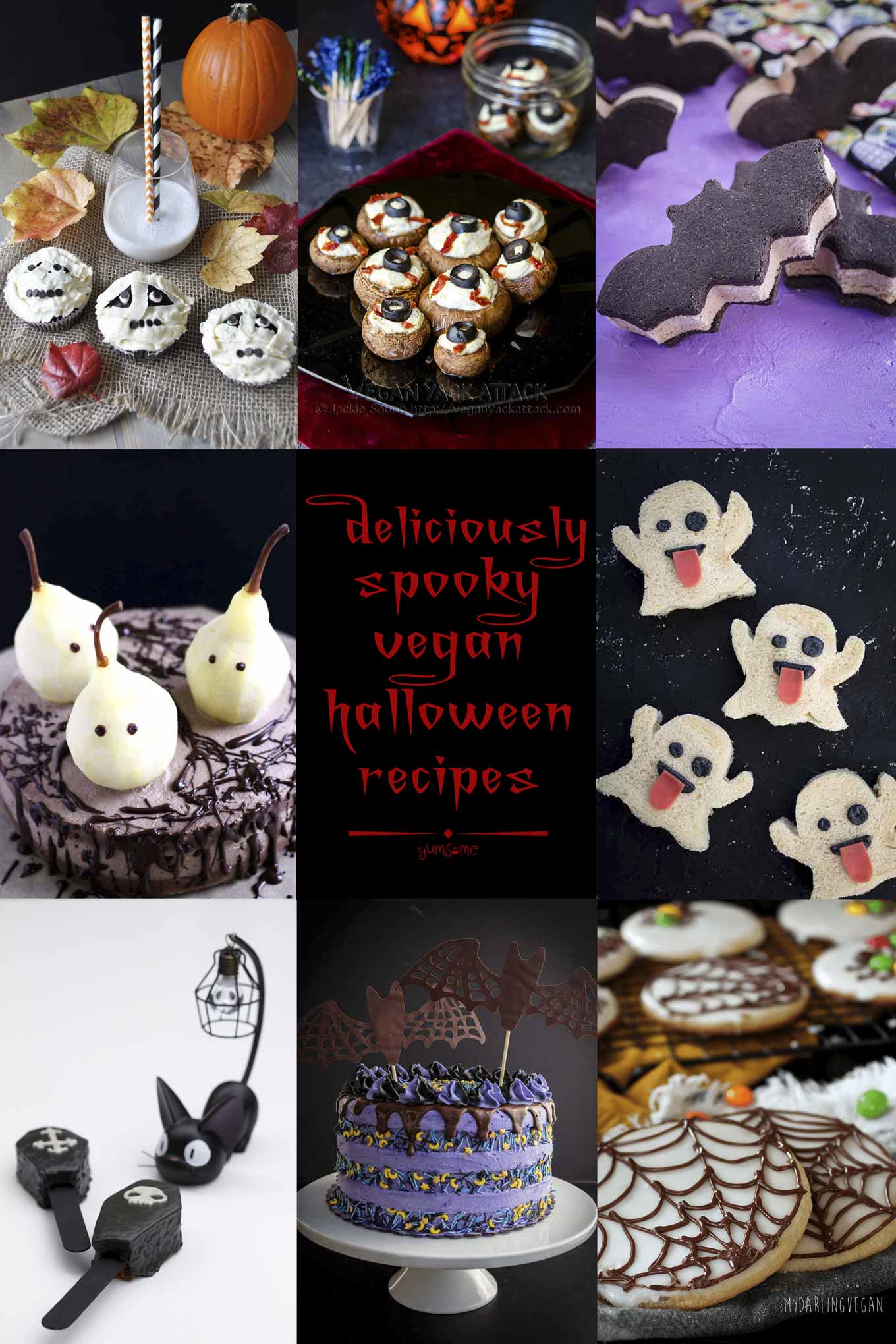 Halloween by Robert Burns
Upon that night, when fairies light
On Cassilis Downans dance,
Or owre the lays, in splendid blaze,
On sprightly coursers prance;
Or for Colean the rout is ta'en,
Beneath the moon's pale beams;
There, up the Cove, to stray an' rove,
Amang the rocks and streams
To sport that night;
Click here to read the rest of the poem.
Deliciously Spooky Vegan Halloween Recipes!
As the nights draw in, and the wind blows chill (at least here on the extreme east coast of Blighty!), do your thoughts turn to schnuggling up in front of a cosy fire, sipping hot chocolate or mulled cider? Are you planning an evening of Trick or Treat, or picking your favourite Halloween viewing on Netflix? (I highly recommend What We Do In The Shadows - both the film and the TV series - it's wonderfully silly!). Or perhaps you're gearing up for your own spooky party at home, and wondering about which vegan Halloween treats to make. Well wonder no more because I've asked some of my chums which vegan Halloween recipes they'll be making... check them out below!
Vegan Halloween Candy Recipes
Homemade Halloween candy! This pumpkin spice fudge recipe tastes like chocolate pumpkin pie and can be wrapped individually for parties or trick or treaters.
Check it out!
These Deliciously Dark Halloween Apples tickle my sense of whimsy. Made with charcoal, these black beauties are ready to cast a sweet spell on Halloween.
Check it out!
These Bloody Cups are filled with a raspberry sauce – making it the perfect treat for Halloween! They are vegan, gluten-free and only need 3 ingredients!
Check it out!
Vegan Halloween Cake Recipes
This Gluten-Free Vegan Halloween Ghost Cake is made with a chocolate sponge, luxurious chocolate buttercream and adorable poached pear ghost decorations! It's also refined sugar free.
Check it out!
Coffin-shaped pumpkin spice cake wands are perfect horror d'oeuvres for a vegan Halloween party or a goth tea party!
Check it out!
Vegan Mummy Cupcakes! Chocolate cupcakes with vanilla frosting are fun and easy to make!
Check it out!
Vegan "Zombie Brain" Halloween Cupcakes! Don't let their spooky appearance fool you, they're actually tasty lemon cupcakes topped with raspberry jam.
Check it out!
An organic vegan chocolate blackberry cake with blackberry buttercream that's all dressed up for Halloween!
Check it out!
Vegan Halloween Cookie Recipes
Celebrate the spookiest holiday of the year with these Halloween cookies. Rich and buttery, with a soft center and a crispy outside, everyone is going to love these Creepy Crawly Sugar Cookies.
Check it out!
A vegan dark chocolate cookie ice cream sandwich that's shaped like a bat!
Check it out!
Savoury Vegan Halloween Recipes
Halloween sweet potato "cookies" recipe! Your kids will love these roasted sweet potato bites cut into Halloween shapes. Only 3 healthy ingredients.
Check it out!
A vegan cucumber tea sandwich that resembles the ghost emoji (aka ghostwiches)!
Check it out!
Mmm.. Delicious eyeballs! No, no cannibalism here, just some Stuffed Mushroom Eyeballs, filled with a garlicky tofu ricotta!
Check it out!
Thank you to everyone for letting me share these gloriously spooky vegan recipes - I wish you all the happiest vegan Halloween!