These easy vegan coconut macaroons are sweet and moist, chewy on the inside and crispy on the outside. Not only are they perfect for Passover, or as an alternative Easter treat, they're easy enough to make at any time of the year. They're gluten-free, too!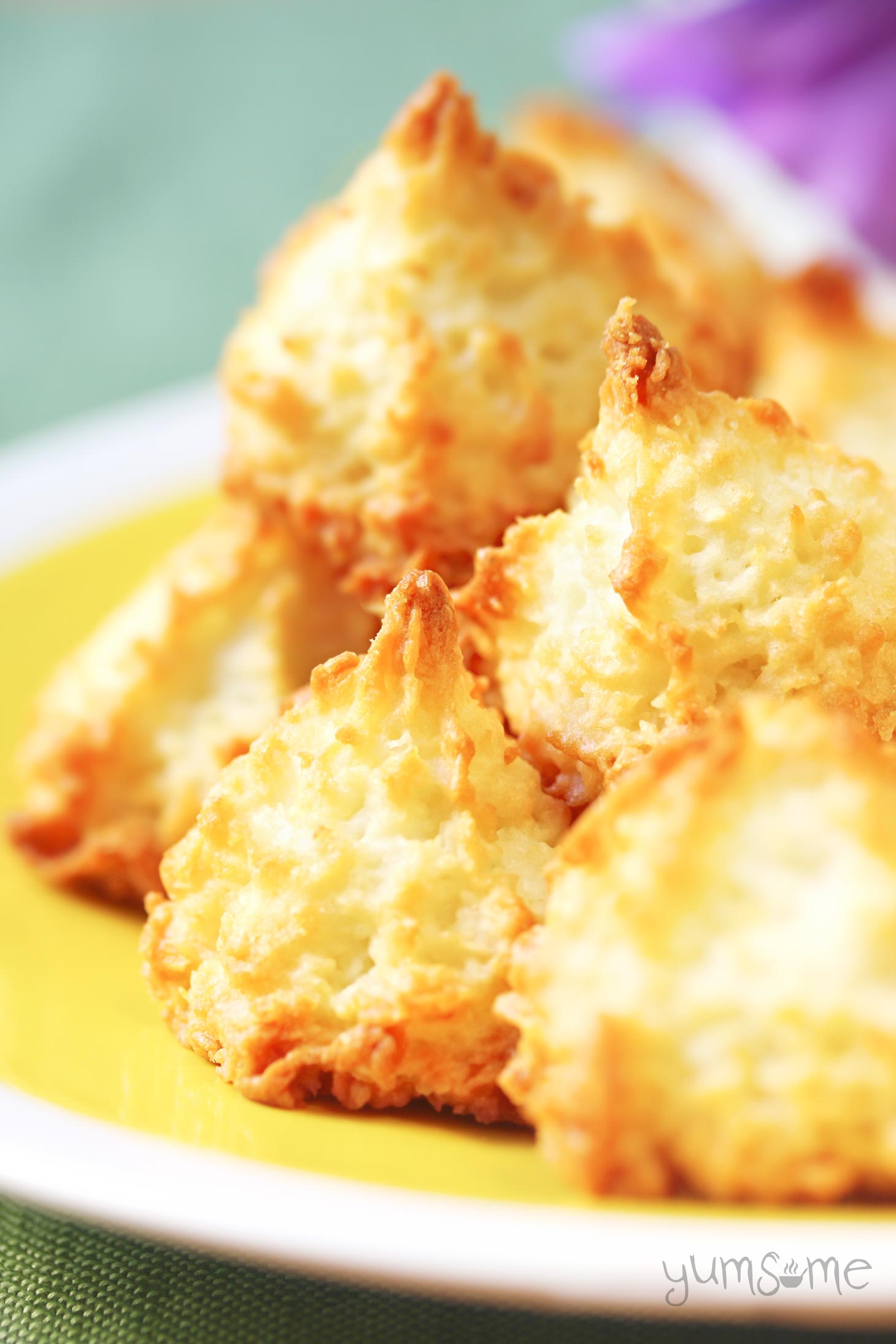 This post contains affiliate links. For more information, please see my privacy policy.
Coconut macaroons were one of my favourite weekend treats when I was a child. Every Saturday, while my grandfather pulled veggies from the garden, my grandmother and I would go to the shops to buy food for the weekend. As a treat, we'd call in at the local baker, and buy three cakes for elevenses when we got home. Gran always had a Sticky Willy (shush now!), Granddad a London Cheesecake, and I always chose to have a coconut macaroon.
What are macaroons?
Macaroons are airy, crispy cookies with a chewy centre, that are traditionally made with crushed almonds, sugar, and egg whites. Coconut macaroons, on the other hand, tend to be pyramid-shaped, dense, and moist, and made with condensed milk.

Although some claim that these delightful confections are French in origin, most historians agree that actually they are Italian, specifically, Venetian, and date from around the 7th century AD.

It didn't take long for macaroons - from the Italian, ammaccare, which means to crush - to make it to France. There are written accounts of them being made in a convent in Commercy as early as 791 AD. What is almost certainly true is that macaroons were improved by French pastry chefs in the 16th century, and then again in the 18th century, when they evolved to become the delicate, pastel-coloured macaron we all know and love today! The 19th century saw the addition of coconut and condensed milk, particularly in the US.
Macaroons for Passover
It's not certain when macaroons at Passover first became a thing but it's believed to have been started by Italian Jews. Naturally, the fact that macaroons aren't made with any leavening or flour, makes them an ideal Passover treat!
Macaroons ingredients
My coconut macaroons only contain four ingredients:
unsweetened desiccated coconut
vegan condensed milk
a little salt
That's it!
How to make vegan macaroons
Making coconut macaroons really couldn't be easier; simply mix the coconut and condensed milk together, then whip the aquafaba with a little salt until it forms soft peaks. Just like making meringues.

Then all you have to do is gently fold the meringue into the coconut mixture, and drop or pipe mounds onto a cookie sheet. Bake in a moderate oven for 15 minutes or so, until golden brown, then leave to cool. Easy peasy!
Tips
When folding the whisked aquafaba into the condensed milk and coconut mixture, it's imperative to be gentle, and not over-mix. If you are too heavy-handed, the aquafaba will deflate, and the macaroons will flop and spread.
If your kitchen is very warm, it might help to refrigerate the batter for 15 minutes, prior to baking.
Don't use tinfoil - unless you want the macaroons to stick, that it!
Do not heat the baking trays - they need to be cold, or else you'll get burned bottoms!
If you don't have an icing bag, simply drop a tablespoonful of batter onto the baking tray for each macaroon. Or use a cookie scoop.
If you use sweetened desiccated coconut, use a couple of tablespoons less of condensed milk, otherwise the extra sugar (from the coconut) will make the batter runny.
To make the macaroons more fancy, you could drizzle some melted dark chocolate over the top, and/or dip the bases in chocolate, too.
Why not check out some more vegan treats?!
You'll love these coconut macaroons
Because they're...
gluten-free
soy-free
nut-free
sweet and moist
chewy on the inside
crispy on the outside
great for Passover
really delicious
I'm sure you're going to love these as much as I do - enjoy!
📖 Recipe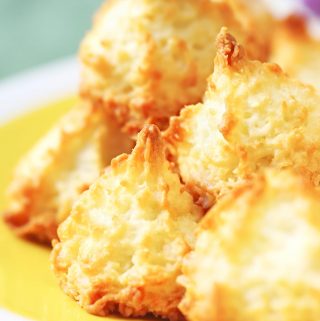 Vegan Coconut Macaroons
These vegan coconut macaroons are sweet and moist, chewy on the inside and crispy on the outside. Perfect as an Easter or Passover treat, and easy enough to make at any time of the year!
Print
Pin
Rate
Makes (slide to adjust):
24
macaroons
Ingredients
Instructions
Preheat your oven to 160°C (320°F), and line a couple of cookie sheets with silicone baking parchment or a silicone baking mat. If you're using rice wafer paper, lay it over the parchment or mat.

Mix the coconut with the condensed milk in a large bowl, making sure that everything is incorporated. Set aside.

Whisk the aquafaba with the salt, until it forms into soft peaks.

Carefully fold the aquafaba into the coconut mixture, being careful to knock out as little air as possible.

Using a piping bag with a large star nozzle, pipe the macaroon batter onto the cookie sheets, leaving a couple of centimetres between each one.

Bake for 15-20 minutes, until the macaroons are golden brown on the ridgy bits.

Remove from the oven, and allow to cool on the trays before serving. If you've used rice paper, trim the excess away from the base of the macaroons.
Notes
This recipe was originally published in 2017, and was updated in 2020.
Nutrition Facts
Vegan Coconut Macaroons
Amount Per Serving (1 macaroon)
Calories 138
Calories from Fat 117
% Daily Value*
Fat 13g20%
Sodium 37mg2%
Potassium 91mg3%
Carbohydrates 6g2%
Protein 1g2%
Iron 0.62mg3%
* Percent Daily Values are based on a 2000 calorie diet.
Did you make this recipe?
Do mention @yums0me and/or tag #yums0me - I'd love to see how yours turned out!
Disclaimer
Measurements in parenthesis are approximate; it is beyond the scope of yumsome to be able to provide pinpoint-accurate ingredient quantities for every type of measuring utensil. As a guideline however, I make the assumption that:
1 cup = US cup = 240 ml
1 tablespoon = US/UK = 15 ml
1 fl oz = US = 30 ml
Further information may be found here