A staple of Balkan cuisine, ajvar (pronounced eye-var) is a delicious rich red pepper spread that's perfect with fresh rustic bread, pasta, crackers, baked potatoes, etc. And best of all... it's naturally vegan!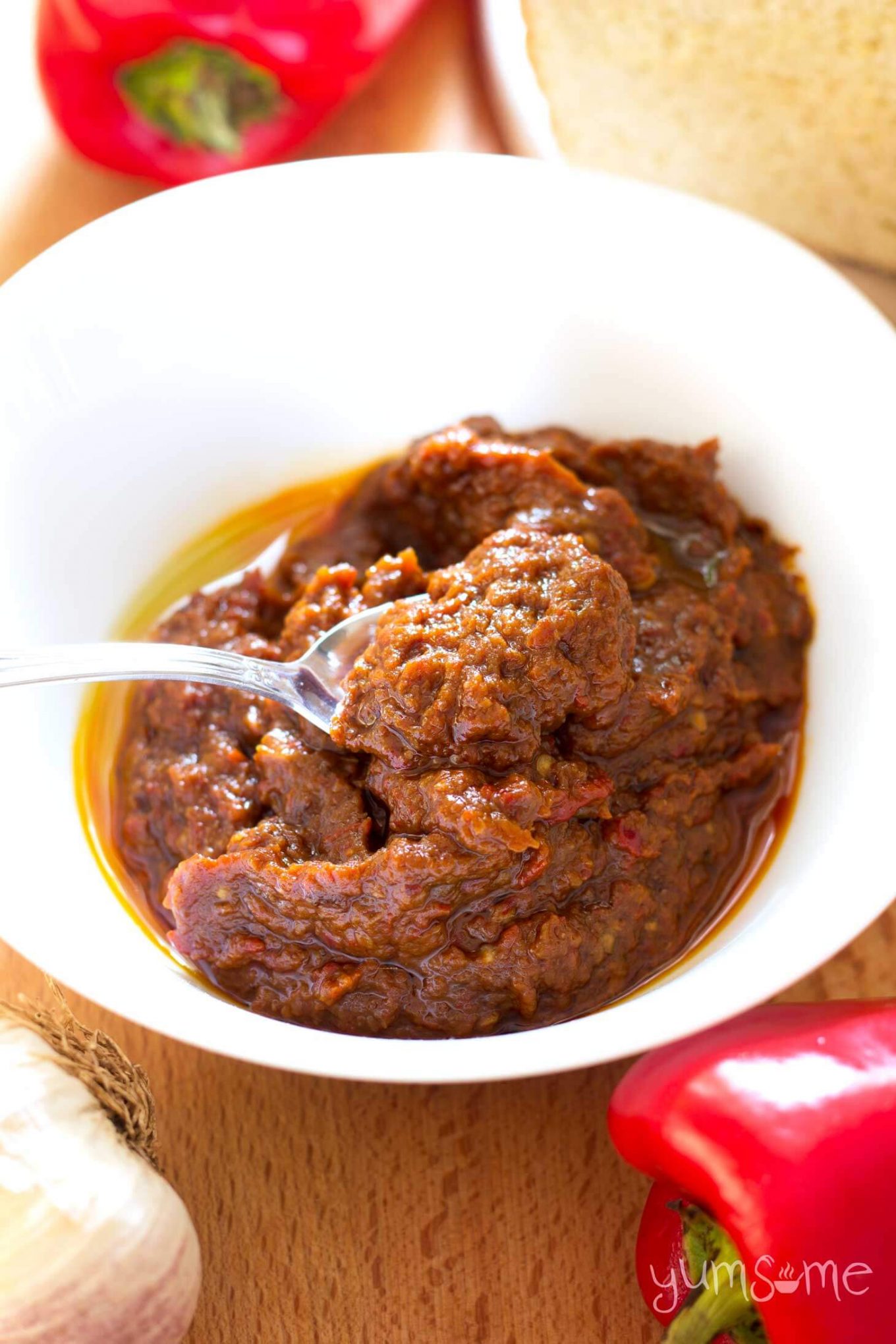 Autumn is traditionally the time of year to make ajvar, and it's a great way of using up surplus peppers, plus ensuring a plentiful supply of Vitamin C throughout the winter (each 25g serving provides 43% of our daily VitC needs).
Some purists claim that ajvar should only be made with peppers - that Slovenians adulterate it with aubergine (eggplant), and that it's actually closer to pindjur (a Bulgarian/Macedonian relish made with tomatoes, peppers, aubergine, garlic, and chilli). That may well be true but I happen to really like it with aubergine; I find it gives the ajvar an added of layer silky, smooth, creaminess, so for now, the aubergine stays!
Living the life of a wanderer, as I do, I come across this kind of attitude all the time; that such-and-such a recipe is not the 'one true' recipe, or that a certain nation cannot possibly make this dish or that dish as well as a certain other nation. Some particular individuals become quite vehement when sharing their opinion of what makes a dish 'proper' (just mention that you ate burek in Croatia or Slovenia to a Serb, and they'll often tell you in no uncertain terms that it's a Serbian pie... despite it actually being brought to the Balkans by the Ottomans).
But really, none of that matters - dishes travel, and over time, they evolve to suit local tastes and available ingredients. In general, Indian food in Britain, for example, is really not much like Indian food in India; it has evolved to become its own thing, and British Indian curries are loved the world over. There's a British guy living in Chiang Mai (Thailand), who has built up a decently-sized business, selling pre-made BIR (British Indian Restaurant) curries to the expat community. There's another in Germany, who's done the same, and exports his curries right across Europe, as well as having a local bricks-and-mortar shop.
My point is that if the food is good, does it really matter whether it's 100% 'authentic' or not? I don't think so.
Making Ajvar
The key to a rich, creamy ajvar is to make sure that the peppers are roasted until their skins blacken, and then, after the veggies have been peeled and smooshed, simmer the spread over a very low heat. Some people swear by simmering overnight but I think a couple of hours is fine. Do be aware that you may need a diffuser if cooking on gas, otherwise your ajvar might catch.
Ajvar (Serbian Red Pepper Spread)
Is...
creamy
satisfying
tangy
rich and silky
full of goodness
versatile
super-delicious
Keep a jar in your 'fridge as a standby for those times you really can't be bothered to cook (c'mon, it happens to all of us!); chuck a potato (sweet, or otherwise) in the oven to bake, and then when it's done, slather over some ajvar, serve with a crisp green salad, and boom - you're good to go!
Or cook up some pasta, and use ajvar as a quick and convenient sauce.
Or simply have it with some crackers, or fresh crusty bread, some tomatoes, olives, and your protein of choice, for a super-speedy, nutritious lunch.
Ajvar really is pretty versatile!
How would you eat your ajvar?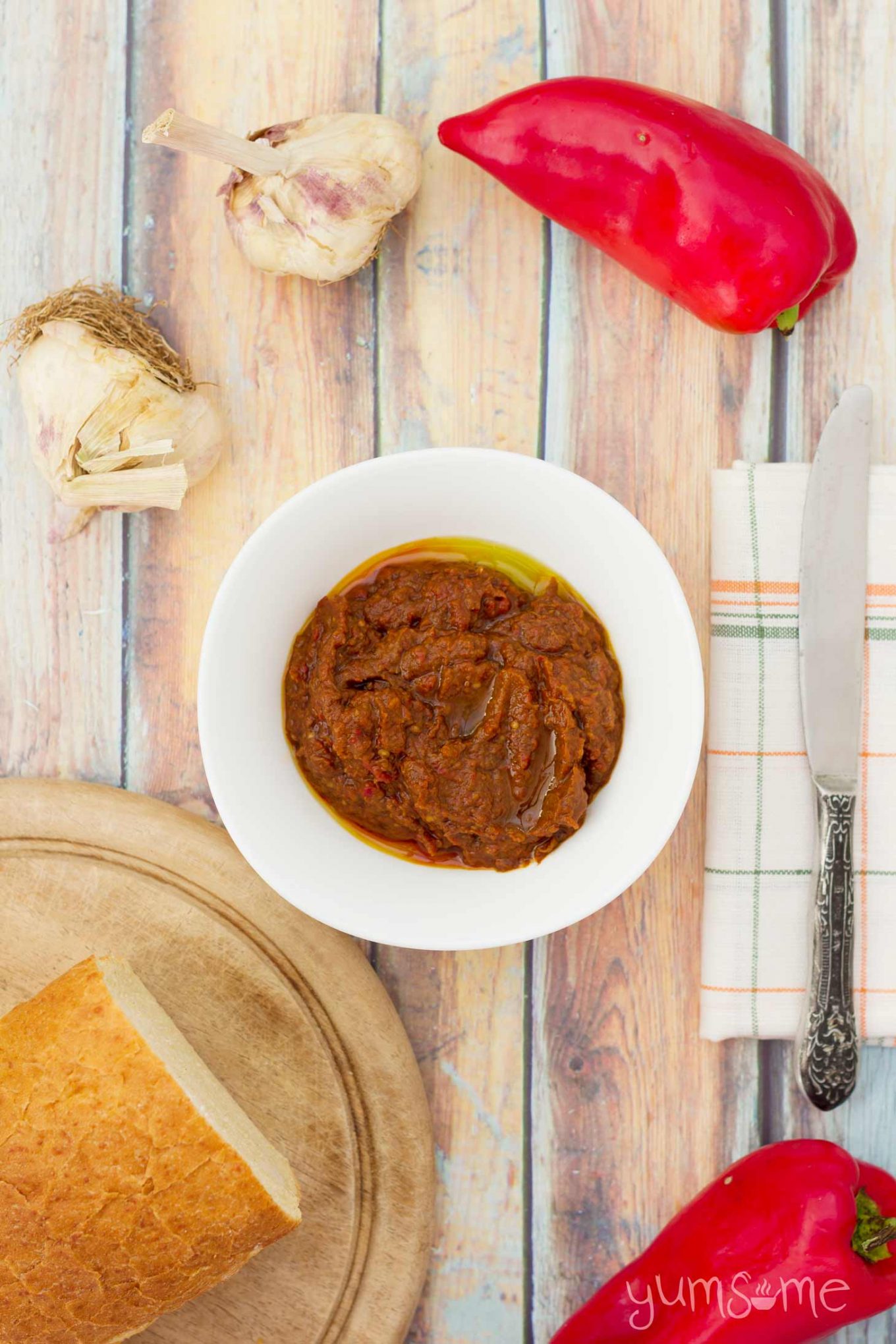 📖 Recipe
Ajvar (Serbian Red Pepper Spread)
A staple of Balkan cuisine, ajvar is a delicious rich red pepper spread that's perfect with fresh rustic bread, pasta, crackers, baked potatoes, etc.
Print
Rate
Makes (slide to adjust):
200
g
Ingredients
1

large aubergine/eggplant - washed

dried, and cut in half lengthways

3

large red peppers - washed

dried, cut in half lengthways, and de-seeded

3 -4

large

fat cloves of garlic

4

tablespoon

extra virgin olive oil + 1 teaspoon + a drizzle

1

teaspoon

white vinegar

½

teaspoon

sea salt

or to taste
Optional:
1

chilli

very finely chopped (remove the seeds and veins if you don't want too much heat)
Instructions
Pre-heat your oven to 225c/435f.

Massage 1 teaspoon of oil over the peppers, aubergine, and unpeeled garlic cloves, and place cut side down onto a baking sheet lined with parchment.

Bake for around 25 minutes, or until the vegetables are soft, and the pepper skins are blackened.

Remove from the oven, and put the peppers into a Ziploc bag for 10 minutes.

Very carefully, scrape the aubergine flesh away from the skin (please don't burn yourself), and place into the bowl of a food processor.

Remove the peppers from their bag, and peel away the skins. Add to the aubergines, and pulse a few times, just enough to break up the veggies.

Put the oil into a heavy-based pan, add the ajvar, and stir. Allow to just sit in the pan for 15 minutes, so that the ajvar absorbs the oil.

Turn on the heat, and bring the ajvar to a boil, then immediately, lower the heat, and allow to simmer for a couple of hours, to really bring out the sweetness of the peppers.

Squeeze the roasted garlic from its paper, and smoosh it into the ajvar, along with the vinegar, and chilli (if using).

Taste, and season with salt.

Put into a sterile jar, drizzle with a little more oil, and seal.

Once opened, the ajvar should keep in the fridge for several weeks... if, indeed, it's around that long.
Notes
Instead of a Ziploc bag, you could put the peppers into a cold dish, and cover with cling film. The point is to create condensation, which helps with loosening the skins.Instead of a food processor, you could use a large pestle and mortar. If you don't have one of those, then use a mixing bowl, and the end of a rolling pin, or the bottom of a mug. If you don't even have that, wait until the veggies have cooled a bit, and smoosh them by squeezing through your (very clean) fingers. (Can you tell that I've had to improvise a lot on my travels?)Do feel free to leave out the chilli if you want a milder ajvar.
Nutrition Facts
Ajvar (Serbian Red Pepper Spread)
Amount Per Serving (25 g)
Calories 89
Calories from Fat 72
% Daily Value*
Fat 8g12%
Sodium 120mg5%
Carbohydrates 5g2%
Protein 1g2%
* Percent Daily Values are based on a 2000 calorie diet.
Did you make this recipe?
Do mention @yums0me and/or tag #yums0me - I'd love to see how yours turned out!
Disclaimer
Measurements in parenthesis are approximate; it is beyond the scope of yumsome to be able to provide pinpoint-accurate ingredient quantities for every type of measuring utensil. As a guideline however, I make the assumption that:
1 cup = US cup = 240 ml
1 tablespoon = US/UK = 15 ml
1 fl oz = US = 30 ml
Further information may be found here
If you like this ajvar recipe, you're sure to love these other Balkan yums!