Get ready to tuck into not one but loads of delicious falafel and accompaniments recipes for International Falafel Day! Yum!
So today is International Falafel Day, and you know what that means? Yes… a chance to use up all those chickpeas we've been hoarding in the 'fridge after making copious amounts of aquafaba!
Time for a bit of brutal honesty here… I make flaffs all the time but have I ever had the willpower to photograph them before they get eaten?
Nope. Not. Ever.
#facepalm
Fortunately, I have lots of friends who are nowhere near as lame – or greedy – as me, and they have allowed me to include some of their recipes in this round-up of amazing International Falafel Day yums.
Check 'em out!
First up we have Mary Ellen from V Nutrition; her protein-rich Mediterranean Bowl with Falafels and Hummus Dressing is packed with quinoa, kale, roasted butternut squash, red pepper, olives, and of course, falafels, all topped off with a delicious lemony dressing. Plus, it's as much a feast for the eyes as for the tum!
Next, we have Richa's Easy Vegan Falafel Burger. Easy, you say? Heck yes! Let me tell you more! As well as being soy-free, this yummy stack of chickpea patties (yes, that's patties, plural!), onion, tomato, and pickles, and dressed with a tahini and parsley sauce, can easily be made gluten-free too. And it's ready in just half an hour. I call that a win, don't you?
Like Anthea, pizza and falafels are two of my favourite foods (because who doesn't love 'em, amirite?) but I've never thought of combining the two. Until now. I mean… just look at that deliciousness! Anthea's Deep Dish Falafel Pizza combines a falafel-style crust with a filling made of jewel-red beetroot hummus and slivers of courgette, topped with cheesy tahini sauce. Honestly, to me, this just screams epic! And I have to be honest here – Anthea totally had me with,
"As much nutritional yeast as you desire!"
Ha ha! Yes!
Alex and Linda's Crispy Oven-Fried Falafel make a deliciously healthy change from the usual fried falafels (not that I'm saying there's anything wrong with fried ones, of course. Oh, not me – I would never say that!). Vegan, gluten-free, soy-free, and almost oil-free, these falafels are chock-full of flavour, thanks to the onion and garlic, fresh herbs, lemon juice and spices, and some chilli to give them a little kick. How wonderful does that all sound? I'm totally sold!
While Mandy's Raw Falafel Wraps with Carrot and Salad do need cooked chickpeas, if you use the canned variety, there's no actual cooking for you to do. As much as I love to spend hours in the kitchen, sometimes I just don't feel like it (hot summer days, I'm looking at you), so these flaffs, which combine chickpeas with carrot, herbs and spices, lemon and garlic, plus tahini and nut butter (come to Mamma!) are just perfect. For even more goodness and yumminess, Mandy rolls them in sesame seeds. I think these are amazing – I bet you will too!
When I read a blog that starts with;
"They transport me straight back to the bustling streets of Alexandria in Egypt. Every street corner had its own falafel vendor who sold them fresh and hot, stuffed into pitta bread and drizzled with tahini sauce. We used to have them for breakfast as a special treat."
I know I'm onto a good thing! The good thing in this instance is Choclette's gorgeous recipe for Air Fryer Carrot Falafel with Tahini Sauce. I've never used an air fryer before but I admit I'm intrigued, especially since Choclette blogs quite a few recipes which use one, and the food always looks super-crispy and delicious. These falafels are no exception, and I love the notion of adding grated carrot for a bit of sweetness and moisture. And of course, I'm a huge fan of drizzling tahini sauce over the top of any (and every) falafel I am introduced to. It would be rude not to, right?
Ready in under 30 minutes, Rhian's Lazy Falafel is basically a deconstructed version of the more traditional street food, which has whole falafels in a pitta, along with salad and some form of tahini sauce. Rhian's recipe involves no shaping the chickpea mixture into balls, no baking and no deep-frying… just plonking the whole lot into a skillet to cook, then stuffing in a pitta or wrap, along with salad veggies and as much tahini-dill sauce as you like. Lazy food FTW!
Pretty much anything Chris makes gets me drooling, and this Beetroot Falafel in Pitta Bread is no exception. I love beetroot but amato mio is not really a fan, so I'm always on the lookout for ways to cook it so that he will enjoy it too. I have some beets in the garden, which are almost ready to be harvested, so guess what I'm going to be making soon? ? I love that the rich, red flaffs are full of some of my favourite things (chilli? Check. Garlic? Check. Roasted beetroot? Double-check!) but I also love that Chris has included the recipe for her soft and fluffy pita too. And of course, no falafel recipe would be complete without a tahini dressing, and Chris comes up trumps again, with the addition of dairy free yoghurt and nut milk. How exquisitely yummy!
And to go with your feast of falafels…
My Creamy Avocado Hummus is so simple to make; just six ingredients and a few minutes of your time, and bam! almost instant yumminess. You could be a grown-up, and have it with crudités, a crisp salad, or of course, falafels… but you know what else it's great with? A spoon. Ha ha!
Labneh is one of my favourite Levantine mezedes, and I practically lived on it when I was in Turkey, back in 2000.
Interesting factoid: in Turkey, labneh is called süzme, which literally translates as 'filtered'. In the Western Balkans (former Yugoslavia), I've seen it sold as, 'grčki tip jogurta' – simply, Greek-type yoghurt!
Jojo's Labneh With Fresh Pita recipe is made with cashews, and since I generally have a jar of cashew cream in my fridge, it means I don't have to remember to make yoghurt in order to feast upon this delicious soft cheese. Does life get any better than this?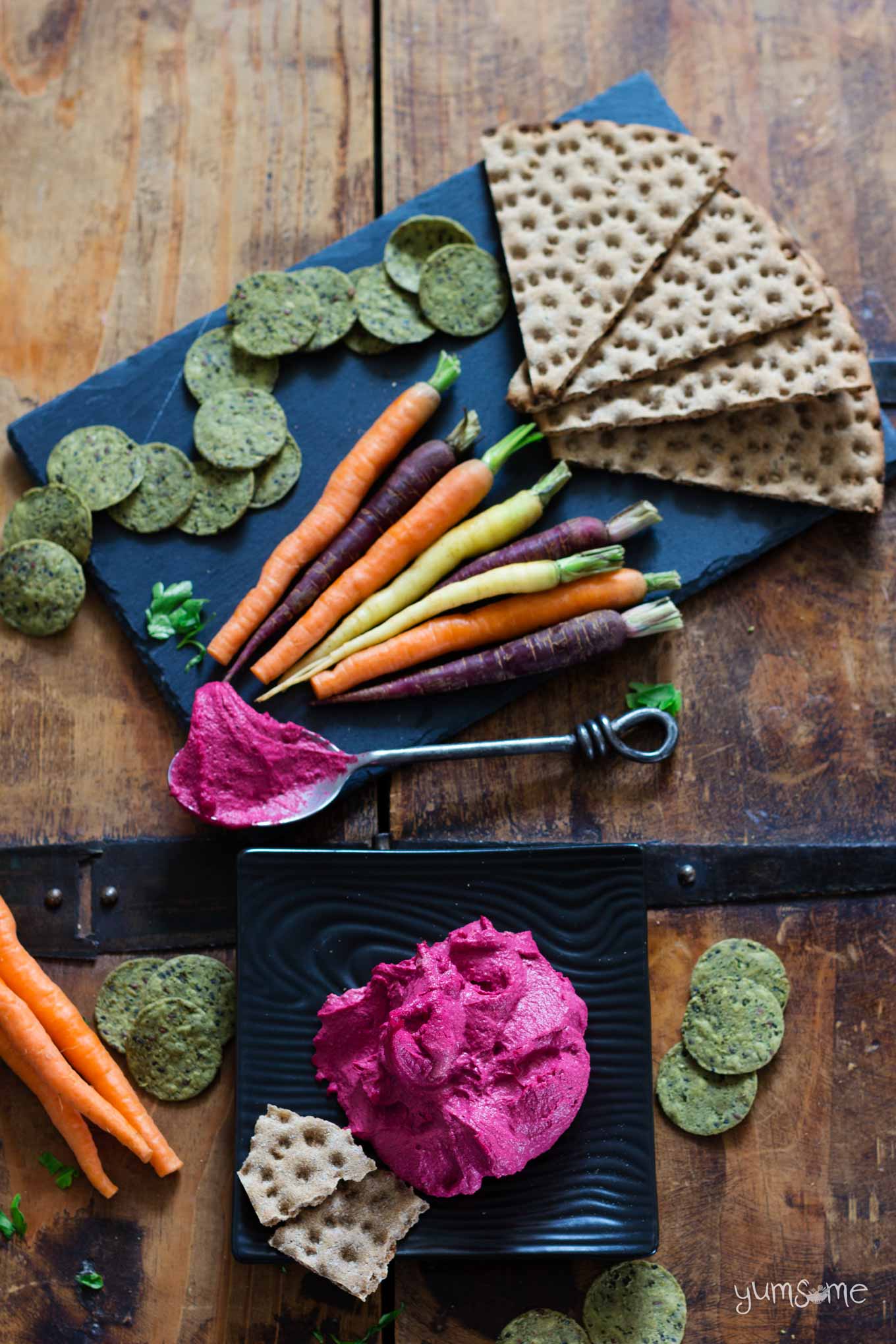 Here's another dip for you... my beetroot hummus! Isn't it such a gorgeous colour? You can whip it up in just 5 minutes, and it really couldn't be easier to make. It's perfect for using up all those beets that come in the weekly veg box, plus, it can be frozen too!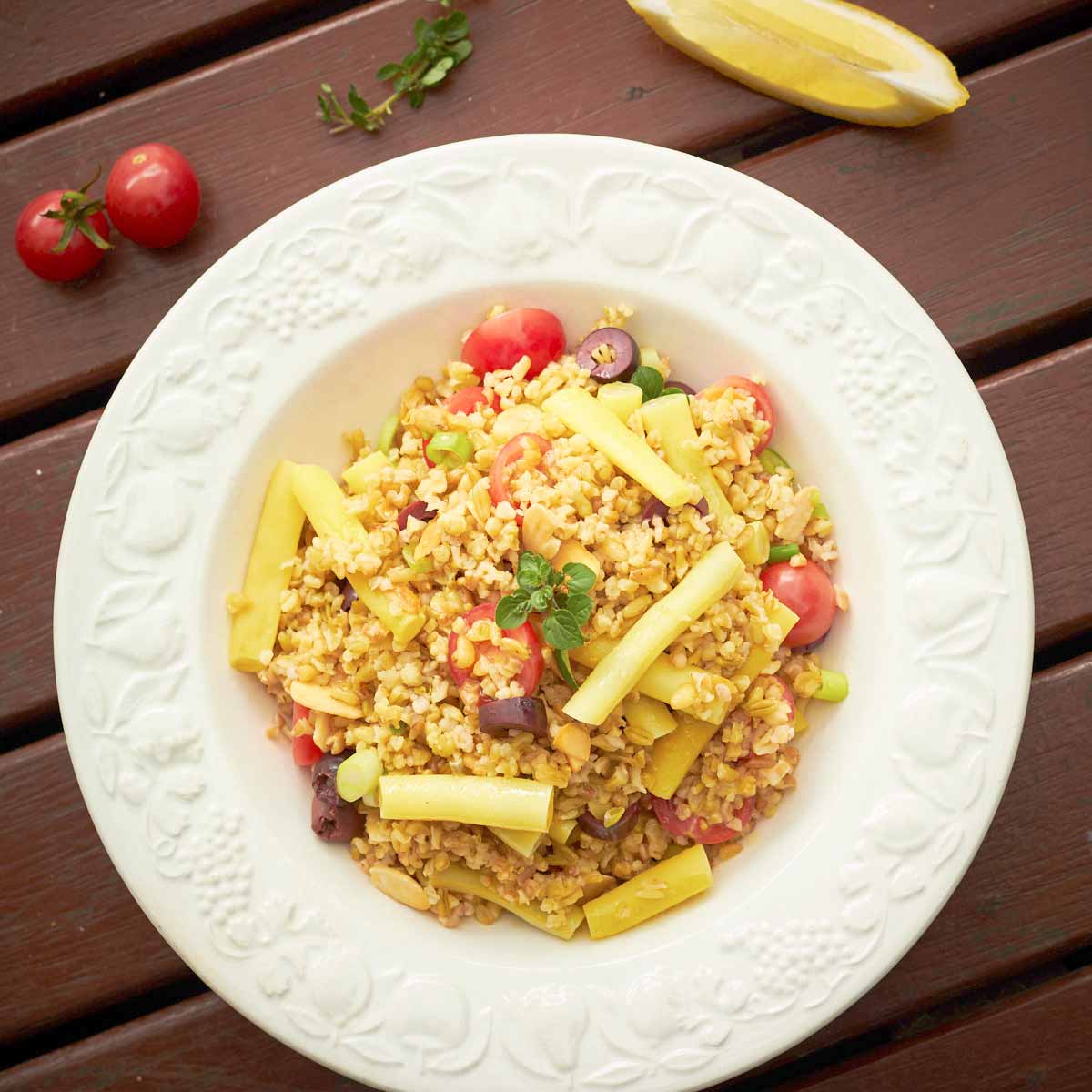 Josh & Katie's Fresh Freekeh Salad with Yellow Beans and Cherry Tomatoes is so full of goodness, and is chock-full of seasonal veggies. Since freekeh (pronounced, 'freek-ah' – not 'freaky' as I always want to say!) hails from the Levant, it's the perfect partner to falafels, hummus, etc. I have to admit though, that I've never even seen freekeh in the shops here in Transylvania, nor even when I was living in the Western Balkans or Italy; however, that doesn't stop me from positively drooling over this recipe!
I love fattoush – I mean, I really, really love it. In fact, I'm a big fan of bread in salads, full-stop (e.g. panzanella), so when I saw Dianne's Fattoush Salad, I knew I was onto a winner. This quick and easy salad, which hails from the Levant, is brimming with garden-fresh veggies and crunchy toasted sumac-spiced pita. The whole thing is then tossed in a little simple vinaigrette. As with the other salads in this round-up, fattoush goes so well with other Levantine dishes (falafels, hummus, labneh, etc.) – if you haven't tried it already, I really do recommend you give it a go.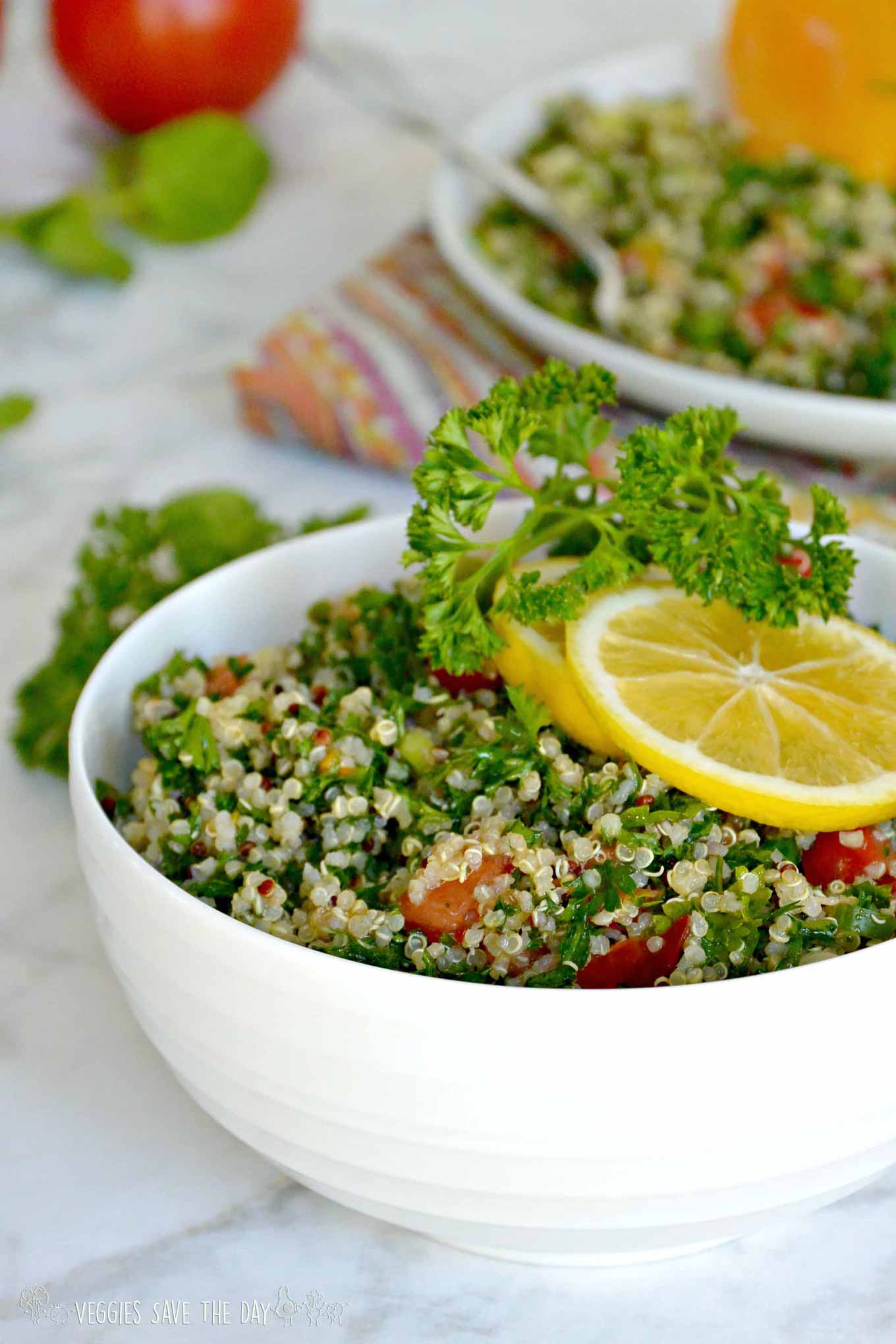 When we were in Sarajevo a few weeks ago, the only place we managed to find that had any non-meaty food was a falafel place, tucked down a little side street in the old part of the city. Mostly the food was really good – the imam bayildi was mouthgasmic – but the tabbouleh salad was really disappointing. It was basically minced parsley with an overdose of lemon juice, and the threat of bulgur wheat. Not so Amy's lovely Quinoa Tabbouleh Salad, which is full of parsley, mint, tomatoes, and quinoa – meaning anyone who can't have wheat can enjoy this salad too. Yay for inclusive food! Amy's salad is fresh and zingy, and perfectly balanced… just the way a good tabbouleh should be.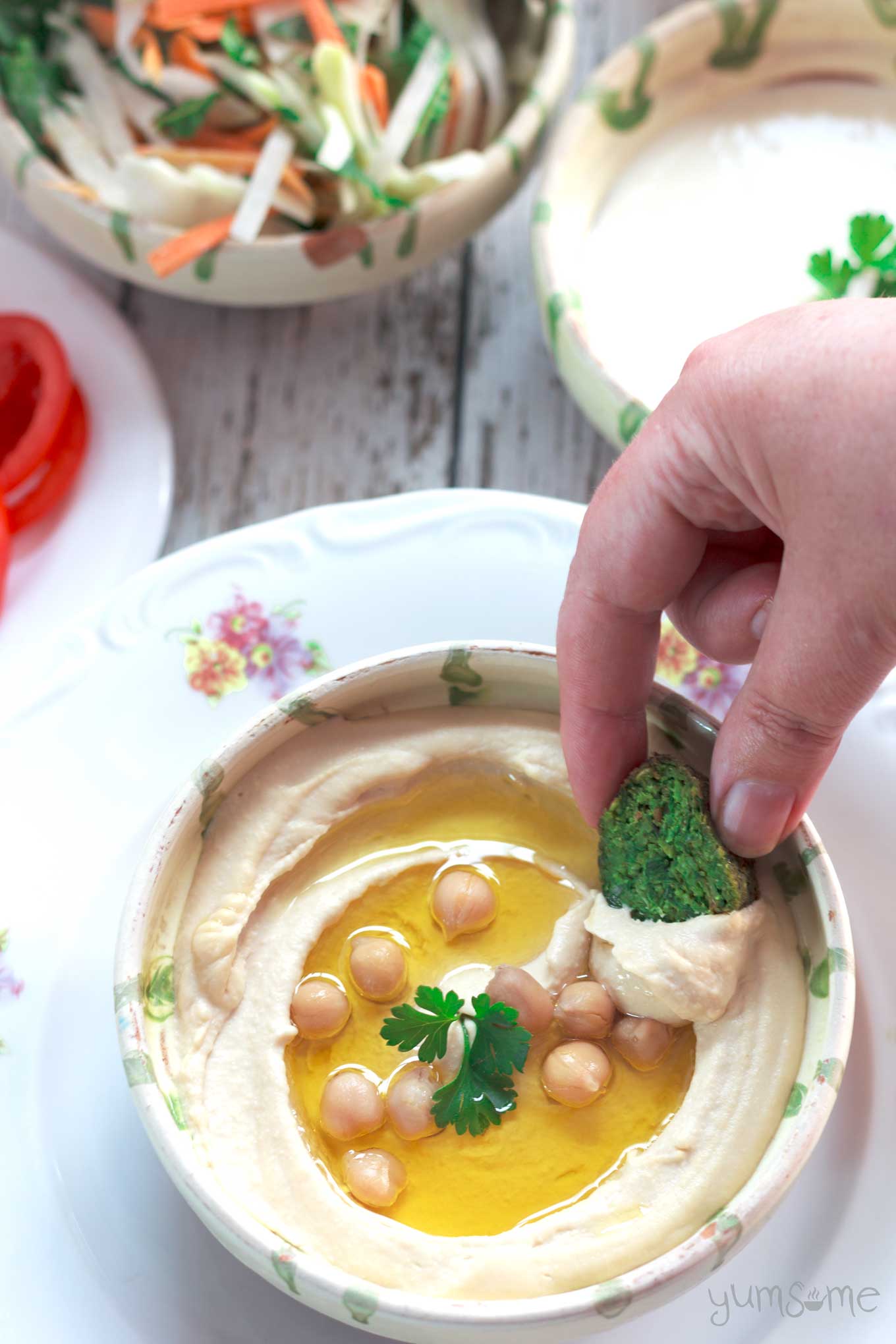 Creamy, smoky, and so moreish, this perfectly smooth and creamy hummus is ready in under five minutes, and is fantastic as part of a meze platter, on crackers and toast, in wraps and salads, or, as I've said before... from a spoon!
Great hummus needs a decent amount of tahini. Not just a tablespoon or two but lots. It's the difference between cheap supermarket hummus and the really, really good stuff you get in Levantine eateries, both at home and in the Eastern Mediterranean & Western Asia.
I couldn't resist including Kathy's Chard Stalk Hummus in this round-up – why? Because when Kathy first submitted this recipe to me, my immediate thought was, "Moarrr hummus. Rawrrrr!" You can never have too much hummus, right?
But when I looked at the recipe, I was totally intrigued because Kathy describes it as being similar to baba ghanouj in texture and taste. Anyone who knows me well knows I adore baba ghanouj. Also, I have chard growing in the garden, and I usually use the stalks in stir-fry dishes and soups, so finding another use for them is pretty darn fab. Apparently, using chard stalks instead of chickpeas is de rigeur in the Levant and Eastern Mediterranean.
Finally, Anjali's baked Stuffed Anaheim Peppers are brimming with yumminess in the form of a savoury sun-dried tomato and walnut crumble (yum!), liberally dressed with her creamy tahini and coriander sauce (moar yum!). What's not to love about this dish?
Hang on… you're not going to tell me that you only make sweet crumbles, are you? Get out of here!
These stuffed peppers make such a fantastic al-fresco party dish, appetisers, or even a light lunch or supper. Get thee to the kitch right now, and make them – your taste-buds will thank you!
In fact...
Thank you to everyone who's contributed to this post – I literally could not have done this without you all, and you have my eternal gratitude.
I highly recommend that everyone go and check out the blogs mentioned above, leave a lovely comment, and support the authors on Social Media by following them… you have nothing to lose, and everything to gain (namely gorgeous food ideas)!
Cheers m'dears! 😉
Why not check out these other Levantine yums while you're here?