Looking for yummy ideas for the holiday weekend? My chums and I have you covered: here are 20 fantastic recipes to make your vegan 4th of July cookout the best ever!

The 4th of July may be Independence Day in the US but y'know what else it is? My birthday! Yep, I actually was born on the fourth of July.
As a child, I was always envious of American kids - they got to have a day off school on my birthday, while I would be stuck in the classroom.
(I actually loved school, so it wasn't a hardship!)
But even so...
Also, I never had birthday parties; it was just not something my family ever did, and as an adult, I've never really done much to celebrate my birthday - apart from my 50th, when I had a lovely get together at Anchan with my friends, and Aye made me a most splendiferous cake.
This year, however, I've invited my new Romanian friends over for lunch, and yes, there will be a cookout. Yay! With this in mind, I asked some of my fellow foodie friends for their favourite vegan Fourth of July cookout recipes. As usual, being the super-talented bunch they are, they totally came up with the goods, and not only have I had to choose from almost a hundred burger recipes (I know, it's a tough job) but they also provided me with a plethora of salad too. Phew!
So, without further ado, get your laughing gear around these beauties... but don't blame me if you need a wheelbarrow for your tummies afterward!
If low-fat and spicy is your thing (hello!), then look no further than Dianne's Chipotle Lentil Burgers. Positively bursting with wholefood goodness, with a lovely chilli kick, these burgers super-tasty and really easy to make. And even easier to eat! >ahem<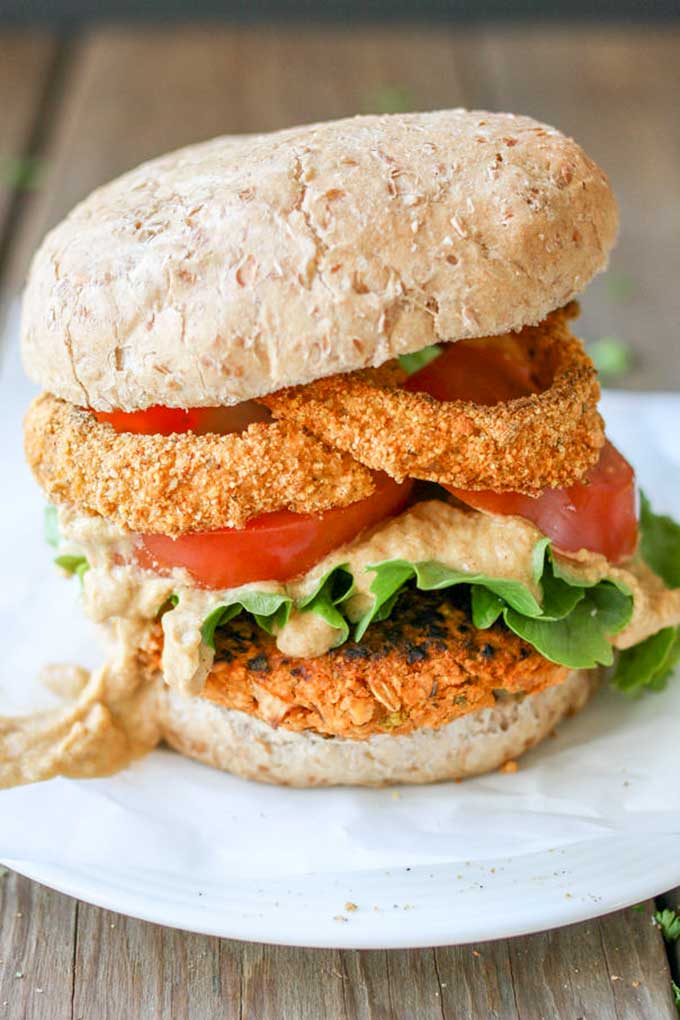 Despite being made with a lot of hot sauce, Sophia's Buffalo Chickpea Burgers are actually completely kid-friendly, and super-healthy, thanks to the wealth of veggies with which they're made (carrots, celery, onions, cauliflower). They also contain oats, ground almonds, and flax, as well as chickpeas... these burgers are going to take care of much of your daily protein and macro needs. I call that a pretty epic win, don't you?
(If you like the sound of these burgers, do keep an eye out for Sophia's book, Vegan Burgers and Burritos, which is coming soon. I will be!)
Who could resist tucking into these Vegan Lentil Nacho Burgers from Alissa, over at Connoisseurus Veg? Not me, that's for sure! Brimming over with veggies, avocado, and nacho cheese, these Tex Mex-spiced lentil burgers are one of my favourite things to put into a bun.
Oh, and tahini cheese? Yeah, it's totally a thing. An amazeballs thing.
In a change from the usual lentils and beans, Rhian's Vegan Japanese Burger uses extra-firm tofu and breadcrumbs for her delicately-flavoured patties, which are then slathered - Japanese-style - with a mouthgasmic sticky tomato sauce.
Are these to die for? Pfffttt... is Captain America the greatest superhero of them all? 😉
Guys, do your mouth a favour, and make Matt & Steph's Grilled Tempeh Sliders with Pesto. Now, I know what you're thinking, that tempeh takes a bit of getting used to, and I totally agree (it took me a while), but honestly, trust me on this. Not only will you love these sliders but you actually need to have them in your life. Tru fak. Packed with more protein than ground beef (ha, take that, protein-obsessed meaties!), and topped with mushrooms and caramelised onions (**le gasp!**), plus rich tomato sauce AND pesto, it's like a 4th of July party in your facehole. Don't believe me? Try them for yourself and see.
Those delightful vegans, Josh and Katie, have done it again... this time, with their Gluten-Free Black Bean, Sweet Potato, Kale and Dill Burgers. Everyone loves a black bean burger, and everyone loves sweet potato, amirite? So why not combine the two, chuck in some nutritious kale, and a bit of garlic and dill, and make a truly healthy, tummy-rumbling burger? Yum!
By the way, Josh and Katie have written a great book, called Vegan Food Magic, and are offering a $5 discount to anyone who checks out their black bean burger post!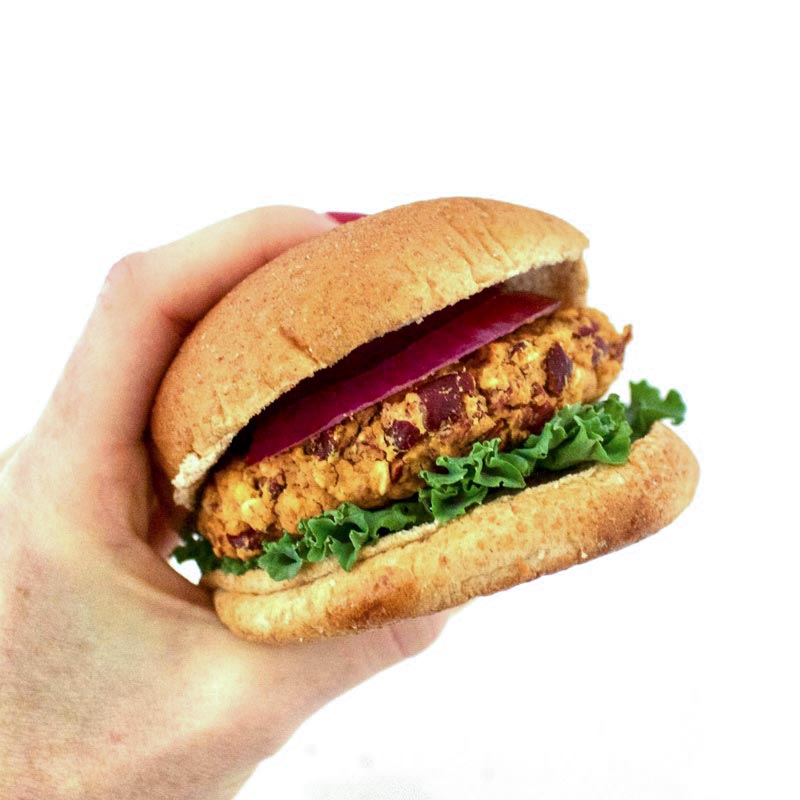 Still with beans, Annie uses kidney beans in her Favorite Bean Burgers. These delicious burgers are gluten-free, oil-free, soy-free, low-cal, and full of flavour. Extremely frugal too, and dead easy to make, they are perfect for students or anyone else on a budget, or with limited resources. How fab is that?!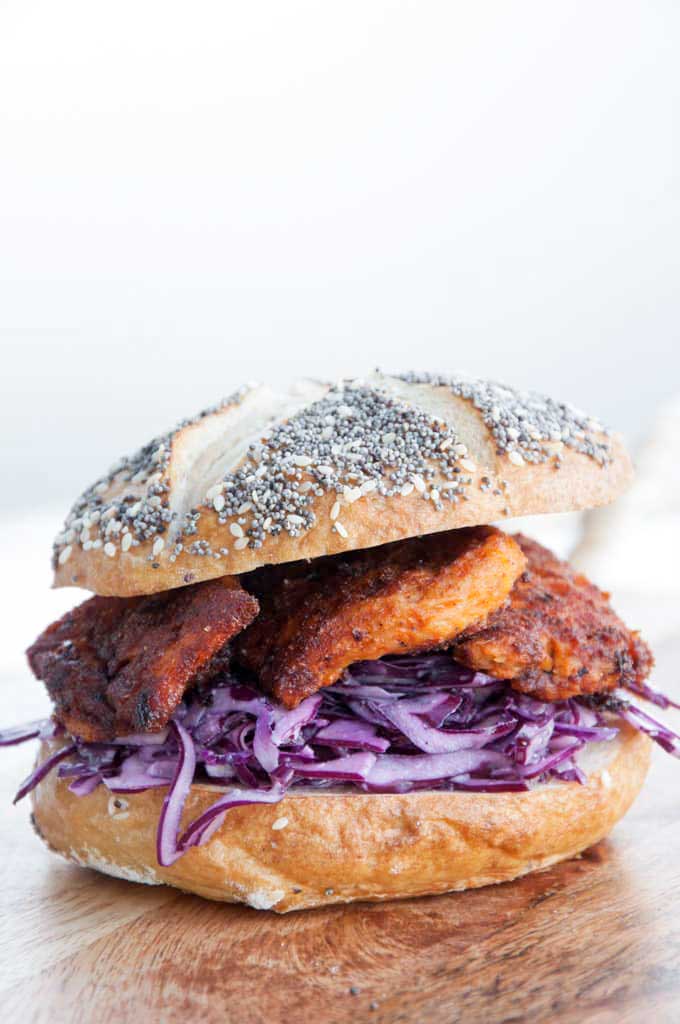 Flavoured with paprika and curry powder, paired with gorgeous garlic slaw, and served in Bianca's own pretzel bun, this Vegan Chicken Garlic Slaw Burger (made from textured vegetable protein) is as toothsomely satisfying as it is delicious.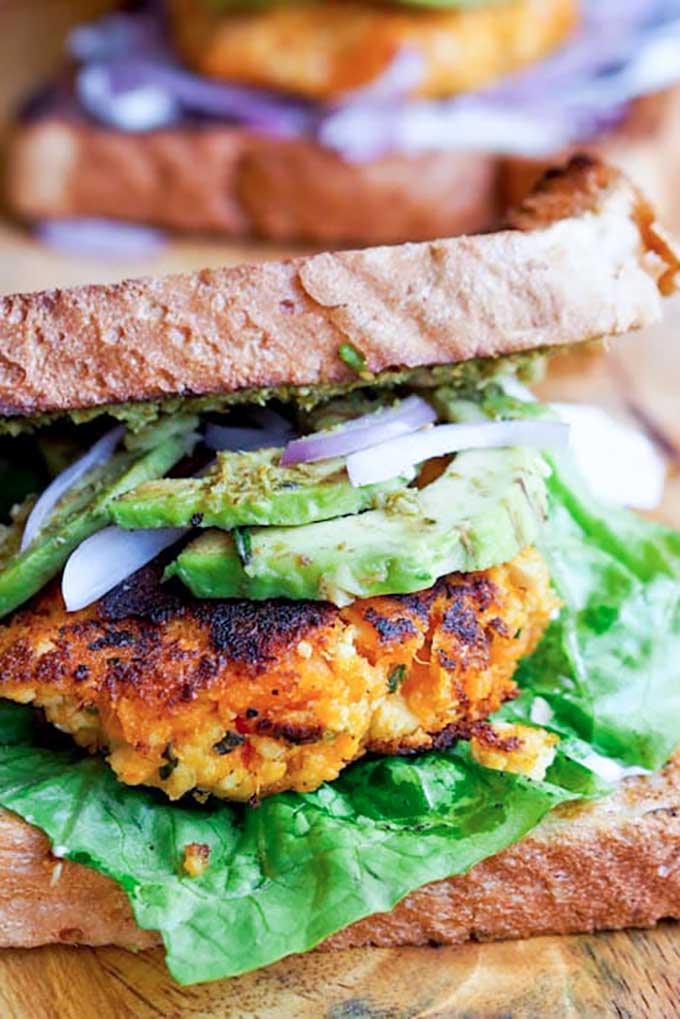 Vicky's Sweet Potato Tofu Burgers are deliciously crispy and chock-full of yummy veggies (hello avocado and red onion, I'm looking at you); they take a mere half and hour from start to finish, and can be served wrapped in your favourite leaves if you don't fancy a burger bun. But y'know what I really love about these? That I am clearly not alone in serving burgers between two slices of toast! I honestly thought I was the only person to do that! Ha ha!
(I also eat curry with toast.)
I've got a whole load of beetroot growing in my garden, and if you've read some of my other posts on the subject of these glorious, jewel-coloured veggies, you'll know that amato mio isn't generally a fan... so when Sam sent me her recipe for Vegan Beet Burgers, I knew I was onto a winner. (**bro-fist**) As well as beetroot, Sam's burgers are made with oats and lentils, herbs and spices... and a secret ingredient - peanut butter! In fact, y'know what? Amato mio may have to go without because I'm tempted to scoff these all myself!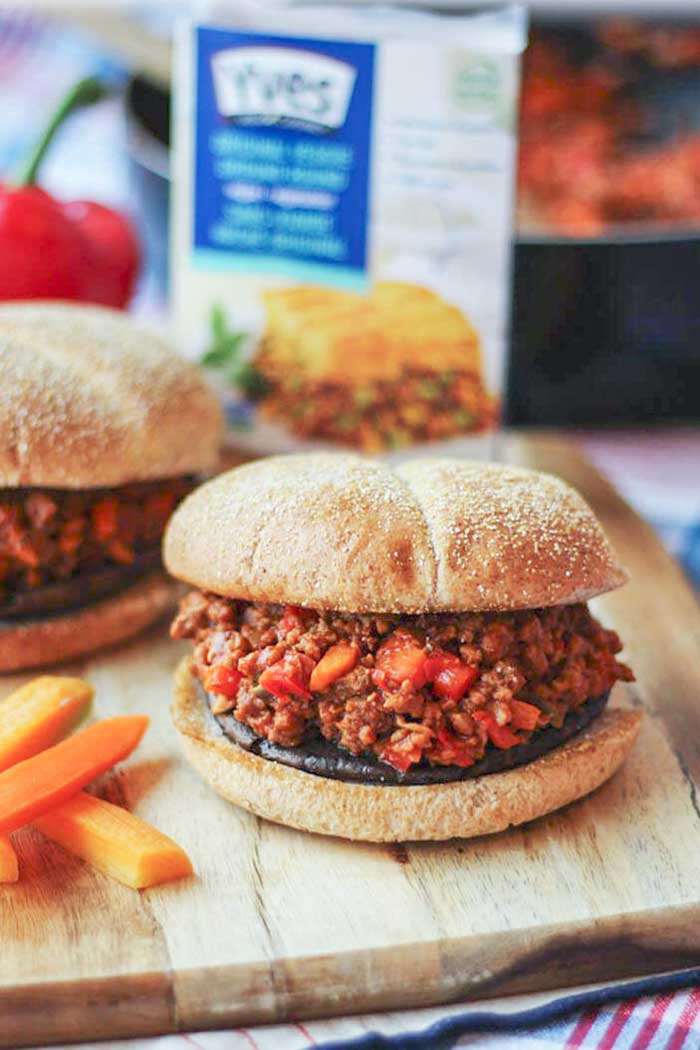 OK, confession time... I've never had a Sloppy Joe in my life. I'm not kidding. To be perfectly honest, the name has always put me off! However, Abbey's Sloppy Joes with Roasted Portobello Mushrooms have changed my mind. These low-cal, high-protein SJs are made from TVP crumbles, and are stacked to the rafters with flavoursome veggies, all mixed up in a sweetly spicy tomato-based sauce. So yeah, I've totally changed my mind about Sloppy Joes. Bring 'em on!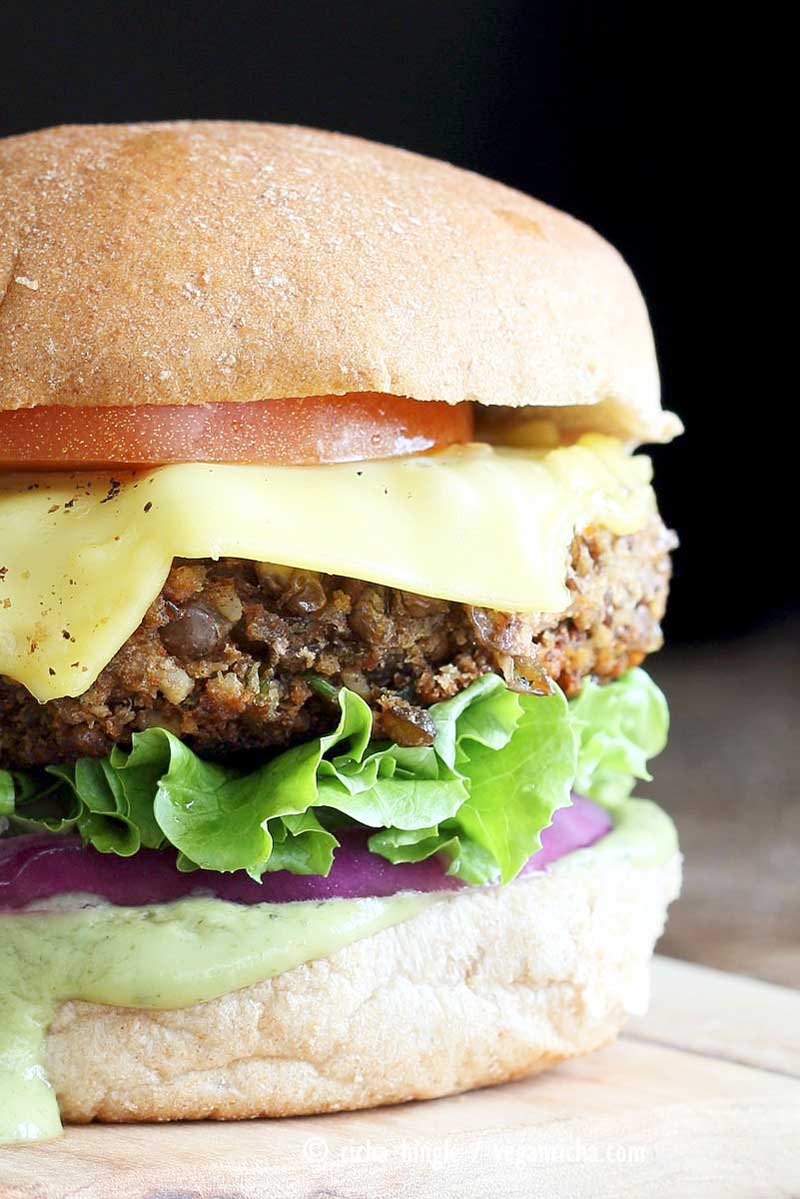 Spicy Lentil Walnut Burgers, how do I love thee? Let me count the ways... Rice, walnuts, Indian spices, avocado ranch dressing, salad, onions, cheese, hearty, filling, delicious, easy... I make that 10. But in all honesty, Richa's burgers are so very, very good, that I can't put a number on them - just take it from me that you need to make them. And then you'll know.
BTW, I also love that Richa has included links to some excellent videos, covering a variety of ethical topics. Do check them out, especially the clothing one - a topic I have long bent people's ears about!
"Moist and chin-dribblingly saucy" is how Mel describes her Mexican Burgers with Adobo Sauce, and she's not wrong! Flavoured with classic Mexican herbs and spices, these burgers are made with leftover rice, kidney beans, walnuts, flax seeds, and chipotles in adobo. What really levels them up however, is the sweet, sticky, spicy sauce. Game-changing burgers? Yep, totally! Get in mah belleh!
As well as containing lentils and sweet potatoes, spices and herbs, and a goodly dose of tahini (be still, my beating heart), Chris' Green Lentil Burgers with Sweet Pepper Sauce have a secret ingredient really enhance the flavour of these fantastic burgers.... Marmite! I know, I know - pretty cool, eh - protein and B12 together in one burger. Rawr! The sweet red pepper sauce really complements the umami of the burgers, and is deceptively easy to make too. If you want to really impress your guests, then you could do a lot worse than to make Chris' burger buns too. Make all the things!
Fourth of July Salads
Cookouts aren't all about burgers, y'know - they're about fantastic salads too, so here are a few of my favourites... What are you waiting for? It's time to ride the salad train!
Loaded with protein and yumminess, this Spicy Buckwheat and Mung Bean Salad is really easy to make, and is as tasty as it is nutritious and frugal. This salad may look super-impressive but it really is very simple: the Protein-rich mung beans and buckwheat are tossed in an oil-free tahini dressing, along with a ton of veggies, and a hit of fresh chilli. Sun-dried tomatoes and sesame seeds finish the whole thing off, and make this a filling and very nutritious meal.
Do you ever look at something online, and just want to lick your screen? As soon as I saw Alexandra's Roasted New Potato Salad with Lentils + Herb Dressing, I had the urge to do just that. I mean, c'mon guys, just look at it - all those yummy potatoes (mmmm... potatoes), the lentils, the verdant spinach, the feathery dill... oh my! This is total food porn - head over to Alexandra's blog to feast your eyes on the rest of the images. Then make this awesome salad for yourself. You won't regret it. Not. One. Bit.
As you know, I'm a big fan of putting grains in salads, so when Mary Ellen gave me this recipe for Lentil Quinoa with Asparagus and Peas, I was in my element. This fab salad is simply overflowing with yumminess from the veggies and herbs, and packed with protein, thanks to the quinoa and lentils. The coconut milk, lemon juice, and tamari give the dish an almost Thai feel - minus the spiciness - and the whole thing is ready in under an hour. Plus, it's all made in one pan. Huzzah for minimum clean-up afterward!
Wow, this Kale + Avocado Caesar Salad with Homemade Dressing, Roasted Chickpea Croutons and Coconut 'Bacon Bits' from Carolyn at PeaceMealxo really does have all the toys... or in this case, all the yums. The creamy vegan Caesar dressing - made with cashews and hummus - works so well with the crispy spicy chickpeas, and crunchy lettuce and kale. For even more goodness, Carolyn has added a bunch of chopped Brazil nuts. To make this a complete meal, all you have to do is add smoky 'bacon' bits (made from coconut - try 'em, you'll love 'em), some avocado, sunflower seeds, and another protein of choice (e.g. tofu, tempeh, seitan). Sound tummy-rumblin' yummy? Yeah, thought so!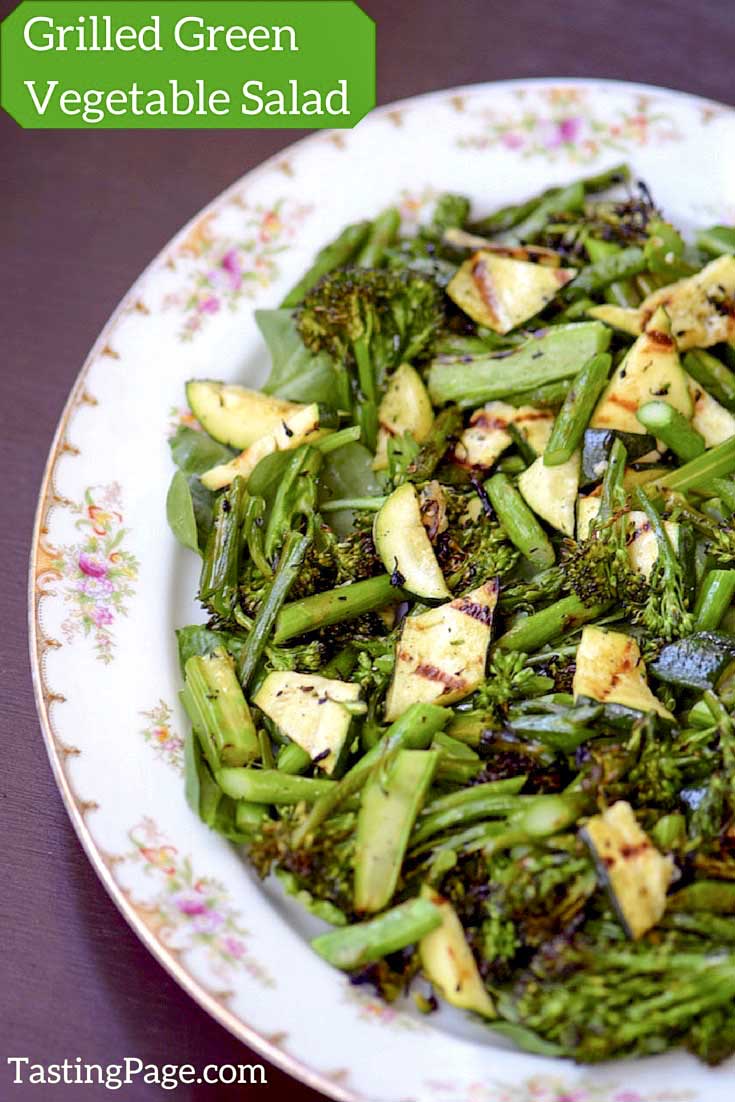 Kelly's Grilled Green Vegetable Salad is full of some of my favourite veggies; asparagus, broccoli, and courgette. When I'm craving vegetables - usually if I've been away, and had to eat out all the time - these are the three I always want when I get home. I completely agree with Kelly's approach - when you have the freshest of veg, you don't need to do anything fancy with them, just the minimum of cooking (in this case, a quick grilling), and the lightest of dressings. Simple, quick, nutritious, and completely delicious... I love salads like this, don't you?
(I'm also totally in love with Kelly's plate!)
The freshest, sweetest plum tomatoes, fragrant green basil, and creamy white vegan mozzarella make Caprese il Tricolore one of my all-time favourite salads. It's light, it's refreshing, it's simple. It's one of the easiest salads in the world to make, and takes its name from the Italian flag, il Tricolore Italiano. Drizzle over a little of your best extra virgin olive oil, add a few grinds of black pepper... e ecola un'insalata perfetta!
~~~
As ever, huge thanks are due to everyone who's contributed to this 4th of July round-up - please do show your appreciation for all their hard work by visiting their blogs. Social media shares are always appreciated, so please help spread the word!
How will you be celebrating the 4th of July weekend?
While you're here, why not check out these other great yums - perfect for al fresco get-togethers!
I'm linking up 20 Recipes For Your Best Vegan 4th of July Cookout to these link parties, hosted at the following blogs - do click on the pics to check out more amazing recipes!